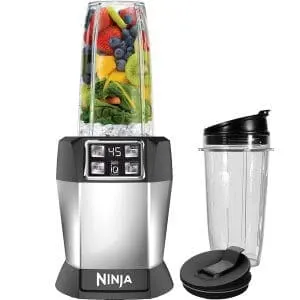 I don't have an opportunity to review a well-designed kitchen blender every day, but today, I really did enjoy exploring the Ninja BL480 blender. I'll just start by saying that this is one of the most feature-equipped blenders out there.
In case you are searching for the most impressive blender possible for a reasonable cost, this blender has a lot to offer for your consideration.
The strong Pro abstractor stainless steel blade will easily process your food, while you can also use it to produce juice or shakes.
It is very convenient to use for different kinds of food and is operated by a computerized IQ system to help you choose your preferred method of processing easily.
The Ninja BL480 makes a perfect addition for every kitchen by its equal usefulness when using it for food, fruits and vegetables, and almost anything else you want to mix up and enjoy.
Moreover, it offers a convenient method of cleaning since it is perfectly safe to use in a dishwasher.
Ninja BL480 Review: Overview
When it comes to the applicable features that will make it easier for you to use this blender, there are many worth being mentioned.
This blending machine is very easy to use even if you are a beginner since there is a manual that comes along in the package, so you won't bother yourself trying to figure out how it's used.
Ninja BL480 is powered by a powerful 1000 wattage motor, which combined with the IQ system convenience enables you to have full control over the extracting or blending processes.
Read More: Ninja blender not working – Troubleshooting
The blade is made of a quality stainless steel, so along with the power, with this machine, you also gain the blade capable of cutting through any hard or soft kinds of food.
No matter what are the ingredients, by choosing the right processing mode of the IQ system, you will be able to produce smoothies or juices with no trouble.
The machine also comes fully equipped, with all the features, user manual and two large cups for easier measuring and blending of the food.
Featuring a very modern and quality design, it is made of fine plastic and other materials providing the Ninja BL480 with great durability and sustainability.
The jar size is also considerably large, so there is no chance of your food not fitting in the blender.
In addition to all the amazing features this blender offers, it is very practical for beginners while you can use the IQ to automatically do the blending for you in a perfect manner, by just one click of the button.
Moreover, it offers a convenient method of cleaning since it is perfectly safe to use in a dishwasher.
---
The Advantages of the Automatic IQ System
The Ninja BL480 has one very significant and useful innovation – the automatic IQ system that will help any chef accomplish great results.
The system is operated by 4 simple actions – blend, pulse, start/stop and ultra-blend.
The button also has pre-programmed functions limited to a certain time of action.
In case you are using the blender on regular food types, the blend option will surely mix up the natural ingredients for the programmed time of 60 seconds.
Related Articles:
In case you need to blend harder food components or frozen food, the ultra-blend action will make sure your food is processed during its 45 seconds of action.
By using the pulsating option, you will be able to make juice or extract the juices from any kind of food desired, so the IQ system truly enables the user to easily get the perfect blending results.
The only thing left for you to worry about is the quick assembly of the blender which can be finished in a matter of seconds.
Moreover, it offers a convenient method of cleaning since it is perfectly safe to use in a dishwasher.
---
Other Significant Specifications of the Ninja BL480
If you are still not convinced that Ninja BL480 is the right blender for you based on the listed features, wait until you hear all about other useful and convenient specifications of this amazing blender.
The machine is fairly compact, approximately 36 square inches, so you will have no trouble finding the storage space for the blender and its equipment.
The application of the blender is very various, from the hard frozen food ingredients, up to shakes, smoothies or even coffee beans, this blending machine will certainly succeed in blending and extracting your food, drinks, and juices.
There is also an option you can choose to get your cups and tops along with other equipment with the blender, while the jar is made of nice durable plastic that will certainly endure a lot and is made to easily fit in the machine.
Since it is made of durable materials with a unique look, this blender will fit in your kitchen without looking too serious.
There is also good warranty coverage of the blender in the duration of one year.
In case a malfunction happens and some of the parts get damaged, Nutri Ninja will check if the issue was due to the wrong installation in the blender.
If it is determined that the issue was not the user's fault, the company will take your appliance and replace it with a new one which they will ship directly on your address.
Moreover, it offers a convenient method of cleaning since it is perfectly safe to use in a dishwasher.
Ninja BL480 Review: Final Thoughts
As the time comes to conclude if the Ninja BL480 is one of the best blenders out on the market, let's point out some of its main features again.
The Ninja BL480 will certainly do an amazing job when it comes to food cutting thanks to its extremely sharp blade and the great IQ system to flawlessly make smoothies or other mixtures by the user's desire.
Add a powerful motor to the automatic pre-programmed system and you will get a great combination with a high percentage of success in blending.
The jar and blender itself will last long because of the durable design and construction, while the cooking manual included will help the beginners at the start.
As the size of the jar would not be enough to make enough juice for the whole family, you might need to use it and repeat the process a few times but that can also be a very small issue since the usefulness and functionality of this blender are its most important qualities.
Moreover, it offers a convenient method of cleaning since it is perfectly safe to use in a dishwasher.
Related Articles: