The Island Impact smoothie from Smoothie King is a delightful tropical treat that's made with pineapple, mango, and papaya. This easy copycat recipe is simple and doesn't even require any additional sugar or sweeteners!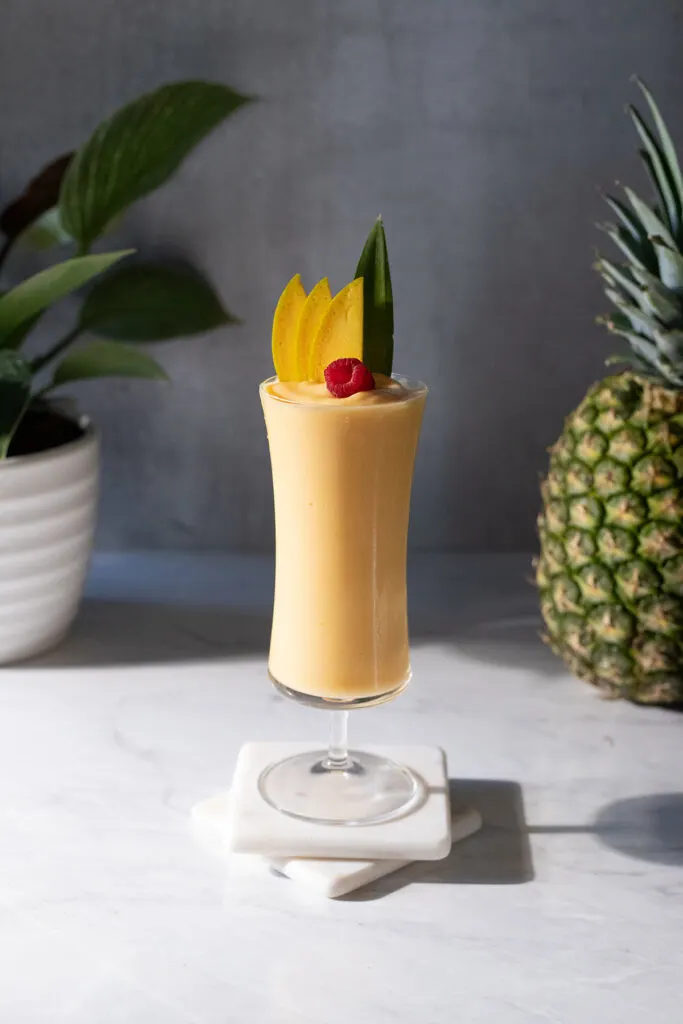 I make a lot of copycat drink recipes and smoothies can be very tricky when you're not sure exactly what went into the restaurant's blender.
I love that Smoothie King gives detailed information about their smoothie recipes so you really know what you're drinking. And it also means that you can easily recreate their outrageously delicious flavors at home!
A lower calorie choice
The Island Impact smoothie is one of Smoothie King's "Stay Slim Blends," meaning that is has no added sugar and fewer calories than some of their more indulgent drinks.
It's low in fat and has a bit of protein to help you stick to your diet or nutritional plan goals.
Make it with simple, wholesome ingredients
The Smoothie King ingredients list calls for a protein blend. You can opt for an unsweetened protein powder, but I love to use low or no fat, unsweetened, high protein Greek yogurt like Fage 0%.
Protein powders are great and can add a ton of protein, but this smoothie really benefits from a creamy protein base to offset all those sweet and sour tropical fruit flavors.
Love tropical flavors? Try my healthy Coconut Shake recipe.
Choose any protein you like for this recipe – just keep in mind that if it's sweetened, it will throw off the balance of the recipe. Go for unsweetened or you'll have a super sweet treat.
Smoothie King has a lot of their own juice blends that they use in their drinks. The Island Impact recipe uses an apple-pineapple juice blend (which sounds so good!)
If you don't want to try to make your own blend, don't worry. I make this recipe using only apple juice and it works just fine. I like to use an organic apple juice with no added sugars whenever possible.
You could also use an unsweetened pineapple juice (like Dole, which is available in little cans), but because it's a more intense flavor, the smoothie will taste very pineapple forward. Apple juice is a great neutral flavor that adds sweetness without taking over the flavor profile of the drink.
No sugar needed
A lot of Smoothie King recipes use a tablespoon or two of turbinado sugar to boost the sweetness. This Stay Slim recipe doesn't add any sugar, although I've seen some variations on other sites that add a little.
It all depends on the sweetness of the fruit and juice that you use, but I haven't found this smoothie to need any extra sugar. A really easy way to add some extra sweetness is to use a sweetened Greek yogurt instead of plain.
I love to use the Chobani Zero Sugar Vanilla Greek yogurt in my keto-friendly smoothie recipes when I'm out of low calorie sweeteners like allulose and erythritol.
The best blenders for making smoothies
Pineapple, mango, and papaya are naturally quite sweet, so you will likely find that just blending those frozen fruits is enough to add a wonderful sweet flavor to this recipe.
If you've tried my Caribbean Way Smoothie King copycat recipe, you'll know that I like to substitute frozen papaya for Smoothie King's papaya juice blend.
While you could probably find papaya nectar at the grocery store, that stuff is absolutely loaded with sugar. If you don't mind that, feel free to use it in your smoothie.
But if you're looking for a healthier smoothie, go with the frozen fruit and you'll cut back on sugar and calories while adding fiber.
I love fresh mango so I usually have some on hand. I garnished my Island Impact smoothie with fresh mango slices, a pineapple frond and a fresh raspberry for that little pop of flavor – like the cherry on top.
Garnishes are so much fun when you have the time, but to be honest, most of the time of my morning smoothie is quickly packed up (ungarnished) in an eco-friendly cup.
So if you're busy, do without, but if you're enjoying a leisurely smoothie at home, I highly recommend adding a few extra touches to enhance the flavors.
Copycat Island Impact smoothie ingredients:
1 cup frozen pineapple
1 cup frozen mango
½ cup frozen papaya
½ cup yogurt or protein powder, I used yogurt
½ cup apple juice (can substitute pineapple in a pinch!)
Add your apple juice and yogurt to the blender first, then pile in the frozen fruit. Whizz everything until it's beautifully smooth, then pour it into a tall glass and enjoy a little taste of the tropics!
You might also enjoy my other Smoothie King copycat recipes:
Island Impact Smoothie King Recipe (Copycat)
This tropical smoothie is creamy and naturally sweetened. Mango, pineapple, and papaya come together to make a delicious frozen treat that's also quite healthy.
Ingredients
1

cup

frozen pineapple

1

cup

frozen mango

½

cup

frozen papaya

½

cup

yogurt

or 2 scoops protein powder

½

cup

apple juice

can substitute pineapple juice

simple syrup, to taste

optional
Instructions
Combine all ingredients in a blender and blend until smooth.

For best results, layer the frozen fruit on the bottom, then add the yogurt and juice. Use your blender's tamper to push the ingredients down while gradually increasing your blender's speed.

Pour into a tall glass and garnish with mango slices and other fruit, if desired.