Smoothie King's Caribbean Way is a fruity, tropical flavored smoothie that's made with a blend of strawberries, banana, and papaya.
This delicious frosty drink is one of Smoothie King's most popular flavors and I'm going to show you an easy way to recreate it from the comfort of home!
One of the tricky things about recreating restaurant recipes at home is that they often use ingredients you might not have in your pantry. Smoothie King uses turbinado sugar in their smoothie recipes as well as several unique juice blends.
An easy recipe that's also a little healthier
Fortunately, it's possible to get some of those same flavors you love without a lot of extra effort searching for special ingredients. In this copycat smoothie recipe, we're swapping out Smoothie King's "papaya juice blend" for frozen papaya.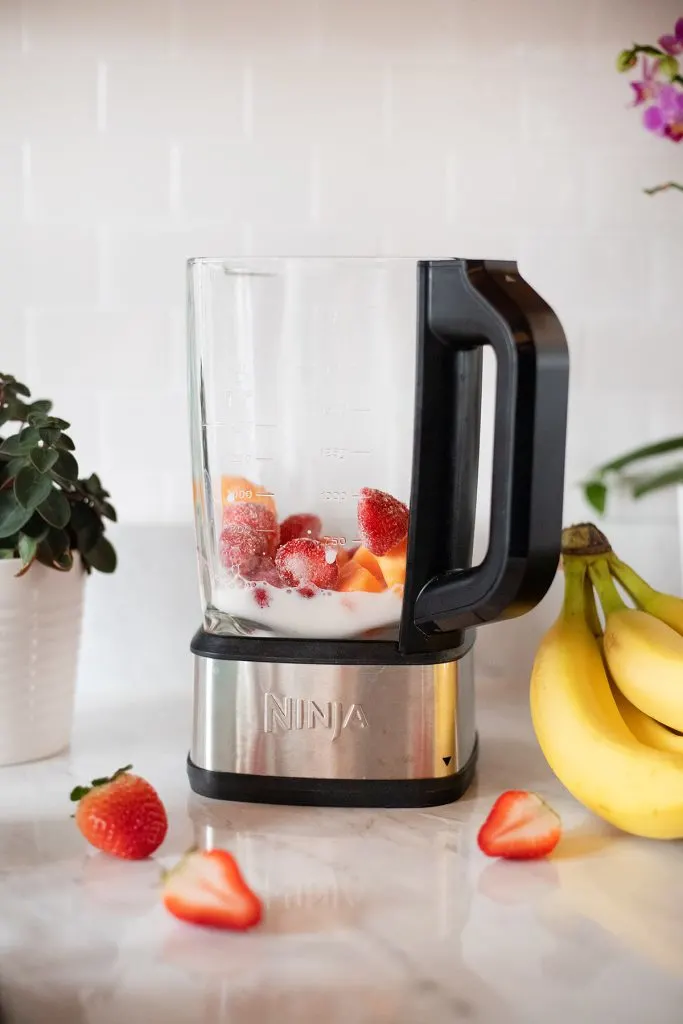 In addition to being easy to find in the grocer's freezer section, whole papaya chunks give this recipe added fiber and less sugar than a juice blend.
I love being able to make my favorite restaurant recipes just that little bit healthier or more nutritious. But even better is being able to fully control how sweet your smoothie is!
When blending at home, taste before adding the full measure of sweetener. If your fruits are very ripe, you might not need that much added sugar.
Papaya, berries, and banana are all quite sweet on their own, so feel free to adjust the sweetener based on your fruit and your palette.
Sweeten with a simple syrup
Although you can add sugar directly to the blender, I find that it doesn't fully dissolve and incorporate nearly as well as a simple syrup.
Making a syrup first will prevent a grainy or chunky smoothie, or finding a lump of undissolved sugar at the bottom of your cup.
Smoothie King uses turbinado sugar in their smoothies, which is less refined than white table sugar. Turbinado sugar is very similar to demerara sugar, although demerara has a bit more noticeable molasses flavor.
Both sugars can be used interchangeably, so if you can only find demerara at our grocery store, it will work great in this and many other recipes.
Make a turbinado or demerara sugar simple syrup by combining equal parts sugar and water. Get the full details in my Demerara Simple Syrup Recipe.
Frozen fruit is key for consistency
Use frozen strawberries and papaya and be sure to freeze your bananas in advance. Frozen bananas add an incredible creaminess as well as sweetness to smoothies.
You can add room temperature bananas to smoothies, but they tend to make the drink frothy and foamy. Use frozen instead for a delightful, ice cream-like texture.
You can freeze bananas whole, just be sure to peel them first. I also like to peel them, slice them into coins, and then freeze them on a sheet pan before transferring the frozen slices to a zip top bag. This lets you measure out how much banana is in your recipes and it's great for whipping up a quick batch of banana "nice cream."
Copycat Caribbean Way ingredients list:
½ cup frozen strawberries
1 frozen banana
1 cup frozen papaya
1 oz demerara simple syrup (more or less, to taste)
¾ cup almond milk (or other milk of choice)
½ cup of ice (optional)
Frozen papaya is fairly easy to find in the store, and it's often included in tropical frozen fruit blends. I recently found a very inexpensive blend of papaya, mango, pineapple and coconut at Walmart and I just measured out a cup of the papaya for this recipe.
If you have a frozen fruit blend you like, feel free to add in some of those other tropical fruits to take the Caribbean flavor up a notch!
This simple blend of strawberry, banana, and papaya makes a delicious, fruity breakfast, lunch, or snack. Find more Smoothie King copycat recipes below!
Caribbean Way Smoothie King Recipe (Copycat)
This tropical smoothie is fruity, creamy, and very easy to make at home. Strawberries, banana, and papaya come together to create a frosty treat that's great for breakfast, lunch, or anytime you need a sweet pick me up full of healthy fruits.
Ingredients
1

cup

frozen papaya

1

frozen banana

½

cup

frozen strawberries

2

tbsp

demerara simple syrup

(more or less, to taste)

¾

cup

unsweetened almond milk

(or other milk of choice)

½

cup

ice

(optional)
Instructions
Combine all ingredients in a blender and blend until smooth.

Pour into a glass and garnish with a strawberry.