The Strawberry Hulk Smoothie from Smoothie King is one of their most delicious and indulgent recipes. This super smooth and creamy smoothie is flavored with strawberries, vanilla protein powder, and ice cream.
This tasty treat is one part post-workout recovery, one part healthy-ish dessert. If you want a calorie-rich smoothie that also contains plenty of protein and healthy fruits, this is a great choice.
No fancy ingredients required
One of the things that I love about this recipe is that it's pretty simple. All of the ingredients are things you'll probably have in the kitchen, maybe with the exception of the ice cream. But if you regularly make smoothies at home, I guarantee you'll have the rest of these ingredients.
Try my other Smoothie King copycat recipes:
Strawberry Hulk ingredients list:
½ cup butter pecan ice cream
1-2 scoops vanilla protein powder (1 scoop if very sweet, 2 if unsweet)
1 frozen banana
½ cup frozen strawberries
1 cup milk of choice
Ice cream options
Butter pecan ice cream is what Smoothie King uses for their classic Hulk recipe, but you can certainly substitute another flavor in a pinch. I always have some sort of vanilla ice cream one hand (usually Nick's for my low-carb dessert smoothies!) and basic vanilla works great, too.
If you're a purist, go with a natural butter pecan ice cream, rather than a "frozen dessert." You'll notice that the cartons of ice cream at the grocery store will list either "ice cream" or "frozen dairy dessert" on the front of the packaging.
The difference between these two categories is simply that real ice cream is made with more dairy fat (cream), making it creamier and arguably more delicious. In my experience, frozen dairy dessert products seem to contain many more ingredients than basic ice cream. So I opt for the simpler, perhaps more natural option.
Other really delicious ice cream flavors for this smoothie are chocolate or strawberry.
Vanilla protein powder
Use any protein powder that you enjoy, but keep in mind how sweet or not it is. If using an unsweetened powder, go with the full two scoops or the recommended serving on the package.
If using a sweetened protein powder, you may want to cut the serving in half. There will be plenty of sweet in our smoothie thanks to the ice cream, berries, and banana, so we don't wan to overdo it.
I like to use Orgain Protein Powders and I routinely use both their regular (sweetened) Vanilla and their Unsweetened Vanilla. I actually like to use one scoop of each in most smoothies so that I get the full serving of protein but half the sweetness.
Frozen fruit
Make sure your banana and strawberries are frozen in advance. I buy frozen berries in large family-sized bags, but buying frozen banana isn't economical at all. To freeze your own bananas, peel them once ripe and place them in a freezer zip-top bag for at least a few hours.
You can freeze them whole, in halves, or sliced into coins. The smaller the pieces, the quicker they'll freeze. I like to freeze mine in halves since I tend to use half a banana in my morning smoothies. You'll need one banana for this recipe.
If you want to freeze your own fresh strawberries, wash and chop the berries, then place them in a freezer zip-top bag. It's so much easier to measure out chopped frozen berries than the whole ones from the store!
Milk (whole, skim, almond, oat, coconut, etc)
You can use one cup of any milk you prefer in this recipe. Whole milk or coconut milk make it even creamier, but almond milk, skim milk or even oat milk all work well. In a pinch, you can absolutely substitute water. The ice cream and frozen banana will ensure that the smoothie is super creamy, with or without milk.
How to make a perfectly smooth Hulk
Combine all of your ingredients in a high powered blender and blend until smooth. I like to layer my frozen fruit on the bottom, then add the ice cream, protein powder, and milk last. This helps the blender do its thing without a lot of fussing.
I always recommend starting on low and using the blender's tamper to push the hard pieces down. Gradually increase to a higher speed, stopping when the smoothie is completely smooth. Using a tamper will ensure consistent texture and make your smoothie smoother more quickly.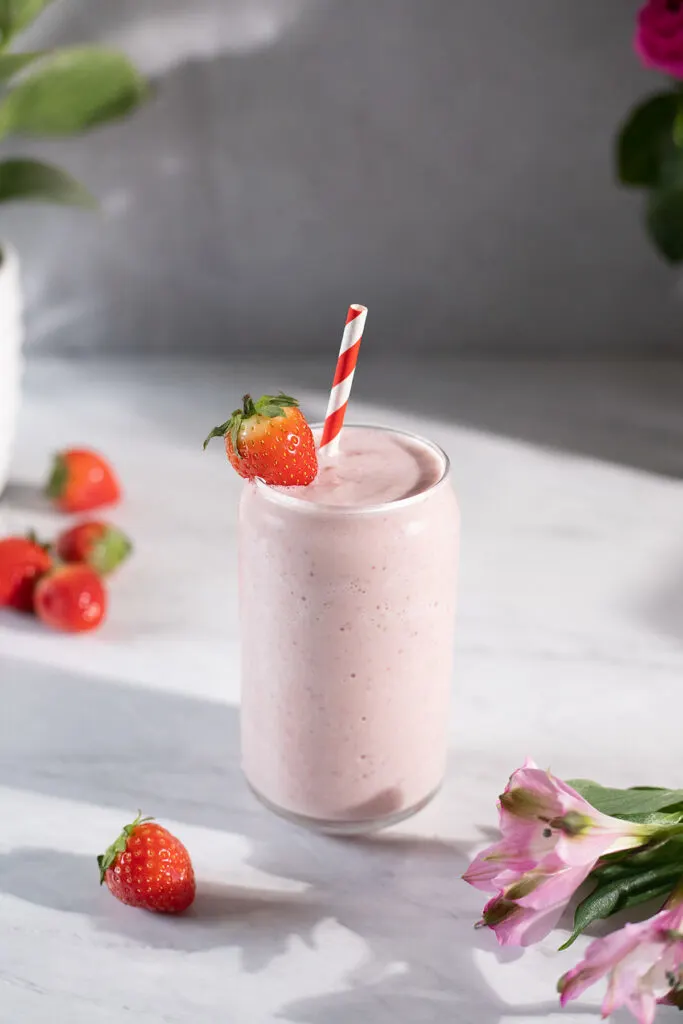 Strawberry Hulk Smoothie King Recipe (Copycat)
This creamy and indulgent strawberry smoothie is made with frozen strawberries and banana, vanilla protein powder, and rich butter pecan ice cream.
Ingredients
1

frozen banana

½

cup

frozen strawberries

1-2

scoops

vanilla protein powder

½

cup

butter pecan ice cream

1

cup

milk of choice
Instructions
Add the frozen fruit and ice cream to your blender first.

Then add the protein powder and milk. Turn your blender on low and use its tamper to push the ingredients down.

Gradually increase the speed of your blender until the smoothie is uniform in texture and completely smooth.

If your blender gets bogged down, turn it off, use the tamper to push the liquid down, then try again. If it continues to struggle, add more milk until a smooth texture is achieved.