The Angel Food smoothie from Smoothie King is one of the most popular (and delicious!) drinks the chain has to offer. Simple, healthy ingredients make Angel Food one of our go-to smoothie recipes and just about everyone will love its fruity flavors.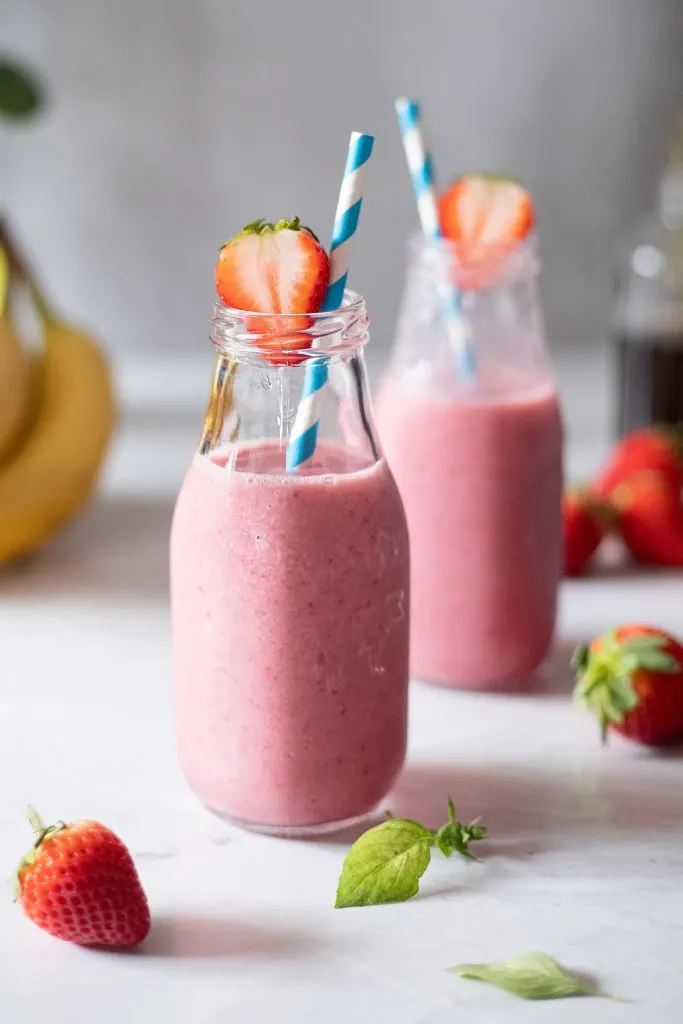 Make this strawberry and banana smoothie for breakfast, for a sweet after dinner treat, or make it extra thick (see tips below) and enjoy it as a smoothie bowl with toppings like chia seeds and granola.
One of the best things about this quick and easy recipe is that it doesn't require any specialty ingredients.
No need to order things on Amazon before you can get blending, just grab some standard grocery store items and you're good to go. And with a simple, sweet flavor pairing, everyone – even the kids – will love this nutritious smoothie.
Smoothie King's ingredient list
The Angel Food smoothie's ingredients are super simple. Here is a quick rundown:
Frozen strawberries
Banana
Turbinado sugar
Nonfat dry milk powder (or milk)
Water (omit if using milk)
Ice
Smoothie King is one of those rare fast food destinations that actually offers healthy options. They have a "No No" list of ingredients that they won't use, including GMO ingredients, artificial flavors, corn syrup, and hydrogenated oils.
Their smoothie menu is conveniently categorized by your goals, whether it's getting fit, maintaining a healthy weight, getting more nutrients into your diet, or simply rewarding yourself with a sweet treat that also packs the goodness of whole foods.
The Angel Food smoothie is available with a few different options, but it's categorized under Take a Break, meaning that it's slightly more of a treat than a power post-workout drink or a weight loss smoothie. I like that it has a wide appeal and just a handful of ingredients.
However, because Smoothie King produces a high volume of drinks everyday, they do use a few ingredients in their recipes that might not be in your pantry.
In the Angel Food recipe, they call for nonfat dry milk powder, which isn't something I keep on hand. The powder is combined with water and ice to make the smoothie deliciously creamy.
Nonfat dry milk powder substitutes
No worries if you don't have this ingredient – just use a milk of your choosing in place of the milk powder and the water!
You can keep things lower calorie with a low or nonfat milk or you can make it more decadent with whole milk or half milk / half cream combo. You can also go vegan with a plant-based milk such as almond, oat, soy, or coconut milk. I love to use unsweetened almond milk in pretty much all of my smoothies.
If you're indulging, rather than watching your weight, go all out and substitute with vanilla ice cream! Non-dairy options like vanilla Tofutti are also excellent. Use butter pecan ice cream and you've got yourself a Smoothie King Strawberry Hulk.
What is turbinado sugar?
Turbinado sugar is a less-refined, larger crystal sugar with a characteristic caramel-like flavor and a medium brown color. Smoothie King uses turbinado sugar rather than the more highly processed white sugar. From a flavor standpoint, it's not mandatory to use turbinado sugar.
But if you've never tried it, I highly recommend picking up either turbinado or demerara sugar the next time you're at the store. Demerara is a similar sugar with a stronger molasses flavor. Both of these more natural sugars are better options that standard white sugar.
Why I make a simple syrup first
Sugar can have a hard time dissolving in a mix of cold liquids and frozen fruit. To make smoothies (and many other types of drinks like iced teas and coffees) sweet without any grittiness, make a quick simple syrup first. It takes very little time and just two ingredients: sugar and water.
Read more: Get my demerara simple syrup recipe
Make it a protein smoothie
Add a scoop of vanilla protein powder to give the Angel Food smoothie a boost of protein and vitamins. Adding protein will help you feel fuller longer so it's a great way to make this smoothie at breakfast time.
Another great way to add protein (and creaminess) is to add unsweetened yogurt. Greek yogurt will give you the most protein and a nice thick and creamy texture. If you enjoy tofu, you can add some silken tofu instead of protein powder or yogurt.
How to make an Angel Food smoothie bowl
The key to a great smoothie bowl is to make a super thick smoothie. It's important to have a blender that's up to the task. Cheap blenders can struggle to blend when there's not much liquid. I recommend using a Vitamix or Ninja blender for smoothie bowls.
The secret to a super thick smoothie is to use frozen bananas. Use as many frozen ingredients as you can and just enough liquid to get things blending. For an Angel Food smoothie bowl, swap out the ingredients below for:
1 cup frozen strawberries
1 frozen banana
¼ cup milk of choice
1 oz turbinado or demerara simple syrup
½ cup crushed ice (optional)
Add the frozen strawberries and banana to the blender first and pulse them until they're broken into smaller pieces. Pour the milk and simple syrup in and blend on low until incorporated, then increase the blender speed to high to make the mixture smooth.
Add ice if it's very hot out or if you want a colder, even thicker consistency. Pour the smoothie mixture into a bowl and top it with fresh fruit, nuts, granola, seeds, or whatever you like!
Tips for perfect smoothies every time
The key to making great smoothies at home is to figure out how to get the right texture and thickness that you enjoy the best. Some like thicker smoothies and some prefer their smoothies to be easier to sip through a regular straw.
If you like your smoothies thicker, add at least a half cup of crushed ice when blending. You can also reduce the amount of liquid you add, down to as little as a quarter cup (like in the smoothie bowl recipe above).
If you prefer a less thick smoothie, add more liquid. It's that easy. You can always add a bit more fruit and sweetener if you feel like it tastes too watered down.
Use a high quality blender! This goes without saying, but it's hard to achieve the right super smooth consistency with a cheap blender.
I wondered for years what I was doing wrong when I always had chunks of unblended frozen fruit in the bottom of my cup. What I was doing wrong was using the wrong tool for the job.
Read more: the best blenders for making smoothies
My last piece of advice is to use crushed or nugget ice if possible. You can easily crush cubed ice by placing it in a zip top bag, covering it with a dish towel, and carefully hammering the cubes with a mallet.
I use an Opal Ice Maker and it creates the most perfect, crushable nugget ice that blends easily no matter the strength of your blender. It's also excellent in all kinds of drinks and cocktails.
Using smaller pieces of ice will ensure that you get a more even, consistent texture in your drinks and they will blend more quickly. No one likes a smoothie with a rogue ice chunk in the bottom. Hope you enjoy this Smoothie King copycat recipe and be sure to check out my other delicious copycat smoothies below!
Angel Food Smoothie King Recipe (Copycat)
This delicious pink smoothie is made with a few simple ingredients for a sweet and healthy treat at home. This creamy mix of strawberry and banana is an easy smoothie that just about everyone will enjoy!
Equipment
1 Blender

(I used a Ninja Foodi Cold & Hot Blender)
Ingredients
1

cup

frozen strawberries

1

banana

(frozen will give a thicker consistency)

½

cup

milk of choice

(I used unsweetened almond milk)

2

tablespoons

turbinado or demerara simple syrup

(or more, to taste)

½

cup

crushed ice
Instructions
Combine all ingredients in a blender and blend on low for about 10 seconds, then increase the speed to high to get a super smooth consistency.

Divide between two glasses and garnish with strawberries.