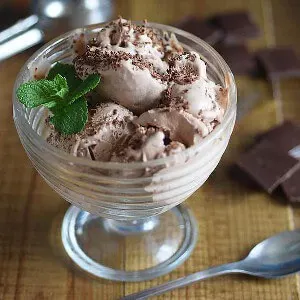 Everyone knows you can make smoothies, milkshakes, and juices with your Ninja blender. But did you know you can make the best ice cream in the world by simply putting the right ingredients into your blender?
Today we will look at how to make chocolate ice cream in a Ninja blender. There are lots of different ice cream recipes, but these ones are definitely the best. What I love about making chocolate ice cream in the blender is that you can do it your own way with your own ingredients.
This means you can have healthy ice cream without all the sugar and preservatives that go into ice cream you find at the store. By using just a handful of ingredients, you can have instant ice cream. You typically need some type of milk, heavy cream, some cocoa powder, a pinch of sugar, a splash of vanilla, and ice for the texture.
You need the milk and heavy cream to get the proper richness of ice cream, and this will also help give you a nice velvety texture. The other ingredients are all for a remarkable ice cream flavor that you simply can't get anywhere else. And ice of course is to thicken the mixture and turn it into actual ice cream.
Tips on Making the Best Blender Ice Cream
There are a few things to keep in mind when making ice cream in your Ninja blender. First, never use water, as this can make your ice cream coarse and grainy. This is the last thing you want in smooth ice cream. I also suggest using milk powder, as your blender will smooth out the ice and the milk powder will add an extra richness without you needing to add additional liquid to the mixture.
Basically, nonfat milk powder will make your ice cream creamier, tastier, richer, and excellent to enjoy even though you are using ice and a blender.
If you have some extra time on your hands, I recommend filling an entire ice cube tray with milk and freezing it for roughly 12 hours prior to making your ice cream. This is a clever way to enrich your ice cream to make it even creamier. This is a great combination with milk powder. Rather than an icy milkshake, you will get legitimate ice cream.
Read More: What is the best blender for milkshakes?
Of course, this is only good for people who have a little bit of time on their hands. It's not necessary to freeze anything beforehand except for the normal ice cubes.
The main recipe we will be going over today has a very strong/bittersweet chocolate flavor. In fact, it almost tastes like a fudgsicle. You will be able to scoop it just like soft-serve the moment it finishes blending in your Ninja blender. However, I do recommend freezing your ice cream for about an hour to get the proper firm texture so that you can use it with a cone.
How to Make Chocolate Ice Cream in a Ninja Blender
Ingredients:
½ Cup Whole Milk
½ Cup Nonfat Milk Powder
½ Cup Heavy Cream
2/3 Cup Sugar
½ Cup Cocoa Powder
1 Teaspoon Vanilla Extract
16 Ounces Ice Cubes
Instructions:
Start by blending all the ingredients in your blender. This includes the ice, milk, powder, heavy cream, and everything else.
Secondly, start the blend. Begin at a low speed until your ice has been crushed, then crank the speed up to high and keep blending until the mixture becomes thick and creamy just like your favorite ice cream.
Now you can either serve the ice cream immediately, or you can put it in the freezer for about an hour until the texture is more ideal.
Related Articles:
Chocolate Ice Cream Variation Recipes
Now that you can make standard chocolate ice cream that tastes just like a fudgsicle, it's time to experiment with other flavors. You can play around with basically anything to make your favorite combination of ice cream.
One of the best ways to begin experimenting with your chocolate ice cream is to increase the chocolate. You could try a chocolate cherry recipe, a cookies n' cream recipe, or even a double chocolate recipe.
You can also play with ingredients and flavors to either heighten the chocolate taste or diminish it. You can then change your chocolate ice cream into a chocolate milkshake by keeping it thin and less creamy, and you can add a heap of vanilla to make a kind of chocolate/vanilla mixture.
Let's take a look at my three favorite chocolate ice cream variation recipes. Keep in mind that these recipes use the exact same ingredients as the standard chocolate ice cream. The only difference is that you are going to add some additional ingredients to totally change the flavor and enhance your ice cream.
Double Chocolate Peppermint
To add a wonderful splash of peppermint into your chocolate ice cream, you want to add a single tablespoon of peppermint extract with half a cup of chocolate chips. This will give your chocolate ice cream a bit of a crunch thanks to the chocolate chips, and it will taste festive with the peppermint extract.
Chocolate Cherry
To add a cherry flavor to your chocolate ice cream, simply add half a cup of cherries along with the rest of the ingredients. This is one of the many simplistic variations that will give a fruity flavor to your chocolate ice cream. You can try this with strawberry or banana as well. Any of your favorite fruits will work to create a new breed of chocolate ice cream!
Cookies n' Cream
This is an all-time favorite. If you want some classic cookies n' cream ice cream, simply crush 8 Oreos into the mixture and stir them into the ice cream after it has been blended. If you freeze the mixture it will have a better effect with delicious chunks of Oreo cookies in your ice cream.