Powerful 1725W Motor
LCD Display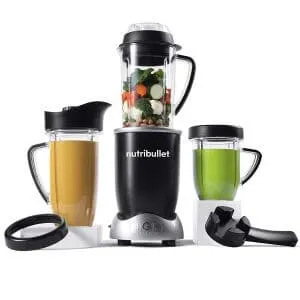 Powerful 1700W Motor
Convenient & Portable
---
Today we are talking about the best blenders for milkshakes. Everyone loves a delicious milkshake, no matter if the weather is cold or hot. You can make a delicious milkshake out of almost anything, using your own ingredients and making it not only delicious but healthy too.
Having a super powerful blender can allow you to make the best milkshakes ever. Having one of these great blenders on your kitchen counter enables you to not only make milkshakes and protein shakes, but also smoothies and other frozen desserts. The machines I'm talking about today are powerful, they come with great features, and they are extremely affordable.
These blenders come with the ability to crush ice, to rip apart frozen ingredients to make a smooth blend, and they are above all reliable. If you want to make your life easier, you need a good blender in the kitchen. This is the best way to experiment with different kinds of frozen desserts on a regular basis.
Basically, stop wasting money on milkshakes from the store! The next time you have a hankering for a delicious strawberry vanilla milkshake, simply drop some ingredients into your high-quality blender and get to blending.
Top Rated Blenders For Milkshakes Of 2021
---
Blendtec Classic 575 Blender – Best Overall
The Blendtec Classic 575 Blender is top of the line. For under $300, you really can't go wrong with such a well-designed machine. I don't even know where to start. This baby has a clear LCD screen, it has an interface full of great settings that are all well-labeled, and it comes with a huge container that allows you to make all kinds of different recipes.
When talking milkshakes, this is definitely a perfect blender. Considering milkshakes generally don't require a lot of ingredients, this machine is even a little overkill. Its super strong blades and powerful motor will whip your milkshake together in under 60 seconds, allowing you to enjoy its sweet taste right away.
Easy Blending Cycles
This blender comes with some of the easiest blending cycles around. Everything works with a single touch, meaning you don't have to fuss with an annoying control knob or a digital control panel. All the buttons are labeled and immediately visible when you look at the machine.
You get 4 pre-programmed cycles for all your favorite beverages. Basically, this means you can push a button and the machine will make your favorite drink for you without you having to watch a timer. But if you don't have the proper setting, you still have 5 different speeds that you can manually control. This feature allows you to get a large variety of different textures for different recipes.
With all these easy blending cycles, you have complete control over every blend. You can also adjust your blend at any point during the cycle. You don't have to stop the machine to change the speed. And if you look lower at the LCD display, it will show how much time remains in your blend. This is some super high-tech stuff that you are going to love.
Read More: Full review of the Blendtec Classic 575
Chop Veggies
What is worse than chopping vegetables? Onions make you cry, tomatoes can get messy, and sometimes fingers can get chopped. Rather than waste your time and fingertips chopping vegetables by hand, simply throw whatever you need to be prepped into your awesome new blender. The Blendtec will take all your ingredients and chop them into small pieces for a salad or teriyaki.
Plus, because of how powerful the blades are, you don't need to prep your vegetables before blending them into a smoothie. Simply throw in a full banana, full strawberries, and huge chunks of broccoli, avocado, spinach, and whatever else you want in your smoothie. The blender will quickly blend it all into a liquid for you.
Super Thick Blades
And lastly, the blades you get with this machine are 80% thicker than previous models. The blades are stainless-steel forged and complete with unique wings to give the best consistency to all your blends. Plus, they are about 10x stronger than other blender blades – and they aren't even sharp! All of these features mean that I have no hesitation in crowning the Blendtec 575 as the best blender for milkshakes.
---
NutriBullet Rx Blender – Budget Pick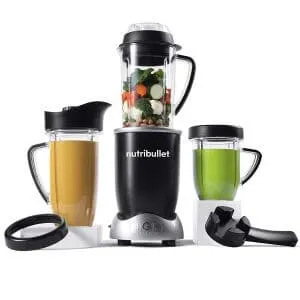 The NutriBullet Rx Blender is the pinnacle of handsfree blending technology. If you want a really amazing blender that you can use completely hands-free to make your favorite milkshakes and smoothies, this is the best option for you. Unlike some other personal blenders, the NutriBullet Rx is able to make a single serving for you or a full serving for your entire family.
This blender gives you the best of everything. It comes with all the best blending containers so that you can make a personal drink, a larger drink to share with a friend, and a whole lot of drinks to share with the entire family. This is one complete blending apparatus.
Extremely Tough Motor
This blender is built stronger than most of the other NutriBullet machines out there. The standard NutriBullet is about 600 watts, the professional NutriBullet is about 900 watts, and even the upgraded version of the upgraded version is only 1400 Watts. However, the Rx is 1700 watts! That is enough power to put even some of the most professional blenders to shame.
With all that power, you don't have to stress about not being able to break apart your ingredients. There is nothing worse than spending 20 minutes just trying to blend some frozen strawberries because the blender blades won't grind them to mush. With the Rx, no more struggling.
Additionally, the actual functionality of the blender has stayed the same as all previous models. It's still hands-free and it still looks exactly the same, it's just got a bigger and heavier motor. That means you get the same product you know and love but dramatically upgraded to do even harder work.
Read More: Full review of the NutriBullet Rx
More Recipes
You can complete more recipes with this blender than you could with previous models. Like I said in the beginning, you can make a single serving or a family serving. And because of the hugely powerful motor, you can now make recipes that are a little more complicated.
If you have tougher ingredients that you've been nervous about blending, don't be! Add frozen vegetables, heavy ice cubes, hard nuts and seeds, and anything else that might be a challenge for other blenders. There is no limit to what you can achieve when using the new and improved NutriBullet. This version has even been upgraded to support a heating function in which you can blend soups and sauces to a heated perfection.
Multiple Containers
You don't just get a single blending jar when you purchase this machine. You get a short, 30-oz cup great for blending small servings of milkshakes or smoothies, or for making baby food. You also get a massive 1-liter pitcher for making family blends. The 1-liter pitcher is enough to provide at least 4 or 5 glasses of your favorite beverage.
And if you're not satisfied with that, there are a lot of great compatible cups that can be purchased separately, including an oversized cup with a pitcher lid, a soup pitcher, and small-fresh containers with resealable lids, and much more.
---
Oster Versa 1400 Watts Blender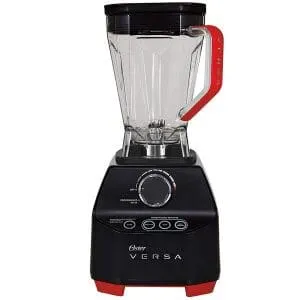 The Oster Versa 1400 Watts Blender is a fantastic countertop appliance with all the best features. If you need a versatile machine for making smoothies, milkshakes, soups, and frozen desserts, look no further. This blender is equipped with everything. It has one-touch settings, a programmed pulse feature, and three presets that allow you to make a smoothie, a soup, or a dip with a single touch.
And that's not all. This blender is super strong, it has a great motor, it's designed to be extra durable, and it's low profile so that it can easily store underneath your countertops. It's clean, it doesn't spill, and it has a stable base to keep the machine exactly where it should be. If you want consistent results with a modern blender, definitely check out the Oster Versa 1400 Watts Blender.
Modern & Sleek
More important than a blender that works is a blender that looks good in your kitchen! Nobody wants an ugly and bulky machine that looks outdated. With the Oster Vera Blender, you get a sleek, compact, lightweight, and perfectly styled option that will impress your guests. It looks great, and it works great too.
The low-profile container allows the blender to sit comfortably beneath almost any countertop. This is pretty impressive considering the container is 64-ounces, which is one of the biggest containers you can get on a blender. It has a rubberized handle so that your grip is always firm and comfortable, and the spout is made to resist any possible spilling.
Plus, the jar is BPA free, it can stand up to heat, and it has easy-to-read measurements on the side so that you don't have to mess around with measuring cups.
Read More: Full review of the Oster Versa 1400
Stainless-Steel Blades
Yes, almost every blender advertises stainless-steel blades. And when it comes to the Oster Vera Blender, yes, you also get stainless-steel blades. But unlike other machines, these stainless-steel blades spin at up to 250 MPH. Thanks to the impressive metal drive system integrated into the machine, you get incredible durability even when outputting such intense speeds.
With your blades spinning this quickly, they will literally chop apart any ingredients you add to the container. If you're making a milkshake, it won't take longer than 15 seconds to complete your dessert. And when it comes to soups, smoothies, or other complex recipes, the stainless blades work just as well to blend, liquefy, chop, and mix.
Maximum RPMs
You get an impressive 28,000 RPMs when using this blender. That's because the motor outputs 1400 watts, the absolute perfect amount of power for green smoothies, nut butter, hot soups, juices, milkshakes, sorbets, salsas, and so much more. This blender really does offer outstanding power, and you will notice the difference the first time you use it.
Plus, with the sturdy base, you won't get the walking problem that many blenders have. What I mean is that the blender won't vibrate itself across the counter and onto the floor. The sturdy base prevents movement and slipping while the blender is activated.
---
Can Blenders Make Milkshakes?
Today we are answering the question, can blenders make milkshakes? The obvious answer is yes, blenders can absolutely make milkshakes. Blenders can make smoothies, milkshakes, protein shakes, iced coffee drinks, and everything in between.
If your blender cannot make a milkshake, you better take it back to where you got it and get a new one. Milkshakes are extremely easy to make in a blender, it doesn't take more than a handful of ingredients, and you can do it in just a few minutes.
Milkshakes are the ideal summer treat to share with your family and friends. If you have a quality blender, a few fun ingredients, and a thirst for a frozen dessert, a milkshake is just the thing for you.
Today I will go over how you can make a milkshake with a blender and even give you some great recipes for making quick and easy milkshakes. When it comes to different flavors and different toppings, the sky is literally the limit. You can make festive milkshakes, fun summer milkshakes, and great pumpkin milkshakes for the fall season.
Read More: Best Blender For Protein Shakes – 7 Top Rated Models
Can Blenders Make Milkshakes: Overview
To make a milkshake in your blender, you only need a few simple ingredients. Every basic milkshake recipe starts with three scoops of ice cream and one cup of milk. Everything else you add into the milkshake for flavor and texture is up to you. There are literally hundreds of variables to make a unique milkshake.
There is a very distinct difference between a milkshake and a smoothie. Both are blended beverages, but a smoothie contains fruit and vegetables, nuts and seeds, and lots of other healthy ingredients like honey, almond milk, and juices. A smoothie is typically chunky and thick and uses frozen berries and other raw foods. A smoothie can definitely taste like a dessert, but it's not really.
On the other hand, a milkshake is definitely a dessert. You make a milkshake using ice cream and milk, and they are tasty treats that are often only consumed in the summer. You can definitely add fruit to milkshakes, but the whole point of a milkshake is that it is like a smoothie mixed with ice cream. Don't forget to add your whipped cream!
How to Make Milkshakes with Your Blender
The easiest part about making a milkshake is that you can choose the flavor of ice cream and it will decide your flavor of milkshake. For example, you can use vanilla ice cream, strawberry ice cream, or chocolate ice cream to make dedicated smoothies. For extra authenticity, I always suggest using a handful of fresh strawberries along with your strawberry ice cream.
On the same note, when making a vanilla milkshake, it is ideal if you add at least three tablespoons of malted milk powder to give you the classic vanilla flavor along with your vanilla ice cream. And if you want chocolate, there are quite a few different things you can do. My favorite is adding chocolate milk rather than normal milk, making it doubly chocolate. You can also add chocolate sauce to the top as a nice garnish.
To make your milkshake, follow these simple instructions:
Ingredients
3 Scoops Preferred Ice Cream
1 Cup Preferred Milk
Options Additions (Strawberries, Vanilla Extract, Chocolate Powder)
Instructions
The first step is to combine your ice cream, milk, and optional additions into your blender. Then you need to blend everything on the highest speed until you have a smooth yet thick milkshake.
The second step is to garnish your milkshake with your preferred toppings and then serve in a glass cold.
Notes
This particular recipe will make a single milkshake. If you want to serve an entire party of family or friends, you need to double or triple the recipe and then divide the finished milkshake into cups for everyone.
When it comes to toppings, there is quite a lot to choose from. Some of the most popular toppings include whipped cream, hot fudge sauce, cherries, and sprinkles. My favorite is combining all of them.
First, add a blast of whipped cream, then sprinkle your sprinkles over the top, do a few lines of hot fudge sauce, and finish off by planting a single cherry on top. Not only does this make for an excellent presentation, but it gives you some serious flavor while enjoying your milkshake.
Because of the texture of milkshakes, they are a little bit more difficult to drink than a smoothie. I highly recommend purchasing some reusable straws for drinking and enjoying your milkshake. You may consider purchasing a variety pack of colorful reusable straws to add some flair to your presentation.
Read More: Best Blender for Frozen Drinks – 3 Powerful Models
Bonus Oreo Milkshake Recipe
Before we close today, I have one final recipe for you. You already know that every blender in existence can make a milkshake, and you have learned how to make basic milkshakes. But now we are going to step it up a notch and make a delicious Oreo milkshake that everyone will enjoy.
This milkshake is easy, it doesn't require any special ingredients other than the Oreo cookies, and you don't even need to use Oreo cookies. You can use whatever kind of cookies you want. While this definitely is not the healthiest drink for you, I would argue that it is far healthier than what you purchase in the store.
This is especially true if you make your own ice cream. Making your own ice cream is even easier than making your own milkshake. In fact, you can make your own ice cream, leave it in the blender, and continue on to your milkshake recipe.
Ingredients
2 Cups Vanilla Ice Cream
2/3 Cup Milk
10 Oreo Cookies
1 Teaspoon Vanilla Extract
Whipped Cream for Topping
Instructions
First add the ice cream, milk, cookies, and vanilla extract into your blender. Now you will have to pulse the mixture until everything is smooth and textured like a milkshake.
Step 2 is to serve in large glasses and add whipped cream and additional cookies to the top as desired.
Best Blenders For Milkshakes – A Complete Buying Guide
If you love milkshakes as much as I do, you will understand how crucial it is for this sweet beverage to have the right consistency and flavor. There are many efficient blenders in the market. However, choosing a blender for your kitchen that gives the type of mouth-watering milkshake you prefer can be a tedious task.
There are multiple factors that should be taken into consideration. To reduce your workload, I've written a detailed guide on everything you need to know about buying blenders for milkshakes.
How To Choose A Blender For Making Milkshakes
The perfect milkshake requires the perfect blender. Thus, you can follow a systematic process to ensure that you purchase your dream milkshake blender. Here are some factors that can help you pick the best blender for milkshakes from the thousands of options available in the market.
Do Your Research
With proper research, you can get a product that will add value and also cater to your requirements. Read about different brands, the type of products they offer, and how popular they are among consumers.
You will also get to know about the different features and options available. So, carry out thorough research and make sure that the product you go for is worth the investment.
Keep your options open and don't finalize in haste
The marketplace is an ocean for different types of blenders from several companies that have an array of features. Do not limit your options to just one or two blenders. Instead, try to expand the list as much as you can. This way, you won't regret it later if you find a better option.
Furthermore, the more the alternatives, the much easier it is for you to make a comparison between them.
Consumer Rating
If you're buying the product online, then you can take full advantage of the consumer ratings for the products. You will get to know what consumers like you feel about the product. Moreover, some of the most honest critiques will be available in the review section.
Browse through this section and understand how many customers were satisfied with this product and why. Learn about the problems faced by consumers while using this product. You will also get to know if the product will meet your requirements or not. Look out for the negative reviews as they will play a crucial role in deciding the best blender for milkshakes.
What Are The Advantages Of A Quality Blender For Milkshakes
A high-quality blender is a mixture of agile technology and innovative design. Here are the set of advantages of buying an excellent blender for making your milkshakes.
Portability
These blenders are lightweight and compact in size. This not only facilitates easy storage but also makes it portable.
Many companies have started manufacturing blenders that can easily fit in your bag. You can opt for these products if you're someone who shares a love for both traveling and milkshakes.
Warranty
Most manufactures offer a warranty period of a minimum of one year. This can help you to trust or rely on the machine's performance. Nevertheless, there are major companies that have built their sole reputation on the productivity of the product.
In fact, a lot of firms give you a warranty period for a maximum of three years. This is a significant advantage that will help you choose the right product without worrying about its longevity.
Economical
Budget is one of the critical factors that determine if you're buying the product or not. In addition, they also limit your buying options. A blender that works efficiently and is inexpensive is a major advantage for you as a consumer.
There's no hard and fast rule that only the pricey options in the market are the premium quality blenders. During your research, you must have come across affordable companies that offer the same level of characteristics and performance as the high-end ones.
If you are able to get a quality product with a wide array of features and at a lesser price, it will obviously be a great buy.
Versatile
A top-level quality blender doesn't lack when it comes to versatility. Although you're looking for blenders that can make mouth-watering milkshakes, it doesn't hurt if they can be used for other purposes too.
For example, you can look for blenders that can make smoothies, juices, and can be used for other blending purposes too. This multi-purpose machine is all you need to satisfy all your blended beverage cravings.
What Features Does A Blender For Milkshakes Need?
You and I have varied tastes, and thus our milkshakes preferences may be distinguished too. Regardless of the type of milkshakes you like, the best blenders for milkshakes should be equipped with features that can accommodate all kinds of preferences. Read below to know about the several features a blender needs to have to make delicious milkshakes.
Ice Crusher
A cool glass of milkshake is all anyone needs on a hot summer day to quench their thirst. That's why your blender should have an ice crushing option. This can be a push button that equips the sharp blades to effortlessly slice through hard ice cubes. Add this crushed ice to your milkshake to enjoy a glass of icy treat.
Stainless socket and blades
When you're buying a blender, you need to first check if the drive socket is made from plastic or not. If it is, then you should be cautious about buying the product as plastic wears out quickly when compared to other materials.
Stainless steel is strong and long-lasting. The blades made of stainless steel tend to retain their sharpness for a long time. Therefore, you should choose a blender with a stainless steel socket and blades that are widely available and also cheap to replace.
Appealing Design
Besides working efficiently, the product should also look good. The blender made from top-level quality materials has a glossy or matte finish. This enhances the overall looks of the product, and thus makes it highly preferable among the consumers.
Marble black or shiny stainless steel designs are some examples of beautiful types of blenders.
Control panel
The primary aim of any blender company should be to make a product that is easy to use. Similarly, the blender's basic layout should allow you to conveniently use the product without any prior experience.
The control panels of the blender should be strategically placed. This facilitates the manageable maintenance of the product. Moreover, it also contributes to making this product user-friendly. Moreover, you won't have to spend hours to get used to the product and its functions. The best blenders for milkshakes should be simple and quick to use.
What Type Of Blender Is Suitable For Making Milkshakes
Not sure which type of blenders to buy for making delicious milkshakes? Well, don't worry. I have handpicked the three most crucial categories that determine the suitability of your blender for making amazing milkshakes.
Power
The power of the blender is the measure of the motor's performance. Blenders that are equipped with high functioning motors deliver better performance. They can swiftly cut through hard ingredients and make sure that the milkshakes are smooth and that you don't get chunks.
Typically the power of a blender ranges from 300 watts to 1000 watts and more. For making milkshakes, a blender with a power of 500 watts is sufficient.
Speed
Your blender needs to have a multitude of speed settings to fit your needs. The speed variations in blenders are as low as two, and they go as high as 17. This further also enhances your choice flexibility, which makes it user friendly.
In my opinion, a range of 5-speed variations should be more than enough. It is easy to get confused between the levels of speed if you have more than a dozen speed settings.
Jar size
The size of the container or the jar should be moderate. Generally, a blender gives you a jar capacity of 40-45 oz. This approximately can be adequate to fill up two large glasses with a milkshake at once.
This range is suitable for households with smaller families or for individuals. If you're looking to serve a larger audience, then you should opt for jars that have larger storage capacity.
How Easy Is It To Clean
Milkshake blenders are not as difficult to clean. Whether you whip up a thick batter, smoothie, or sauce, cleaning your blender may seem quite daunting at first. However, if you understand the correct mechanism of cleaning it, you can rest assured that you have the most effortless experience.
Firstly, examine the measurements of that reactive blending jar. Generally, make sure to avoid benders comprising of a battle jar. These jars most often end up trapping the ingredients underneath the blades. Jars with comparatively straight sides and broadened bases are effortless to wash and clean.
You can make use of a brush to clear out the ingredients that may be difficult to remove. Many jars also come with concave bottoms for resisting ingredients from trapping underneath the blades. Therefore, choose one such jar so that you can have complete control over cleaning the blender. You can then add a drop of soap with lukewarm water to clean the blender.
Spend a significant amount of time to clean every corner of the blender so that it becomes clean and clear. Lastly, close the lid of the blender only after it is completely dry.
On that note, every user must ensure choosing a hassle-free blender. The best blenders for milkshakes that you may come across in the marketplace also come with pre-programmed cleaning settings. These settings make operating and cleaning the blender easier. Minimal dishwashing detergent and water are necessary for cleaning your blender properly and quickly.
Will You Be Making Other Things Apart From Milkshakes?
Lucky for you, most milkshake blenders are ideal for a wide range of applications. In brief, you can use milkshake blenders for preparing vegetable smoothies, batters, and even a sauce.
If you're one of those individuals that love having their morning smoothie, milkshake blenders work quite effortlessly. Milkshake blenders blend all vegetables thoroughly so that you don't have a troublesome experience.
In a few minutes, you can grind the vegetables, thereby preparing your fresh and healthy smoothie. In addition, if you are a baking enthusiast, milkshake blenders are quite an ideal choice to make your batter.
If you don't have the right equipment for making your batter, blending the baking ingredients can help you immensely. Most milkshake blenders slice through frozen vegetables with ease.
A blender will also function well if you plan to make use of ingredients like nut butter, protein powders. Sometimes, on making use of such ingredients, returning the jar to its actual glory might be challenging.
It is, therefore, crucial to choose the top-quality blender that will serve all your purposes. The above-mentioned factors can help you make the right decision to buy a milkshake blender.
Many blenders come with a removable blade feature. Thus, you can add different blades into the blender for blending your respective ingredients.
Read More: How to Make Protein Shakes Taste Better: 10 Simple Tips
Bottom Line
The above guide covers every question that you might have while purchasing a suitable blender to make some delicious milkshakes. It's better to trust yourself and gather as much information as required to make a wise investment. Don't let the various types of blenders in the market confuse you. Instead, use this flexibility of choice to your advantage.
Make a list of pros and cons to analyze the value of each product. It significantly helps you filter your choices and ultimately leads to the top product from your list. With the assistance of this handy guide, you can select the best milkshake blender at a reasonable rate.
Keep your options open, and before you start looking, be clear with the constraints. Don't start looking for blenders and then set your budget. By keeping all of these pointers in mind, you will be able to pick the best blender to whip some amazing smoothies and milkshakes. Start looking out for recipes to make the best use out of your new blender.
Best Blenders for Milkshakes: Final Thoughts
We went over a lot of facts today. The three blenders that I reviewed for you are all excellent options. Any one of them will make a great addition to your kitchen, sitting alongside your other appliances. To be specific, the Oster Versa 1400 Watts Blender is a fantastic unit with a super powerful motor, a massive 64-oz jar, and a variable speed dial. It also comes with pre-programmed settings and is well worth the modest price tag.
The NutriBullet Rx Blender is another fantastic option at an even better price. For a small personal blender, this unit has a lot of spunk. It comes complete with everything you could ever need to make milkshakes, and it's extremely simple. But if I had to pick a winner, which I suppose I do, I would have to choose the Blendtec Classic 575 Blender.
The Blendtec 575 is just a great blender. There is no getting around it. It has all the impressive features you need to blend smoothies, milkshakes, protein shakes, frozen desserts, and even hot soups. Yes, it's the most expensive of the three, but it's also the best quality.
This blender can rip apart leafy greens, it can easily crush ice, it comes with a very fancy LCD display, and it has pre-programmed cycles. And if you want to move beyond making just milkshakes and smoothies, you can even use this blender for prepping your vegetables before cooking. Stop chopping your vegetables by hand and simply throw them in the blender and select the proper function. It really is that easy.
All the blenders on the list are great, and they will all make you a premium smoothie or milkshake. However, the Blendtec 575 is just a more professional blender for those who want a little bit extra from their appliances and sits at the top of this best blender for milkshakes list.