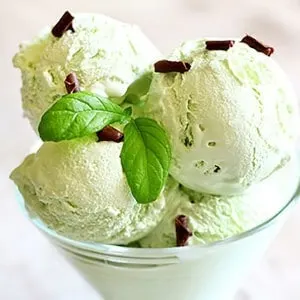 People have been thinking about ice cream being junk food for far too long, but nothing could be further from the truth. Ice cream is actually not so bad for you unless of course, we're talking about the stuff you buy from the freezer at your local grocery store. Homemade Vitamix ice cream can be a really healthy treat.
Mass-produced ice cream is definitely not great for you. It contains all kinds of nasty stuff, like harmful chemicals and bad fillers. It is also filled with the lowest possible quality of skim milk. Store-bought ice cream is not something I recommend anyone to eat a lot.
But today we're going to be talking about how to make vanilla ice cream in a Vitamix blender, and I guarantee this ice cream is much better than anything you have tried before. The huge bonus of course is that you get to make it at home using your powerful Vitamix blender.
You get to use quality ingredients that turn an unhealthy, mass-marketed snack into actual healthy food. While not as healthy as a vegetable smoothie, it is definitely not going to cause any kind of nasty side effects or leave you feeling disgusting like you just ate too many cheeseburgers.
Read More: Best Vitamix blender for smoothies
Making the Best Vitamix Ice Cream
In today's recipe, we are going to make our vanilla ice cream using a Vitamix without having to cook the ice cream base. This is a mostly natural recipe that tastes delicious. And while most recipes want you to cook your ice cream base, you really shouldn't for a few reasons.
First, cooking will kill almost all the beneficial bacteria and healthy enzymes contained inside raw milk. This might not be a big deal if you have lots of fresh milk, but if you are paying a lot of money for quality raw milk, why not get the most out of it?
Plus, nobody wants to heat up their house in the summertime. Cooking the base for your ice cream will heat up your house. It also requires you to wait as you bring the milk back down to a cool temperature in the refrigerator. This is an extra step that everyone can do without.
Keep in mind that this recipe does not contain traditional egg yolks as you see in most other recipes. However, you won't be able to tell the difference. This is the best recipe if you just need a quick batch of ice cream without any fuss. You can make it in just a few minutes using your blender.
Ingredients
2 Cups Heavy Cream
2 Cups Whole Milk
¾ Cup Sugar
2 Tablespoons Vanilla Extract
Single Pinch Salt
1 Vanilla Bean
Instructions
Combine your milk, sugar, and vanilla bean inside your Vitamix blender. Be sure to blend these three ingredients until your vanilla bean has been chopped into small pieces. After that, you can add all the rest of the ingredients and blend until everything is smooth and creamy.
Now the ice cream is ready to be placed into your ice cream maker and frozen according to the machine's directions. If you had been expecting to blend wet ingredients and magically have ice cream without an ice cream maker, that's not the case.
With the ice cream prepared, you can now immediately serve it soft style. You could also place it in the freezer and let it harden for a more traditional solid ice cream.
Related Articles:
Bonus Ice Cream Recipes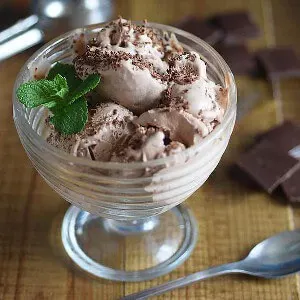 You can realistically make any kind of ice cream with your Vitamix, and you can do it without using an ice cream maker. All you need for success are three key ingredients. You need something icy, which could be a frozen treat like frozen yogurt, or frozen fruits like bananas, strawberries, blueberries, or ice cubes, or frozen coconut milk.
Next, you need a liquid. But you don't need a lot, only enough liquid so that your blender will blend properly. Also, a little bit of liquid will add some creaminess. Most people choose to use milk, cream, or yogurt for their ice cream base. However, you can also use coconut water or just plain old water from the tap.
Finally, you need your flavors. There is a lot to choose from. You could use cacao powder, vanilla, mint, coconut sugar, citrus juice, chocolate chips, coconut butter, honey, flavored liqueur, and so much more.
Once you have any of these three ingredients, you can make a quick batch of delicious ice cream – or even just an elaborate milkshake. You don't need any extra tools, just your Vitamix blender.
Read More: Can a Vitamix Crush Ice?
Creamy Vanilla Ice Cream
½ Cup Cream
¼ Cup Sweetener
2 Teaspoons Vanilla
2 cups Frozen Milk Cubes
Chocolate Ice Cream
1 Cup Milk
½ Cup Cocoa Powder
1/3 Cup Sweetener
1 Teaspoon Vanilla Extract
4 Cups Ice Cubes
Banana Ice Cream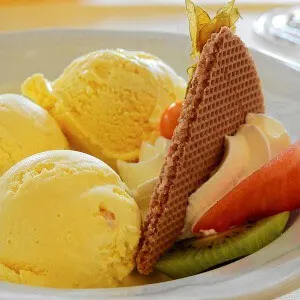 2 Frozen Bananas
¼ Tablespoon Almond Milk
1 Tablespoon Sweetener
1 Tablespoon Vanilla
Instructions
The instructions for the three bonus recipes are the same.
Place all the ingredients inside your Vitamix blender in the order listed.
Select the first speed, which should be variable 1, then slowly increase the speed all the way to variable 10. This should take between 5 and 7 seconds. Don't forget to use the tamper to force the ingredients down into the spinning blades.
Blend for between 30 and 40 seconds, or until you see the four mounds appear at the top of the blender. This is the perfect texture for your ice cream!
Sit back and enjoy.
Vitamix Ice Cream: Final Thoughts
Keep in mind that you need to carefully watch your speed. If you spin the blades of your Vitamix for too long, you could heat all the frozen ingredients and turn your ice cream into a smoothie. You also need to serve this ice cream immediately or store it in the freezer, as it will quickly melt.