Best Overall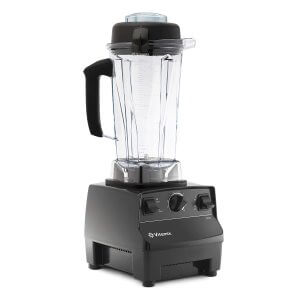 Strong Stainless Steel Blades
Variable Speed Control
Best Price
Powerful 1200W Motor
Extra-Wide Container
---
Today we are going to find out the best blender for almond milk. The three awesome blenders on the list today are fantastic at making any kind of nut milk. Whether you want to make your own almond milk at home, change things up a bit by making some cashew milk, or try your hand at more exotic recipes, all these blenders are great.
You get lots of power, extremely durable blades for crushing nuts into milk, and all the best blending features. These blenders can make your life easier in the kitchen, they can replace a handful of outdated appliances, and they are all pretty affordable.
And of course, not only can these blenders make delicious almond milk, but they can also do some food processing, they can make green smoothies, and they can whip up some awesome protein shakes.
Top Rated Blenders For Almond & Nut Milk
---
Vitamix 5200 Blender – Best Overall for Nut Milk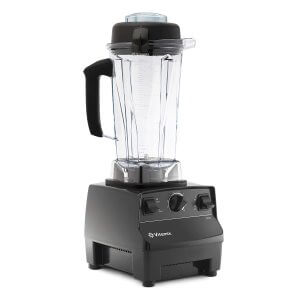 The Vitamix 5200 Blender is one of the most powerful blenders available today. This blender packs a mean punch. It's robust, professionally designed, and above all – built to last. It has extremely hard steel blades, it uses a cool-running motor to negate overheating, and it has a metal drive system to spin the blades at insanely fast speeds.
Full Speed Control
Whenever you use a Vitamix, you get full speed control. You can easily adjust your speed to achieve whichever kind of texture you desire. And you can do this at any point while the blender is active by simply rotating the convenient speed dial.
With the 5200, you also get a standard high mode for extremely powerful blending. This is great when making nut milk, and specifically cashew milk. Cashew milk can be extremely difficult to make, and you need a very powerful blender to turn the cashews into milk.
Read More: Full Vitamix 5200 review
Fantastic Design
The design is fantastic. The body of the blender is small and compact, allowing you to easily put it out of the way. And the 64-oz container is designed for medium to large batches. It comes with a stable lid and with measurement markings on the side of the container for easy measuring.
Everything else is designed extremely well also. From the smart internal components all the way to the simplistic menu on the face of the machine. There may not be any digital clocks or preset options, but the design is clean and effective.
---
Oster Pro 1200 Blender – Budget Pick
The Oster Pro 1200 Blender is an awesome budget blender for under $100. But don't let that scare you. Even at such an affordable price, this blender is very powerful. It comes with a glass jar, and though it can only hold about 24 ounces, that's typically enough for a small jug of almond milk.
More Settings
Even though this blender is so incredibly affordable, it still comes with lots of great technology. It has smart settings, 7 speeds, and 3 pre-programmed settings that allow you to make the most common beverages quicker and easier. You can choose between green smoothies, salsas, and milkshakes with the push of a button.
The Oster Pro also utilizes dual direction blade technology that gives you additional power in all your grinding and chopping. The blade system is extra wide at about 3.5", allowing ingredients to flow freely into the blades for rapid blending and crushing. The result is beautifully crushed ice and a consistent texture
Read More: Full Oster Pro 1200 review
Blend to Go
What I really love about the Oster Pro is that it comes included with a special 24-oz cup for easy blending. You can connect the to-go cup straight to the motor base and blend directly into it, allowing you to make a quick smoothie or milkshake before heading out of the house.
If you have the recipe down perfectly, you can even make a quick batch of almond milk directly into the to-go cup and store it in the refrigerator. It only takes a handful of seconds!
---
Blendtec Total Classic Blender – Good Alternative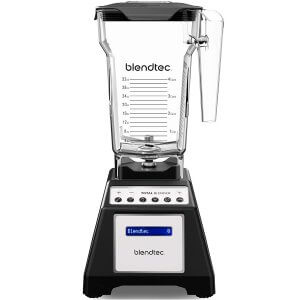 The Blendtec Total Classic Blender is a surprisingly powerful unit with lots of power inside its motor. The blender is awesome for making almond milk, as it comes included with a huge 75-oz container. It has lots of easy blending cycles, the blades are specially designed to be far harder than other blenders, and it is reliably built by Blendtec.
The Hardest Blades Ever
This blender has some seriously advanced blades. While most blender blades are sharp and pointy, the blades of this blender are dull and shaped with wing tips to be much more effective at food processing and blending liquids.
In fact, these blades are roughly 80% thicker than previous models. They are stainless-steel forged and roughly 10x stronger than the competition. Because they are dull, you never have to worry about the blades getting dull from overuse. They will work forever, from your first blend to your last blend.
Read More: Full Blendtec Total Classic blender review
Simple Technology
The technology in this blender is pretty simple and yet extremely helpful. With the easy blending cycles, you can activate the blender with a single touch and it will blend your smoothie, soup, or dessert to perfection. It gives you complete control over all your textures.
Plus, the Total Classic Blender can he eat soup simply by spinning its advanced blades to create friction. You can enjoy a warm meal or a warm beverage in under 6 minutes thanks to this incredible blender. And as a bonus, it comes with an 8-year warranty.
---
Best Blender For Almond Milk: A Complete Buying Guide
Making almond milk, or any other kind of nut milk, is some serious business. Whether you are sick of paying extortionate prices at the grocery store, you want to control what ingredients go into your almond milk, or you just want to have fun with a new recipe, making almond milk in your blender at home is great.
But you need to have a quality blender to do it. When it comes to blending such serious ingredients, a personal blender is probably going to lack the power needed for creating such a milky and creamy substance like almond milk. When shopping for a new blender, keep your eyes open for these features.
Read More: How to make a smoothie without milk
Cool-Running Motor
When it comes to making almond milk, you're going to have your blender spinning for quite a long time. If you have a normal countertop blender with a cheap motor, all that continuous blending is going to undoubtedly cause your motor to overheat, and then your almond milk will never be ready.
To avoid any problems while going through the process of making almond milk, you need a blender that can stand up to long bouts of usage. While this is kind of difficult to ascertain before actually buying the blender, there is something you can look for.
If the blender advertises the ability to make hot soup, chances are it can blend for a full 6 minutes without overheating. Always make sure you purchase a blender that is able to make hot soup. This means the motor is resilient enough to keep spinning for long periods of time.
Self-Cleaning
Almond milk is some pretty sticky stuff. To make sure you don't damage your blender when making any kind of nut milk, try to get a model that can clean itself. It's so much more effective to simply rinse the container, fill it with a bit of soap and water, then allow it to blend itself clean.
This will save you lots of trouble in the aftermath of making a large batch of almond milk. Though it is important that you always clean your blender immediately after, otherwise you might get some funky smells and some of the milk could stick to underneath the blades when it dries.
Speed Controls
To get the perfect consistency with your almond milk, you need to be able to control the speed. Always purchase a powerful blender that has more than just a high speed and a low speed. You want full control over all the speed variables so that you get the ideal texture for your milk.
Best Blender For Almond Milk: Final Thoughts
It's hard to choose the best model out of these three great blenders. For making almond milk, they are all extremely useful. The Oster Pro 1200 Blender is a fantastic budget unit that still gets the job done, while the Blendtec Total Classic Countertop Blender is an innovative blender with lots of different settings that can make you huge batches of almond milk in mere minutes.
That said, I have to vote for the Vitamix 5200 Blender as the best on the list. The Vitamix 5200 is highly advanced, it has extreme power and durable blades, and it has enough strength to easily blend nuts into milk without skipping a beat.
The 5200 is also extremely versatile. You can use it for basically anything. It has advanced speed controls, it can clean itself, and it's built to be the best. You can rely on your Vitamix blender for years to come, never needing to worry about buying a future replacement.