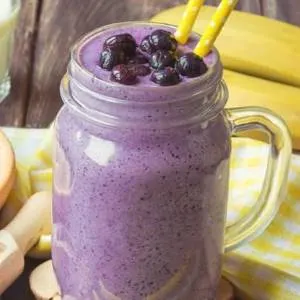 Lactose intolerance can be very annoying. Many products and dishes are out of reach for you, and you always need to pay attention to your diet and look closely at the ingredients to make sure that there is no lactose in your meal.
Smoothies are a good option if you are lactose intolerant. Milk can be used in smoothies, but you can easily replace milk with a wide variety of substitutes!
In this article, you will find out how to make a smoothie without milk, and discover 8 delicious recipes so that you too can enjoy a tasty smoothie!
Read More: What is the best blender for making almond milk?
Do you Need Milk to Make a Smoothie?
The answer is no, you do not need milk to make a smoothie. Instead of cow's milk, there are many healthier alternatives that you can use instead! For example; soy milk which contains minerals like calcium and potassium, coconut milk which contains vitamin C and E antioxidants, or rice milk which is lactose-free meaning some people won't get an upset stomach after drinking it.
You can also use fruit juice to give you the thickness and taste that milk would. Juice has fewer calories than milk anyway! Not only does fruit juice make your smoothie healthier but it's also tasty!
Water is another alternative. If you don't like the taste of juice then just use water, it'll still be super healthy!
Another option you could use instead of milk is yogurt or ice cream. If you cannot have lactose then you can use a dairy-free variety.
Yogurt helps keep your gut healthy by providing bacteria which is useful for your health. It's not as healthy as other alternatives mentioned before but it's definitely better than cow's milk if you're looking for a thick texture without having to add any other ingredients.
The same thing goes with ice cream, although it may contain large amounts of fat, it's still better than milk.
The most important thing about smoothies is the fruit! There are so many different fruits you can use with your smoothie to make it healthy. For example; berries which contain antioxidants and bananas which contain vitamin B6, manganese, and potassium. You can also add vegetables such as kale or spinach to give you even more vitamins!
It doesn't matter what drink you choose, but just remember that there are healthier alternatives than cow's milk if you're looking for a thicker smoother texture.
Read More: How To Make A Smoothie Thicker: 7 Simple Ideas
Can you Make a Smoothie with Water Instead of Milk?
Sure you can! In fact, water may even give your smoothie a better texture.
You can use water instead of milk in any smoothie recipe – just substitute an equal amount. It's likely that this substitution will improve the final result! Water gives a smoother texture than milk does because it contains no proteins or sugar.
This means you'll probably notice less foam on top of your finished smoothie when you make it with water. Try out this simple substitution and see what you think!
Water also adds zero calories to your smoothie, compared to the 90-110 calories per cup of milk. Milk is also high in sugar and saturated fat (which means it's not as healthy as water). If you're looking for a healthier smoothie that still tastes great, then water is an excellent substitute!
How do you Make a Smoothie Without Milk or Yogurt?
Most smoothies you make at home are made with some type of liquid. This could be water, milk, or yogurt. However, if you want to make a healthy smoothie without milk or yogurt there is a simple solution: use fruit juice! Fruit juice comes from fruit and vegetables, has many vitamins and minerals in it, and makes for a great substitute for milk.
In addition to that, most fruit juices have less sugar than milk does because the natural sugars found in fruits are what your body likes best!
Can you Make a Smoothie Without any Liquid?
Yes, you can make a smoothie without any liquid! Fruit contains a lot of natural juice so if you use enough fruit in your smoothie, you won't need any additional liquid.
To make the perfect thick smoothie use plenty of soft frozen fruit and vegetables.
Most fruit and veg will need to be chopped into small pieces before you can put them in the blender. Soft fruits such as banana, mango, and strawberries do not need chopping – just break them up with your hands or a fork.
The reason why you don't need any water is that the fruits are mostly made up of juice. So when you put them into your blender without any additional liquid it the fruit will create its own liquid that is perfect for smoothies.
Read More: Can You Juice A Banana: The Definitive Answer
Watermelon Smoothie
This is a smoothie that contains only watermelon, some lime juice, and a little bit of mint; perfect for people who are not allowed to have milk products. Watermelon on its own is delicious and is full of water, so we only use this type of fruit in this smoothie. The perfect summer smoothie and a great option for a milk-free smoothie!
Ingredients
A melon
A lime
A sprig of mint
Preparation
The preparation method of this smoothie is of course very easy because the smoothie contains only a few ingredients. All you have to do is cut up the melon and put it in the blender. Add the juice of the lime to the blender and then blend until it is a smooth consistency.
When the smoothie is a smooth mixture, pour it into a glass to serve it. To finish the smoothie you can add a sprig of mint on top.
Read More: How long does watermelon last?
---
Strawberry Banana Smoothie
Strawberry and banana go together perfectly. The strawberry and banana smoothie is therefore a real classic. Usually, this smoothie is made with yogurt or milk, but it is replaced with orange juice in this recipe. A perfect refreshing smoothie for people who follow a lactose-free diet!
Ingredients
Strawberries (handful)
1 banana
100 milliliters Orange juice
Preparation
You only need three ingredients to make this smoothie. For best results, make sure the fruit you use is frozen. Cut the banana and strawberry into small pieces and freeze them, or buy frozen fruit from the supermarket.
First, put the banana and strawberry in the blender and blend until smooth. Then add freshly squeezed orange juice or ready-made juice to this mixture. Blend all the ingredients one last time and then this delicious strawberry banana smoothie is ready!
Read More: Strawberry kiwi smoothie with ice
---
Applesauce Smoothie
An applesauce smoothie, you may not have heard of that before. Yet it is very tasty, simple and quickly ready!
You don't make this smoothie with apples, but with applesauce. By adding some cinnamon, the taste is a bit like apple pie; and who doesn't like apple pie!
This smoothie is easy to make and very tasty. It may not be the healthiest of smoothies, but it doesn't always have to be. It's ok to have a treat sometimes, and of course, this smoothie does not contain milk!
Ingredients
400 grams of applesauce
200 milliliters orange juices
2 tablespoons honey
1 teaspoon nutmeg (optional)
2 teaspoons cinnamon (or more to taste)
Preparation
Nothing needs to be cut with this smoothie, which makes it a simple and quick smoothie. You put the applesauce in the blender along with the orange juice and honey and mix until smooth.
Make sure the orange juice is cold so you're not just drinking warm applesauce. If you prefer it colder, you can add a few ice cubes to the mixture while blending.
Then add some nutmeg to taste. You don't necessarily have to add this to the smoothie if you don't like this taste. Finally, add some cinnamon to taste to create a nice apple pie flavor and mix and blend one last time. After this, the smoothie is ready to be served!
Read More: Substitute for Orange Juice: 11 Best Alternatives
---
Passion Fruit Mango Smoothie
This smoothie contains two fruits that go together perfectly. Where mango is particularly sweet, passion fruit also contains a nice acidity. This gives the smoothie a deliciously sweet but also fresh taste.
A perfect dairy-free smoothie for a beautiful summer day or of course any time you feel like it!
Ingredients
75 grams mango
1 passion fruit
1 banana
200 milliliters orange juices
Preparation
You can buy the fruit frozen or cut it yourself then freeze it. All fruits should be cut into smaller pieces (if using fresh) so that the blender can blend them better. Put all of the fruit in the blender and turn it on.
Then add the orange juice and blend until you get a smooth mixture. After this, you can serve the smoothie!
---
Avocado, Apple and Pear Smoothie
This smoothie has a deliciously fresh taste due to the pear and apple, but the juice will also become smooth, creamy, and thick due to the avocado that you also add to the smoothie.
Of course, you have to love avocados. Avocados are highly nutritious and a good source of potassium, fiber, and healthy fats! As you can see in the ingredients, you can choose from water or almond milk for this smoothie.
Ingredients
1 apple and 1 pear (or either)
1 scoop chia seeds
1 avocado
Almond milk or water
Preparation
Cut the apple, pear, and avocado into smaller pieces so that the blender can puree it better. Also, remove the skin from the apple and pear if you like. First, blend the avocado until smooth, and then add the pear and apple.
When this has become a smooth mixture, you can add the water or almond milk.
Blend one last time and after this, you can add the chia seeds, which makes the smoothie just a bit healthier. If you think the juice is still a bit too thick, simply add more almond milk or water! After this, you can pour the smoothie into a glass and enjoy it.
Read More: Can You Eat Avocado Skin – 5 Health Benefits
---
Apple Cucumber Smoothie
This apple cucumber smoothie is a perfect option if you are on a lactose-free diet. You literally only need two ingredients for this, as both are already full of water.
Adding a liquid to this smoothie is therefore not necessary, although you could add a milk substitute if you want it to be thinner. It is a deliciously healthy and above all fresh smoothie.
You can again make the smoothie quickly and easily since you need very few ingredients.
Ingredients
1 Apple
10 centimeters cucumber
Almond or soy milk (optional)
Preparation
Peel the apple and cut it into smaller pieces so that the blender can process it more easily. Also, cut off 10 centimeters from the cucumber; you can leave the skin on or remove it. Because the cucumber is already well cold, the apple does not necessarily have to be.
No liquid needs to be added to this smoothie, because both apple and water already contain quite a lot of water. If you want to add liquid, add it into the blender with the apple and cucumber.
Now put the apple and cucumber in the blender and blend until smooth. That's all you need to do to prepare this simple and quick smoothie!
---
Banana Kiwi Smoothie
Yogurt is often used in a smoothie to create a somewhat thicker texture. A good lactose-free option for thickening a smoothie is to use a banana.
Banana has a nice taste and makes your smoothie a bit thicker at the same time. The kiwi gives the smoothie a sour taste, unlike the banana, which makes the smoothie sweet.
This smoothie also uses an alternative to normal milk: almond milk. A great replacement!
Ingredients
2 bananas
1 orange
1 kiwi
300 milliliters almond milk
Preparation
First of all, peel the bananas and cut or break them into pieces. In addition, peel the orange and the kiwi with a knife and cut them into smaller pieces as well. Then add all the fruit to your blender and pour in the almond milk.
Let the blender mix the ingredients well until smooth and then enjoy the smoothie!
---
Mango Chia Smoothie
Last but not least, we have a mango chia smoothie recipe for you. Once again, this contains a good alternative to milk or yogurt: coconut milk.
Coconut milk gives the smoothie a nice taste and it gives the smoothie the right structure. Soy yogurt is also used in this smoothie!
Ingredients
150 grams frozen mango
75 grams of chia seeds
½ can of coconut milk
2 tablespoons soy yogurt (or plain lactose-free yogurt)
1 banana
A hand full of berries
Preparation
Add the chia seeds to the coconut milk and stir well so that all the seeds are coated with coconut milk. You then have to let this mixture rest for two hours in the fridge, which helps to soften the chia seeds and flavor the coconut milk. So if you don't have the time, this smoothie may not be for you.
When your chia seed mixture is ready, you can mash the banana and add it to the chia coconut milk as well. You also need to mix this well. Then puree the mango together with the soy yogurt or lactose-free yogurt until a thick but smooth mixture is formed.
Start by scooping the chia seed mixture into a cup with the mango layer on top. Keep alternating the layers until the cup is full. After this, you can use berries or another fruit that you like as a topping.
---
How To Make A Smoothie Without Milk: Final Thoughts
When we think of a smoothie or a milkshake, we often associate them with milk, cream, or yogurt. If you can't have dairy-based drinks due or an allergy, or you choose not to consume them, there are a variety of options you can use instead.
These recipes will ensure that you don't have to avoid the foods you love just because you can't or won't eat dairy. These delicious smoothies are healthy, refreshing, and best of all, lactose-free!