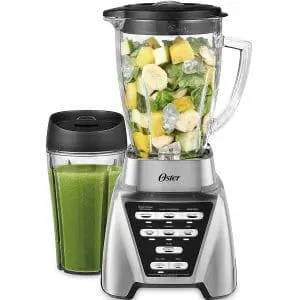 Oster has been in the blender market for quite some time, and they have manufactured some fantastic blenders, including the Oster Pro 1200. Most of their blenders have received a fair amount of attention, and most of them have excellent reviews from the users.
Oster is probably the best manufacturer of personal blenders, plus their mixers are relatively cheap compared to high-end blenders such as Vitamix 5200 and Blendtec blenders. They are easy to use, and most of them come with pre-programmed settings to make your work even more straightforward.
Oster Pro 1200 is no different, and I am convinced that you are going to love it. This review discusses more about this blender from its strengths, features, and flaws. It will give you a vivid picture of what kind of a blender Oster Pro 1200 is and if it is worth your money.
---
Oster Pro 1200 Review: Overview
The Oster Pro 1200 is designed to last as it is made of Duralast All-Metal Drive, which Oster claims that it can outlast competitor plastics drives. This design does not only last for long, but it also performs exceptionally. Most people agree with Oster when they say it can blend 10,000+ smoothies.
This is a versatile blender that includes pre-programmed settings, wider blades, and a to-go smoothie cup that you can use to carry smoothies or juice while you are on the go. The blender is designed to be easy to use, and last for quite some time. Allow me to break it down for you.
---
Oster Pro 1200: Features
The Oster Pro 1200 comes with many fantastic features, but two of them are what makes most people happy. The dual direction blade technology and Smart Settings Technology.
Smart Settings Technology includes three pre-programmed settings and seven speeds. On the other hand, the dual-direction blade technology allows the extra-wide blades it comes with to blend in two directions, which allows effective and faster blending. Other features of the blender include:
BPA-free
Comes with a strong enough motor of crush almost everything you throw in the blender, 1200 watts/ 19,000 RPM
Dishwasher safe
Three years warranty
Stainless steel blades
---
Oster Pro 1200: Design
The Oster Pro 1200 blender stands 14 inches tall, and it has a sleek design. It has a wide square base, similar to other models, which always remains sturdy whenever you are blending.
Its base is made of BPA-free plastic brushed with nickel coating. It comes with a Boroclass glass jar that holds up to six cups and not forgetting the blend-n-go smoothie cup that you can use while you are going out hiking or something.
The blender is designed to create smoothies in its purest form. It is dishwasher safe, which makes it easy to clean. Its sturdy support ensures that you are safe while blending since the blender cannot move from where you place it.
---
Usability and Performance
The Oster Pro 1200 is quite versatile, and you can use it to perform a set of kitchen tasks. It comes with three pre-programmed settings that you can use to create smoothies, salsas, and milkshakes. All you have to do is put the ingredients in the blender and press the button for whatever you want and wait for a few minutes for it to get ready. How hard is that?
The blender also comes with a pulse button. Its Boroclass blender is BPA-free, so you have nothing to worry about toxins. The buttons on the blender are clearly marked and simple to understand. You can even use the mixer without having to read the manual.
Read More: Oster Vs Ninja: Is the Pro 1200 better than the BL610?
The whole blender comes with a three-year unlimited warranty. They trust their Duralast All-Metal Drive so much that it comes with a 10-year warranty. The 1200 watt motor is quite strong, and when it powers the extra-wide blades, they blend any food effortlessly.
Its functions include making, frozen dessert, crushing ice, making smoothies of all kinds, and milkshakes, among other tasks. I am confident that you are going to love the versatility of this blender, considering the fact that it is quite affordable.
---
What Most People Love About It
The Oster 1200 blender has a lot to like, and it is the kind of a machine anyone in the kitchen should be happy to own. In my research, the following are some of the things that most people loved the most about it.
The Oster Pro 1200 is quite to use.
A sturdy blender that will blend anything you throw in it without moving an inch
Its blade design is quite impressive, and most people have good things to say about it. Its blades can move in both directions, which makes blending more straightforward and faster.
The blender is quite durable, although I found several complaints that it is not durable enough for them. However, most people are happy with the blender's durability.
The 24 oz smoothie cup it comes with that you can use to carry smoothies while you are on the go is also applauded by many
The blender is quite easy to assemble, and anyone can do it effortlessly
Related Articles:
Even though it has excellent features and has received a lot of love, it also has some flaws. One thing that I found lots of complaints about is the noise it makes while you are using it. For the best results, be sure to follow these tips:
If you have to blend hot liquids, don't use the blender cup, use the jar
Always ensure to use not more than four cups of hot liquid in the jar
Use only the pulse control while you are crushing ice
Always ensure to have enough liquid in the blender to avoid overworking the motor when you are blending frozen ingredients
---
Oster Pro 1200 Review: Final Thoughts
The Oster Pro 1200 is a fantastic blender that has some great features. It is relatively cheap, and it is easy to use. A lot of people have good things to say about the blender, and this can be seen from the 4.4-star rating it has received on Amazon, with most people rating it 5-star.
The reason for that love is the fact that the blender is quite versatile, easy to use, powerful, easy to clean, and it has a fantastic sleek design. However, it is quite noisy, which can be a problem if you want to use it in quiet places such as libraries and laboratories.
All in all, it is a great blender that I recommend to anyone looking for a cheap and versatile mixer. It is available on Amazon, and you can get yours today.