Best Overall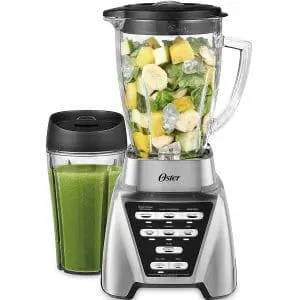 Powerful 1200W Motor
Durable Design
Best Price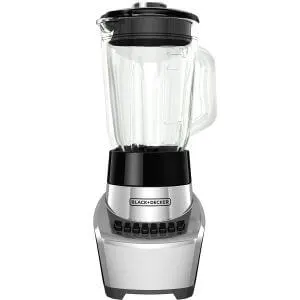 12 Speed Settings
Cheap Price
---
Today we are looking at two insanely affordable blenders with glass jars. The Oster Pro 1200 and the Black & Decker FusionBlade are both under $100, they both have extremely powerful motors, and each one comes loaded with the best features for making salsas, smoothies, milkshakes, and so much more.
In this Oster vs Black and Decker Blender comparison, you'll see that each of these blenders has a nostalgic look with its impressive glass jar. These are classic blenders that will look amazing in your kitchen next to your modern appliances. For under $100, can you really go wrong?
In any case, we are going to get to the bottom of which is the best blender. It's definitely going to be a close call, as the blenders are so similar. Both blenders are professional, they have great speed settings to give you consistent blends, and there are literally thousands of positive reviews split between them.
Oster Pro 1200 Glass Jar Blender Review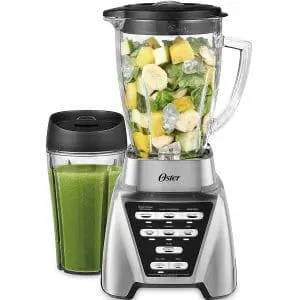 The Oster Pro 1200 Glass Jar Blender is a powerful classic blender with everything you need to satisfy your thirst for smoothies and shakes.
Smart Technology
This blender offers great smart technology. It includes seven different speeds and three pre-programmed settings so that you can make consistent smoothies, shakes, and salsas. Just push the button and let the blender do its thing. No more guesswork with blending times.
You also get smart dual-directional blade technology that gives you maximum blending power for chopping and grinding the toughest ingredients. Because of the blender's extra-wide blade system, all the ingredients flow directly into the blades for quicker and smoother results.
Read More: Full Oster Pro 1200 review
Maximum Power
This blender is fantastic in terms of power. It has 1200 watts of blending power to make even the toughest recipes simple. That means this blender is not only great for making smoothies and shakes, but it can also make more difficult recipes like almond milk, nut butter, and chunky soups.
With its huge Boroclass glass jar, this blender stands up to all kinds of punishment. You can even use it to blend hot ingredients without worrying about the glass jar breaking! It's durable, safe to use, and can be washed in the dishwasher.
Read More: Oster Vs Hamilton Beach blender
---
Black + Decker FusionBlade Blender Review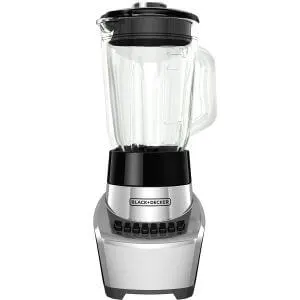 The Black + Decker FusionBlade Blender is at the top of its class. It comes with 12 speeds, a pulse feature, stainless-steel blades, and a durable 48-oz glass jar. This blender also comes with a specialized lid insert so that you can drizzle oil into the jar while blending.
More Speeds, More Power
This blender has tons of speeds. You can make all kinds of different textures by tweaking the speeds to get your desired results. There are 12 speeds to choose from, and they are all under your control. Plus, this blender comes with a pulse function, which is very handy for making thicker recipes like vegetable soups and chunky salsas.
And even though the blender only has 550 watts of power, it still works to break apart your ingredients and make delicious drinks.
Special Lid Insert
Arguably one of the best blender features with this unit is its special lid insert. The clear lid insert has one ounce of room so that you can add any kind of liquid you want slowly into your blend. The insert works by drizzling oil or another liquid directly over your other ingredients while you are mixing your drink. This is key for adding flavor to a variety of great smoothie recipes.
---
Oster vs Black and Decker Blender: Main Product Differences
Oddly enough, these two blenders have a lot in common. They both use solid glass jars, they both have lots of speed, and they both have some pretty impressive steel blades. However, there is a difference in power, versatility, and uniqueness.
Major Power Difference
The biggest difference between these two machines is their power. The Oster Blender has a whopping 1200 watts of ice-crushing strength that allows you to make tougher recipes because you can easily blend seeds, nuts, leafy greens, and ice without a single problem.
However, the Black and Decker only functions with 550 watts. This is less than half of the Oster's power! And while you can definitely still make awesome smoothies and shakes with the Black and Decker, it simply doesn't have the power to tackle harder recipes.
Read More: Oster blender reviews
Bigger and More Versatile
In exchange for lower wattage and less power, the Black and Decker has a much larger glass jar, more functionality, and more options for speed settings. The Oster Blender uses a 24-ounce jar, but the Black and Decker uses a much larger 48-ounce jar. That's a lot more room for blending.
The Oster has 7 speed settings. The Black and Decker has 12. That's more control over the textures of your smoothies and shakes. Plus, the Black and Decker has a 1-oz lid insert for adding oil and other liquids gradually to your blends. Unfortunately, the Oster does not have this feature.
Read More: What is the best mason jar blender?
Oster vs Black and Decker Blender: Final Thoughts
It is hard to pick a winner here. The Oster Pro 1200 is slightly more affordable and has a cool classic look that people love. However, the Black & Decker FusionBlade Blender has a more modern style that also appeals to a vast number of people. That said, the FusionBlade is weaker and less useful, and so I have to give it to the Oster Pro 1200.
For such an affordable blender, the Oster Pro really delivers. It has smart setting technology, pre-programmed cycles for the most common blender recipes, dual-directional blade tech from better blending, and incredible power with its 1200-watt motor.
If you want a serious blender that has professional power and offers a classic glass jar, this is the best option for you. It's cheaper than most personal blenders and more powerful. Sure, you need to wash the glass jar, but who cares? It's worth a bit of cleanup to have such a quality item at such a low price.
Read More: Oster 1200 Vs Ninja BL610 blender comparison