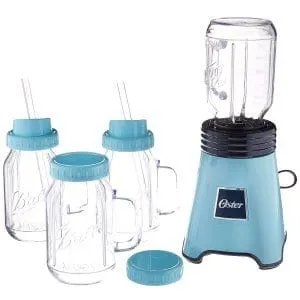 Today, we will discuss one of the best-selling Oster Blenders, the Oster Ball Mason Jar Blender. If you haven't heard about Oster, Here is what you need to know about the company.
Oster Company was started back in 1946, and for over 70 years that it has been in the market, it has become a household name in America. It has constructed some high-quality blenders that are known for their longevity and performance.
Before 1946, John Oster Company was manufacturing manually-powered hair clippers. In 1946, the company was bought by Stevens Electric Company, and Osterizer came to be. Since then, they have been providing us with affordable blenders.
It is not always easy to choose the right Oster blender for you since there are several in the market. Don't panic, though. I have reviewed some of their mixers, so you don't need to do any more research to know if a blender is right for you or not. In this review, we will see how the Oster Ball Mason Jar Blender can help you.
---
Oster Mason Jar Blender Review: Overview
If you have been searching for an affordable blender, the Oster Mason Jar blender is it. It is easy to use, and it is quite powerful, though not powerful enough for some people. It makes some wonderful smoothies, and you can use it to crush medium-sized chunks of ice or frozen fruits.
A lot of people love plastic mason jars. The jars are quite strong, and they don't break off easily when you accidentally drop them. The mason jars are so convenient that you can easily drink from them.
Read More: Top-rated blenders that fit mason jars
For the price this blender comes for, you will be amazed by how versatile it is. It is also easy to clean as with all Oster blenders and easy to use even for amateurs. It is a blender anyone that is looking for a budget blender will love.
The only problem with it is it takes more time to produce a perfect smoothie. For blenders such as Blendtec 800 and Vitamix 7500, you can make a smoothie for 90 to 120 seconds. For this blender, it will take you more than three minutes to make a good smoothie.
---
Oster Ball Mason Jar Blender: Features
The Oster Ball Mason Jar Blender is a perfect blender for everyday use that adds a bit of style in your smoothies, drinks and crushing ice. The 20 ounces mason jars make it easy for you to serve drinks to your family. You can practically serve all your favorite beverages, from weekend party margaritas to dinner lemonade slushies. The blender comes with some exciting features that include:
Stainless steel blades that pulverize frozen fruits and crush ice easily
400 power watts/250 blending watts
Comes with dishwasher safe mason jars made of BPA-free plastic
Three years warranty
One-touch blending operation
Multi-use accessories that include, storage lids, four ball mason jars, and two sip & straw lids
Dishwasher safe except for the base of the blender which makes cleaning super easy
---
Usability and Performance
The Oster Ball Mason Jar Blender is not the most powerful blender in the world, but it gets the job done. The blender performs basic blending functions with ease. You can count on it to make a fantastic smoothie or crush ice to precision.
However, you should be sure to use the right amount of ice. Putting large amounts of ice will not do you any good. Just put the right amount, and you can expect good results.
Related Articles:
The blender is quite easy to use, and it doesn't come with lots of settings that can confuse you while using. All you need it to put it on the stand, twist it as suggested, and voila, you are good to go.
Please note that this blender may not be the right one for you if you are looking for a blender you can use to make a lot of drinks at once. It's probably perfect for students and single people.
---
What Most People Like about Oster Ball Mason Jar Blender
Yes, the Oster Mason Jar blender has its flaws like the fact that it takes longer to make smoothies or the fact that it only makes drinks for a single serving, but it also has lots of benefits. In my research, I found that most people have good things to say about it. Here are some of its pros.
An easy to use a blender with a great design: Most people love the mixer because of how effortless it is to use. It doesn't come with lots of buttons that can be confusing, and it is also super easy to clean.
It comes with stainless steel blades that pulverize fruits and crushes ice with ease.
It comes with a dishwasher safe BPA-free mason jar that is convenient to blend drinks of any kind. You can use it to make drinks for friends or just for you.
You can replace the blade attachment with the sip and straw it comes with and drinks directly from it.
Adds some beauty to your cupboard with its elegant design.
A small blender that doesn't take up much space when it comes to storage.
The mason jars come with handles, which is perfect for people with small hands and children as well.
The motor of the blender is strong enough to grind coffee beans
---
Oster Mason Jar Blender Review: Final Thoughts
Over the last 70 years, Oster has been providing us with high-quality blenders that come at affordable prices. The Oster Mason Jar Blender is no different, and I can say without any fear or favor that it is worth every dollar.
The blender is quite easy to use with no many buttons to complicate its usage. It comes with a three-year warranty. Although it is not large enough for family use, small families can still use it. For students and single people, the blender is perfect.
It is easy to clean, and it is quite powerful that it can grind coffee beans. This is a blender that I highly recommend to anyone looking for affordable and high-quality mixers. Get one now!
Related Articles: