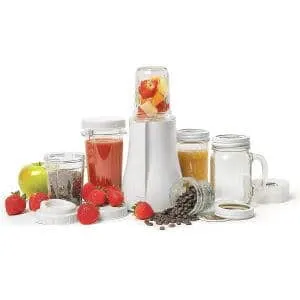 Mason Jar Attachment
Easy to Clean
Mason Jar Attachment
Strong & Durable
---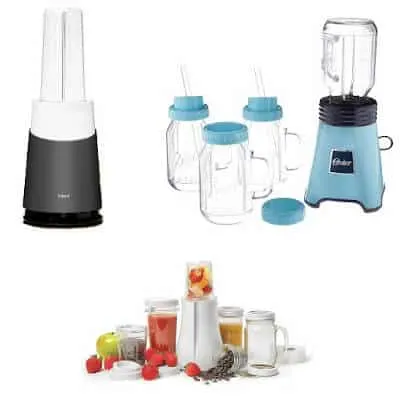 Imagine being able to use your own mason jars with your blender. This is what smoothie blenders that fit mason jars can do. They allow you to easily screw on your own personal mason jars and blend your smoothie directly in them. This is a game-changer for anyone who likes to store their smoothies or crushed ingredients in mason jars, or for people who just enjoy drinking out of jars.
These blenders are powerful, personal, and only cost around $100. They are compatible with all different sizes of mason jars, and they work by easily screwing the mason jar to the actual base of the blender. This is safe, it is affordable, and it is the best way for harvesting ingredients straight into your mason jars.
The best example of this is with beans, seeds, and other grains. Rather than waste time cleaning a large blender and having to fight with getting the mixture into a mason jar, you can now do it without the middleman, storing your ground seeds straight into the jar.
Top Rated Blenders That Fit Mason Jars Of 2021
---
Tribest Single-Serving Mason Jar Personal Blender: Best Overall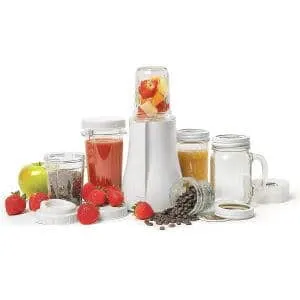 The Tribest Single-Serving Mason Jar Personal Blender is a revolution in the way you use mason jars. This is a personal blender that makes small servings of smoothies directly into a mason jar. But it doesn't stop at smoothies, this blender can easily grind full bags of coffee beans for easy storage, and it can easily store chopped fruits and vegetables in airtight jars.
Fully Compatible
This blender is fully compatible with all the main glass jar brands. I am talking about the Ball brand and Kerr brand. So long as the glass jar has a regular mouth, you can use it with this blender. You almost can't find a mason jar that doesn't work with this unit.
Plus, it is designed smartly so that the grinding blades are always fully enclosed and unable to come into contact with anything other than the ingredients to be blended. For making smoothies, this machine is extremely safe. You can use it with all the different jars, and you never have to worry about a thing.
Dual Operation
This personal blender works using two different modes of operation. This gives you the best versatility for making your smoothie beverages or for grinding your whole grains. The first operational mode is the pulse feature. This is great for slowly blending harder ingredients or for pureeing your smoothies.
The second operation is the continuous mode, which involves twisting the container into the blender until you have blended your mixture into its perfect form.
---
Oster Ball Personal Blender: Budget Pick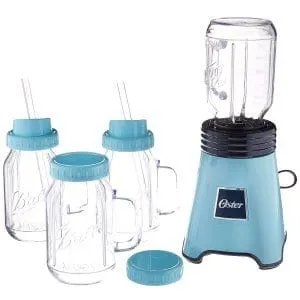 The Oster Ball Personal Blender is a budget unit that works great with the included mason jars. It comes with two Ball style mason jars, a drinking lid plus a straw, and a storage cap so you can easily store dips, spreads, and even baby food. However, the enormous drawback with this personal blender is that it is only recommended that you use the plastic jars included. You are not supposed to use your own jars, glass, or plastic. This is obviously a huge bummer.
Powerful Mini Blender
Despite its small size, this blender does come with a powerful motor that outputs 250 watts of power. This allows you to blend smoothies very quickly without leaving any chunks, even if you are blending lots of leafy greens.
Plus, the blender is extremely convenient. It works using one-touch, hands-free blending. This allows you to blend quickly and efficiently without wasting time with settings or different speed variations. The blender is actually so powerful that it comes included with a 3-year satisfaction guarantee!
Extremely Small
This is definitely the smallest blender on the list. It is the true definition of a personal blender. If you just want a cheap blender for making smoothies inside of plastic jars, this is a reliable option. It does come included with two jars that you can use, but you cannot use any others.
If you don't want the hassle of a bigger blender, and you actually only need your blender to make smoothies at home that you can take with you on the go, this is an ideal unit. And if you don't like it later, it wasn't a big waste of money.
---
Tribest Mason Jar Ready Personal Blender 2
The Tribest Mason Jar Ready Personal Blender 2 is the pinnacle of personal mason jar blenders. It has the best features, it has an extremely strong 500-watt motor with a cooling fan, and it offers two different modes of operation. The blender can be used with personal BPA-blending cups, and it can be used with any mason jar that has a standard mouth.
More Power, More Options
This blender has more power than any other personal mason jar blender. Rather than a weak 200-watt motor, this blender offers 500 watts. That is an incredible amount of power to break apart your food ingredients and deliver you yummy smoothies that are the perfect texture.
With all that power, you also get a cooling fan. This may not seem important, but it is when you are blending for long periods of time. The cooling fan keeps your motor from overheating, allowing you to blend for longer without hurting the internal components. This gives you more options of what you can do with your blender.
Everything You Need
The blender has everything you need, plain and simple. It comes with a special cord wrap so that you can store the machine with the cord wrapped around its base. It comes with special travel cups and lids so that you can take your drinks on the go. And it works with any standard-mouth mason jar, easily allowing you to attach a mason jar to the motor base for instant satisfaction.
---
Smoothie Blenders that Fit Mason Jars: A Complete Buying Guide
There are quite a few things to consider when choosing the best blender to fit mason jars. These are not like ordinary blenders. They are personal, and they don't come with massive containers. These blenders also are not great for food processing. They are small, they make a single serving immediately, and they hook to mason jars.
But some blenders are better than others, and there are still some things you should look out for when purchasing one of these great machines.
The 3 Best blenders that fit mason jars
Adaptability
The whole point of buying one of these blenders is for it to fit onto different kinds of mason jars. Always check what kind of adaptability the blender comes with, as you don't want a blender that won't work on some types of jars.
You will find that most of these types of blenders work with Ball brand jars and Kerr brand jars, but it is better if your blender will come with an adapting ring or something of the sort that allows you to blend directly into any mason jar with a standard mouth. If your blender is unable to work with every standard jar, it probably isn't worth the money you pay for it.
Related Articles:
Included Accessories
Let's say for a minute that you don't have any mason jars. For this reason, you may want to look for a unit that comes included with plastic or glass mason jars. It would be a little silly to purchase a piece of equipment that you have nothing to blend with. You would have to go to the shop and buy your own mason jars!
On top of that, you may want a unique color for your blender. There are many versions that come in different colors, like red, gray, black, and white. I always feel it is important to have a piece of equipment that you like looking at.
Blending Modes
Not all your blends are going to be the same. Because you are making smoothies, you definitely want a blender that can operate using a pulse feature. Always look for the pulse feature in the advertisements for any particular blender. This will allow you to get the best texture for your smoothies, your sauces, or your salsas, all of which you can drink immediately from your desired mason jar, or store in the refrigerator or freezer for later.
You will notice that the best mason jar blenders come with two modes of operation. They will come with the pulse mode and the twist mode, which basically requires you to twist the mason jar to activate the blending blades, and this gives you complete control over your blend.
Read More: Perfect blenders for college students
Smoothie Blenders that Fit Mason Jars: Final Thoughts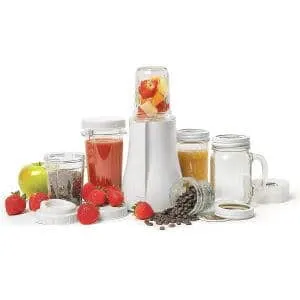 These are some pretty unique blenders, and I guarantee you will be happy purchasing any one of them for all your smoothie needs. The Oster Ball Personal Blender is an extremely low-cost machine with efficient features and great jar technology, while the Tribest Mason Jar Ready Personal Blender 2 is obviously personal, compact, and easy to use.
However, the winner of today's reviews must be the Tribest Single-Serving Mason Jar Personal Blender. It has all the greatest features in a very powerful machine for a very low price. The motor outputs 200 watts, making it strong enough to blend all your hardest ingredients. And it is compatible with Kerr brand and Ball brand glass jars, meaning you can use most of the jars already sitting around your house.
This Tribest's blender has two operational modes, one with a pulse blend and the other with a continuous blend that allows you to grind beans, seeds, and other grains to absolute perfection.