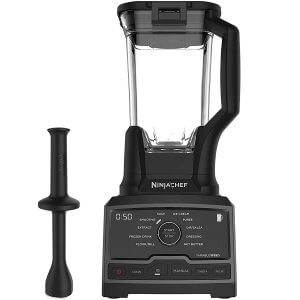 Today, I will be reviewing the Ninja Chef Blender. Ninja blenders are quite popular in the US because of different reasons. One of the major reasons why most people love them is because of their affordability. Their blenders are pretty affordable, even though they are of high-quality.
Many people compare them with expensive blenders such as Vitamix 7500 and Blendtec blenders. Well, they might not match the durability and performance of those blenders, but they come close. They usually look classy, and they provide you with magnificent performances.
The Ninja Chef is no different, and I can assure you that there is a lot to love about it. Most users have great things to say, and I bet you will join them once you get yourself one. This Ninja Chef review will help you get what it has to offer so that you can know if it is right for you or not.
---
Ninja Chef Review: Overview
The Ninja Chef blender is one of the best picks from Ninja. It is quite powerful, and it is quite good when it comes to making purees, smoothies, and crushing ice. You can also use your blender for grinding coffee beans.
Most people agree that it is perfect at the basic blending functions and can serve you well even on other functions. However, it is quite underpowered, so you should not use it for strenuous tasks regularly. Here is how it performs with different tasks.
---
Ninja Chef: Performance
One of the main reasons why most people buy a blender is to make smoothies. If a blender is not good at making smoothies, it is not worth buying. For the Ninja Chef, most people have great things to say about their smoothies.
It is perfect with green smoothies, and you can be sure that nothing will be left unblended. The smoothie comes with the perfect thickness, but a few people had a few complaints about its texture. Some also say that it doesn't blend kale perfectly.
For berry smoothies, this blender is near perfect. It is also just as good with fruit and oat smoothies. However, some people complain about the drop in quality with the oat smoothies. All in all, it is quite good with smoothies, and most people love its performance.
For ice crushing, all Ninja blenders are fantastic, and this one is no different. You can easily make frozen margaritas with it, and it crushes ice with ease. If I were to give it a rating for this function, I would give it 4.9 out of 5 stars. Just make sure not to put large chunks of ice.
A lot of people are also contented with the convenience of this blender, and I am convinced you will too. It is quite easy to use and clean. It comes with a number of preset functions, which makes your work even more straightforward.
Related Articles:
You can clean the pitcher of the blender with your hands, but make sure to dry it after cleaning. The bottom of the pitcher doesn't have tons of ventilation, and water left there can encourage the formation of mold. The pitcher, blades, and lids are dishwasher safe if you don't want to clean them manually.
The Ninja Chef blender is quite good at pureeing. If I were to give it a rating, I would give it 8.6 out of 10 stars. The reason why it doesn't get a 10 out of 10 is that it can get overwhelmed, especially if you are making tons of nut butter. All in all, it provides you with amazing peanut and almond butter.
For mixing and making things like tomato soup, the blender is perfect. It has a preset soup setting, which makes your work so much easier. The preset soup setting will not make piping hot soup, but it will be hot enough. The soup is also quite thick, which I think is a good thing
For grinding functions, the blender is quite good as well. It deals with hard foods such as popcorn, granulated sugar, and parmesan cheese perfectly. I would give it an 8.5 out of 10 stars for this function.
This is a blender that gives you the value of your money. In fact, it gives you a performance that some blenders which cost two times its price can't.
---
Ninja Chef: Key Features and Specs
What makes a lot of people go for a blender is its features. If you are still not convinced that you should go for it, here are some of the features of the Ninja Chef:
The powerful motor of 1500 watts
Auto-IQ programs which include ice cream, puree, nut butter, dips/salsa, soup, flour, dressing, frozen drinks, extract, and nut butter
The capacity of 72 oz
A user guide manual
Comes with a recipe book with 50+ recipes
Has a clean setting that makes your cleaning work so much easier
Has a programmable timer
Dishwasher safe
One year warranty
BPA-free plastic
Ten manual speeds
---
What People Love About It
As stated, most users have good things to say about the Ninja Chef blender. Here are just but a few things I gathered.
Versatile blender
Uses next-generation blades
Powerful motor
Comes with a tamper, it allows you to make recipes with no liquid in the blender
Easy to clean
Suction cup feet which make it quite sturdy
Big enough container
Cheaper than most blenders of its level
Ninja Chef Review: Final Thoughts
The Ninja Chef blender is one of the best alternatives for expensive Blendtec and Vitamix blenders. Its versatility and performance are comparable to these high-end blenders. With a 1500 motor, it has enough power to crush almost you throw in its way.
You can make almost any recipe in your kitchen with this blender except for kneading the dough. This is quite a performance from a blender considering its price. It makes you feel like you are using one of the most expensive blenders out there, but it comes for such an affordable price.
Most consumers are happy with it, and you are likely going to love it too. Its quality is acclaimed by many, which is a good sign. The only problem is that it comes with a limited warranty. A one year warranty is limited, considering that some blenders come with a warranty of 8+ years. However, this doesn't mean that the blender is not durable. Get yourself one, and you will be happy you did!
Related Articles: