Today, I will be reviewing the Ninja Chef Blender. Ninja blenders are quite popular in the US because of different reasons. One of the major reasons why most people love them is because of their affordability. Their blenders are pretty affordable, even though they are of high-quality.
Many people compare them with expensive blenders such as Vitamix 7500 and Blendtec blenders. Well, they might not match the durability and performance of those blenders, but they come close. They usually look classy, and they provide you with magnificent performances.
The Ninja Chef is no different, and I can assure you that there is a lot to love about it. Most users have great things to say, and I bet you will join them once you get yourself one. This Ninja Chef review will help you get what it has to offer so that you can know if it is right for you or not.
---
Ninja Chef Review: Overview
The Ninja Chef blender is one of the best picks from Ninja. It is quite powerful, and it is quite good when it comes to making purees, smoothies, and crushing ice. You can also use your blender for grinding coffee beans.
Read More: Best Ninja blender
Most people agree that it is perfect at the basic blending functions and can serve you well even on other functions. However, it is quite underpowered, so you should not use it for strenuous tasks regularly. Here is how it performs with different tasks.
---
Ninja Chef Review: Performance
One of the main reasons why most people buy a blender is to make smoothies. If a blender is not good at making smoothies, it is not worth buying. For the Ninja Chef, most people have great things to say about their smoothies.
It is perfect with green smoothies, and you can be sure that nothing will be left unblended. The smoothie comes with the perfect thickness, but a few people had a few complaints about its texture. Some also say that it doesn't blend kale perfectly.
For berry smoothies, this blender is near perfect. It is also just as good with fruit and oat smoothies. However, some people complain about the drop in quality with the oat smoothies. All in all, it is quite good with smoothies, and most people love its performance.
For ice crushing, all Ninja blenders are fantastic, and this one is no different. You can easily make frozen margaritas with it, and it crushes ice with ease. If I were to give it a rating for this function, I would give it 4.9 out of 5 stars. Just make sure not to put large chunks of ice.
A lot of people are also contented with the convenience of this blender, and I am convinced you will too. It is quite easy to use and clean. It comes with a number of preset functions, which makes your work even more straightforward.
Related Articles:
You can clean the pitcher of the blender with your hands, but make sure to dry it after cleaning. The bottom of the pitcher doesn't have tons of ventilation, and water left there can encourage the formation of mold. The pitcher, blades, and lids are dishwasher safe if you don't want to clean them manually.
The Ninja Chef blender is quite good at pureeing. If I were to give it a rating, I would give it 8.6 out of 10 stars. The reason why it doesn't get a 10 out of 10 is that it can get overwhelmed, especially if you are making tons of nut butter. All in all, it provides you with amazing peanut and almond butter.
For mixing and making things like tomato soup, the blender is perfect. It has a preset soup setting, which makes your work so much easier. The preset soup setting will not make piping hot soup, but it will be hot enough. The soup is also quite thick, which I think is a good thing
For grinding functions, the blender is quite good as well. It deals with hard foods such as popcorn, granulated sugar, and parmesan cheese perfectly. I would give it an 8.5 out of 10 stars for this function.
This is a blender that gives you the value of your money. In fact, it gives you a performance that some blenders which cost two times its price can't.
---
Ninja Chef Review: Key Features and Specs
What makes a lot of people go for a blender is its features. If you are still not convinced that you should go for it, here are some of the features of the Ninja Chef:
The powerful motor of 1500 watts
Auto-IQ programs which include ice cream, puree, nut butter, dips/salsa, soup, flour, dressing, frozen drinks, extract, and nut butter
The capacity of 72 oz
A user guide manual
Comes with a recipe book with 50+ recipes
Has a clean setting that makes your cleaning work so much easier
Has a programmable timer
Dishwasher safe
One year warranty
BPA-free plastic
Ten manual speeds
---
Ninja Chef Review: Design and Construction
Ever since I bought the Ninja Chef High-speed Blender, I'm in love with it. It is an incredibly stylish appliance that looks good in every kitchen, whether it is modern or retro. Ninja Kitchen has a product series that includes the Ninja Chef High-speed Blender and the Ninja Chef High-speed Blender Duo.
I prefer buying kitchen accessories which go well with my other products in the kitchen. The Ninja Chef blender has not disappointed me with its color as well. It is available in black and silver color and has various models that fit perfectly according to the convenience and add to your kitchen's classiness.
Light as a feather, the blender weighs approximately 10.3lbs. It is around 17.9 inches high and 9.7 inches wide and has a 30-inch-long cord attached to the motor base. This cord wraps easily around the motor base, which makes it easier to store the appliance.
The motor base also has four strong vacuum feet that hold the appliance into place and avoid slipping and sliding while the appliance is running.
---
Ninja Chef Review: Accessories
When I purchased the Ninja Chef Blender, I got a high-speed motor base along with it. It also includes a stainless-steel 72 oz. Pitcher and lid (with center lid cap) and 24 oz. Double-walled To-Go Tumbler. Now, I can easily blend my smoothies and carry them along, no huss, no fuss.
All the containers are made of BPA-free Tritan plastic, which reassures the reduced risk of heart disease. Along with it comes a Spout Lid, that can be used for serving purposes. The pitcher has a maximum liquid capacity of 64 ounces (for room temperature or cold ingredients) and 36 ounces for hot ingredients or liquids.
Apart from that, I got a 35-Recipe Inspiration guide that includes fast-to-cook and good-to-eat recipes with my Ninja Chef Blender. There are a few models that have a 50-Recipe Instruction Guide included.
I could easily start using my blender with a Quick Start Guide and an Instruction Book. A Tamper is included in the set as well.
For all the Ninja Chef Blender series models, there are additional accessories available that can be ordered as per your wish. If a part of your blender set gets damaged, it can easily be replaced. The following Ninja Chef Blender Accessories are available for all the blender models:
A Two-Pack of the 24 oz. Single-Serve blender cups with Spout Lids
Pro Extractor Blades Assembly
Slim High-Speed Blender Cup Kit
Motor Base
Pitcher and Pitcher Lid with Lid Cap
I also ordered a frozen treat accessory kit so that I could make delicious popsicles.
---
Ninja Chef Review: Power and Speed
Thanks to Ninja Kitchen that produces high-quality appliances that can facilitate and bear the rough and tough use of my everyday kitchen life. The Ninja Chef Blender has a 1500 watts advanced power system and is extremely high-speed. This enables the blender to blend hard ingredients and still avoid wear and tear.
The motor works in a speed range of approximately 7000 to 18000 RPM, which decreases the blend-time. It is easier for me to perform tasks such as blending drinks, crushing ice, and grinding nuts with utmost ease and finesse.
---
Ninja Chef Review: Cleaning and Maintenance
I have always faced issues while cleaning my blenders. On the other hand, maintaining and cleaning a Ninja Chef Blender is as easy as using it is. All the accessories are dishwasher-safe and can be washed by hand as well.
Self Cleaning Mode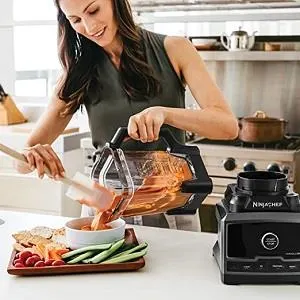 The blender has a self-cleaning program or the "CLEAN" mode that can be used to thoroughly clean the Pitcher without hand-washing it. I have shared a few steps that you can follow while cleaning the Ninja Chef Blender:
While hand washing the containers, blade assemblies, lids, and tamper, you must wash these components in warm, soapy water. After thoroughly rinsing these parts, air dries them.
All the accessories are dishwasher safe, so you can place them in the dishwasher to clean them.
Since the Ninja Chef Blender also has a CLEAN mode, you can clean the pitcher using that. Add warm water to the pitcher and put a few drops of dishwashing soap in it. Place the Pitcher lid properly and select the CLEAN mode, then press START/STOP to begin the self-cleaning cycle. The unit shuts down after completion, and you can dismount the pitcher. Thoroughly rinse and air-dry the pitcher.
Read More: Can Ninja Blenders Go in the Dishwasher – Best Cleaning Practices
Cleaning the Motor Base
To clean the motor base, unplug it before cleaning. Take a clean, damp cloth and wipe the motor base. You may use an all-purpose cleaner and a soft cloth to clean the control panel. The maximum capacity of water for cleaning the pitcher is 24 ounces.
To increase the life of your Ninja Chef blender, it is necessary to store it appropriately. I recommend that do not store ingredients (blended or otherwise) in the Single-Serve Cup with the blade assembly attached. This may damage your product in the long run.
You should not stack anything on top of the containers and store the accessories that are not in use in a cabinet nearby. This is so that they don't get damaged.
It must also be kept in mind that while blending hot ingredients, the pitcher should not be filled to its maximum quantity, causing some stress to the motor.
---
Other Features Of The Ninja Chef
With so many amazing qualities, the Ninja Chef Blender has some cool additional features too. There are six modes on the base unit- Clean, iQ, Manual, Timer, Pulse, and Auto-iQ.
This blender has 10 automatic and 10 manual programs that you can choose to work with. The automatic "Auto-iQ" programs include flour mill, frozen drink, extract, smoothie, soup, ice cream, puree, dip/salsa, dressing, and nut butter.
If the Auto-iQ modes do not fulfill your needs, the manual mode provides 10 different speed settings that allow you to customize your blending according to your requirement.
The Ninja Chef Blender has a FreshVac technology, which removes the unwanted oxygen from the ingredients, making the blend more nutritious and flavor-filled.
There is a programmable timer available in the manual mode, which helps add to blend time if needed.
All the blades included in the Ninja Chef Blender set are made up of stainless steel. You can blend hot and cold ingredients in the pitcher without the fear of damage mechanisms.
Strong Pitcher
The Pitcher is lightweight and is made up of Tristan plastic, which makes the pitcher shatter-proof. This is an added benefit, as it makes the Ninja Chef Blender safe to use around children. All the pitchers and serving cups are made of high-quality plastic, which does not get discolored or stained even after multiple washes and rigorous dishwashing cycles.
There is a "Max-Liquid" line on both sides of the pitcher, marked at approximately 64 ounces. Measurements are scaled on two sides of the pitcher- one is of Litres and Millilitres, and the other is in Ounces and Cups- to accommodate measurements of all kinds of recipes.
The four strong suction-cup feet attached to the motor base are compatible with all kinds of countertops. Be it tile, wood, laminate, marble, or stone, and the Ninja Chef Blender stays put on all types of counters.
The Ninja Chef Blender is highly durable, convenient, and the most reasonably priced blender there is out there.
---
Auto-iQ and FreshVac Technology
The other interesting thing about the Ninja chef high-speed blender is the Auto-iQ, which knows what to do and how to do it. You can call it the brain of the Ninja Chef Blender. It is a program that has pre-set speed, blending patterns, and pulses for various foods. All you need to do is to pop in the ingredients and select your desired setting.
Auto-iQ blends it for you. This feature saves you from standing near the blender, stirring and mixing now and then, and still gets you consistent and satisfactory results.
FreshVac Technology
The Ninja Chef Blender's FreshVac Technology removes oxygen from the vessel before blending. Oxygen is responsible for turning fruits and vegetables brown. It makes the blend taste stale. This vacuum blending locks the vitamins inside and gives a visibly appealing and much better tasting output.
I tried making a drink using the FreshVac feature and was rejoiced with the experience. The drink was not just fresh and delicious, but it stayed the same for at least 8 hours after being prepared. This feature of the Ninja Chef Blender makes my drinks look vibrant and colorful.
What People Love About It
As stated, most users have good things to say about the Ninja Chef blender. Here are just but a few things I gathered.
Versatile blender
Uses next-generation blades
Powerful motor
Comes with a tamper, it allows you to make recipes with no liquid in the blender
Easy to clean
Suction cup feet which make it quite sturdy
Big enough container
Cheaper than most blenders of its level
---
Ninja Chef Review: Final Thoughts
The Ninja Chef blender is one of the best alternatives for expensive Blendtec and Vitamix blenders. Its versatility and performance are comparable to these high-end blenders. With a 1500 motor, it has enough power to crush almost you throw in its way.
You can make almost any recipe in your kitchen with this blender except for kneading the dough. This is quite a performance from a blender considering its price. It makes you feel like you are using one of the most expensive blenders out there, but it comes for such an affordable price.
Most consumers are happy with it, and you are likely going to love it too. Its quality is acclaimed by many, which is a good sign. The only problem is that it comes with a limited warranty. A one year warranty is limited, considering that some blenders come with a warranty of 8+ years. However, as you can tell from this Ninja Chef review, this doesn't mean that the blender is not durable. Get yourself one, and you will be happy you did!
Related Articles: