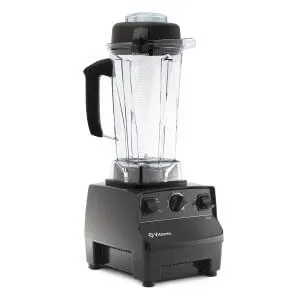 Most Popular Model
Simple Operation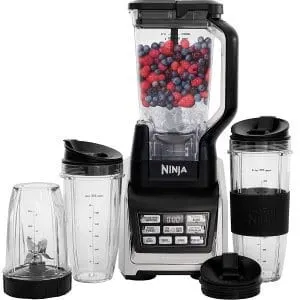 Powerful 1200W Motor
Large Capacity
---
There is nothing better for your health than drinking a kale smoothie once a day. A delicious green smoothie filled with kale, spinach, banana, and other healthy ingredients is an awesome way to stay healthy, to keep yourself energized, and to face the day feeling fresh.
This is why today we are going to find out what is the best blender for kale smoothies. We will be talking about three different blenders that are excellent at blending leafy greens to create tasty green smoothies that you and your whole family can enjoy.
These blenders range in price, but they all have excellent features, reliable blades, and strong motors for blending any possible ingredient that could go into your smoothie. These blenders are also durable, they have variable speed controls, and they are designed to last for years to come. You won't be disappointed when purchasing any one of the blenders on today's list.
Top Rated Blenders For Kale Smoothies
---
Vitamix 5200 Blender: Best Overall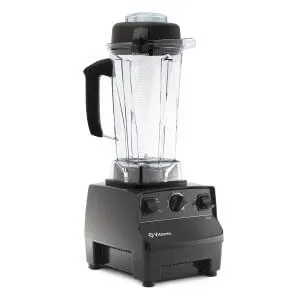 The Vitamix 5200 Blender is top of the line. It comes with all the famous features you would expect from a Vitamix blender. Yes, it has incredible blades that can shred your kale and turn it into a delicious smoothie, but it can do so much more. The Vitamix 5200 blender can make nut butter, baby food, frozen desserts, and it can even heat soup.
Full Speed Control
As with other Vitamix blenders, you get full control over your speeds. There is a professional speed dial on the center of your machine that allows you to blend everywhere from 1 to 10. You can also switch it into high mode for an even more aggressive blend. This is key in controlling the texture of your smoothies.
But of course, if you have a Vitamix you won't only be making smoothies. This baby is expensive for a reason. You can chop, grind, and blend in the same unit. This blender can also clean itself in about 30 seconds, and it can make hot soup by spinning its powerful blades fast enough to heat liquid using friction.
Read More: Full Vitamix 5200 review
The Best in the Biz
The Vitamix blender is simply the best in the business. The 5200 is not the most expensive or the most glamorous model, but it's up there with the best. All the components are built for a lifetime of use, including the hardened steel blades designed to be effective from your first blend all the way to your last.
If you don't believe me, simply take a look at the thousands of positive reviews drummed up for the Vitamix 5200 blender online. It doesn't overheat thanks to the cool-running motor, it blends everything efficiently because of the steel blades, and it makes your smoothies quickly with the metal drive system. This thing is built like a rocket ship, and I have no problem in crowning it the best blender for kale smoothies.
---
Ninja BL642 Blender – Budget Pick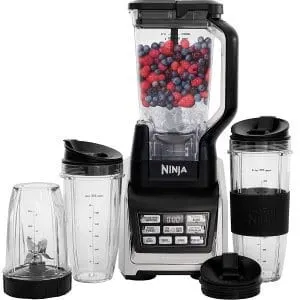 The Ninja BL642 Blender is a remarkable countertop blender for only around $100. It features smart technology and intelligent blending to make you the kale smoothie you have been waiting for. This blender also has tons of features, loads of settings, and a whole heap of usable accessories.
Intelligent Blending
Everyone likes a little bit of intelligence in their technology. With the BL642 blender, you get Ninja's very own Auto iQ technology for properly timed blends and minimal guesswork on your part. Basically, this blender will blend your drinks for you using its intelligent internal computer.
And let's talk about the giant 72-oz container for a second. Inside this container are professional extraction blades that breakdown whole fruits, leaves, vegetables, and everything else to give you a maximum serving of nutrients and vitamins. If you are going for a healthy lifestyle, this is definitely in the category of best blender for kale smoothies.
Read More: Full Ninja BL642 review
Ninja Cups
The blender also comes with Ninja cups, which are great for taking along with you on the go. It comes included with a small tumbler, medium tumbler, and large tumbler so that you never have to leave your smoothies at home!
---
Blendtec Total Classic Blender – Good Alternative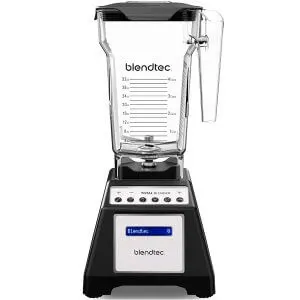 The Blendtec Total Classic Blender is a mid-grade professional countertop appliance you can use for making the best kale smoothies of your life. It comes included with six pre-programmed cycles, a pulse feature, and 10 manual control speeds. This allows you to make a large variety of different blends depending on your own preferences.
Thicker Blades
The Blendtec Total Classic prides itself on having some of the thickest blades in the industry. The blades on this blender are about 80% thicker than previous models. They are stainless-steel forged with specialized wings that allow them to shred and chop all your leafy ingredients into an amazingly smooth blend.
Plus, they advertise that their blades are 10x stronger than those of other blenders. With a simple squirt of soap and a cup of water, these powerful blades can easily clean your blender container for you, saving you time and stress. It cleans itself!
Read More: Full Blendtec Total blender review
Big Blending
This blender has one of the biggest jars available. Many other blenders come with small jars that are only about 64 ounces or 72 ounces. But with the Total Classic, you get a massive 75-oz jar that can be used for blending wet or dry ingredients.
The huge jar makes this the ideal blender for those who want to share their kale smoothies with their friends. The Total Classic is ideal for sharing beverages with between three and four people. This will save you loads of time at your next party. It's great for families, too.
---
Best Blender for Kale Smoothies: A Complete Buying Guide
There isn't much to think about when it comes to kale smoothies. Most kale smoothies involve some leaves, a few squirts of milk or water, a handful of frozen ingredients, and some fresh fruit. To tell you the absolute truth, you could blend a kale smoothie with the cheapest blender in the world.
However, there is something to be said about quality. If you want your kale smoothie to come out smooth and flawless, you need a blender with power, speed, and reliable blades. Because of this, let me breakdown the factors when it comes to buying a new blender for kale smoothies.
The Blades Are Everything
Blades are super important. Because of how fickle kale and spinach and other leafy greens are, you need quality blades that can chop apart leaves and turn what is basically grass into a drinkable liquid. This is why it's so important to have proper blades that can extract the nutrients from your kale and grind it into a liquid.
What do you look for in blades? Well, it really doesn't matter if they are sharp or dull. So long as the blades are reliable, forged properly from stainless steel, and superior to other blades, you can make great green smoothies.
A lot of it has to do with the motor as well. If your motor is too weak, it doesn't matter how strong your blades are. They won't cut anything. When purchasing a blender for kale smoothies, make sure you get a strong motor along with strong blades, such as the Vitamix.
Read More: Best blender for green smoothies
Speed is Key
Speed is also key when grinding down a kale smoothie. This kind of completes a circle. You need a motor to spin the blades, you need powerful blades to blend the kale, and you need the blades to be spinning at a high enough speed that they can do their job properly.
But this doesn't just mean having one super-fast speed setting. Having variable speed controls is awesome for making smoothies with different textures. Maybe you are tired of drinking a very liquid kale smoothie and want something a bit thicker and lumpier. For this, you would need a pulse feature.
To ensure you have full control over your blends, the best blender for kale smoothies will have some programmable cycles, a pulse feature, and variable speed manual controls.
On the Go
People typically like to drink their kale smoothies on the go. For this reason, you probably want a blender that comes included with great portable accessories that allow you to drink your green beverage in your car, when going for a walk, or just lounging on the couch.
For this, I always recommend getting a blender that has to-go cups that screw directly onto the motor base so that you can make a quick personal smoothie for when life is moving fast.
Best Blender for Kale Smoothies: Final Thoughts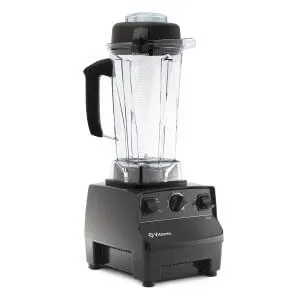 No matter which blender you choose, any three of the models we talked about today will do wonders for you in the kitchen. They will make your life easier and your smoothies tastier. The Ninja BL642 Blender is an awesome unit at a discounted price, while the Blendtec Total Classic Blender is a mid-grade appliance with easy blending cycles and extremely thick steel blades.
However, the Vitamix 5200 is a professional blender that is definitely the best for making kale smoothies. Yes, this blender costs almost twice as much as the others. But that's because of its excellent quality. It has full variable speed control, all the power you would expect out of a Vitamix blender, and it can make large batches inside its self-cleaning container.
The 5200 is built to last, with every detail being meticulously designed, all the way down to the laser-cut hardened steel blade. If you want delicious smoothies without any chunks, shredding kale and spinach like nobody's business, then this is the best blender for kale smoothies.