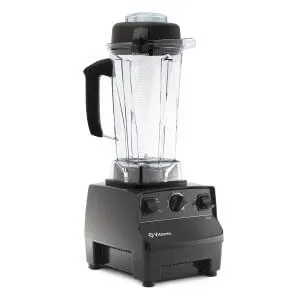 Most Popular Model
Simple Operation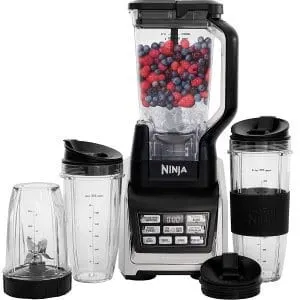 Powerful 1200W Motor
Large Capacity
---
Almost as important as what you put in your green smoothie is how you blend it up. Yes, that's right; there's a little science behind creating the perfect green smoothie and only the best blender for green smoothies can do it right for you.
Since you'll be dealing with a lot, and I mean a lot of fiber, you'll need a blender that will chop and crush ingredients substantially better than most while also handling larger volumes and quantities of ingredients. That obviously means a machine that has the right amount of power to give you a chunk-free, evenly creamy consistency.
Along with power, you will also have to scrutinize the blender's liquifying potential so that it pretty much deliquesces your greens to the point where it becomes hard to tell whether any leafy green stuff was ever there in the first place. Other than the green color, of course.
Top Rated Blenders For Green Smoothies Of 2021
---
Vitamix 5200: Best Overall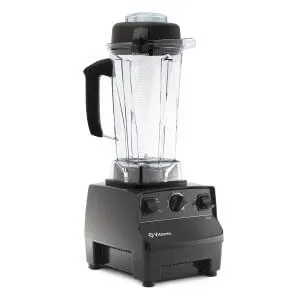 A versatile, large capacity blender that is both durable and powerful, the Vitamix 5200 holds many accolades to its name.
Wide Range of Performance
The Vitamix 5200 comes with a powerful 2 HP motor and a generous, 64-oz blending jar ideal for preparing medium to large servings of green smoothies. This professional-grade blender gives you 10 variable speeds to work with for complete control when maneuvering your smoothies. So much so that its high-speed settings can even prepare hot soup from cold ingredients in just a few minutes.
On the other end of the spectrum, the blender also lets you work with frozen foods to prepare ice cream and other frozen treats. This range of performance comes from the blender's professional-grade stainless-steel blades that work swiftly with the toughest of ingredients.
The 5200 also features a neat Pulse feature that creates impressive chunky salsas, hearty veggie soups, ground herbs and pulverizes nuts without blending them into a creamy mixture.
Self-Cleaning Device
Not enough good can be said about the self-clean feature on this unit. Users rave about the blender's ability to clean itself with a drop of liquid dish soap plus a little warm water. This makes cleanup a breeze and gives you lots of motivation to take out your blender as often as you like.
The blender is large enough to accommodate multiple smoothie servings yet smart enough to tidy up its own mess. Add this convenience factor to the blender's versatile performance and its easy to see why this one is a winner.
---
Ninja BL642: Budget Pick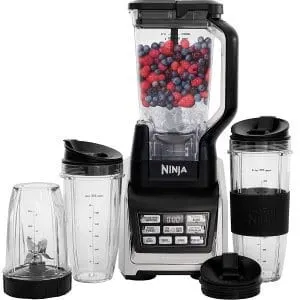 For a good compromise between quality blending and price, take a look at the Ninja BL642.
Excellent Value for The Money
For those on a budget but want more power at the same time, the Ninja BL642 is an excellent consideration. Boasting personality, performance, and affordability in a sleek design, this handy blender works like a heavy-duty machine with its 1500-watt motor, a Pulse feature, and multiple blades.
The Ninja uses Total Crushing technology to handle the toughest ingredients. Its robust blades can manage ice, hard and frozen fruits, you name it. And you can make green smoothies every which way with its Pro Extractor blades that pulverize the toughest stalks and leafy greens to give the goodness of green smoothies.
Smart Features
The BL642 joins the ranks of smart blenders with its Auto IQ technology which lets you select one of the five automated programs. From there the BL642 takes matters in its own hands by working through a series of pulses, blends, and pauses to wield the desired consistency of the blend.
For a greater range of functions, you can choose from presets for Frozen Drinks/Smoothies, Puree, Blend, Ultra Blend, and Pulse. When you pair the Smoothie function with the blender's massive 72-oz container, there will be no shortage of smoothies to go around for everyone.
However, if you'd like to be more in control of what you blend, then you can choose from the BL642's three manual speeds of High, Medium, and Low.
---
Blendtec Total Classic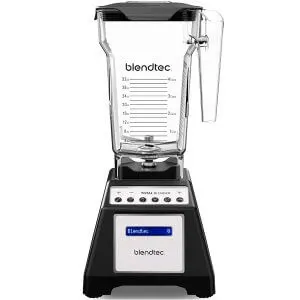 Even though it's only got two blades in a six-blade world, the Blendtec Total Classic remains a user-friendly machine with oodles of functions and a long-lasting, versatile performance earning it a permanent spot among elite blenders.
An All-Purpose Machine
The Blendtec Total Classic does a lot of things and does them all really well. With the press of a button, you can easily sift through six pre-programmed cycles of Batters, Smoothies, Whole Juice, Hot Soup, Ice Crush, and Ice Cream. Or, you could find your way with its 10 variable speeds and a Pulse function.
Its 3 HP motor puts this blender in a league of its own competing with the most powerful contenders out there.
Unique Blade Design
Blendtec blenders stand out for their uniquely designed blades. In complete contrast to what most other blender brands offer, where the norm is razor-sharp blades with pointed ends, Blendtec takes a totally different approach.
Their blenders, including the Total Classic, feature a dull blade that spins at an amazing speed to get the work done. As such, it doesn't need to be sharp to chip away at ice, frozen fruit, or tough greens. Instead, the large, blunt design pulverizes virtually anything that comes in its way.
To complement the strong performance of the blade, the Total Classic also uses one of the sturdiest blending jars available. The trademark WildSide+ Jar exclusive to the brand features a square-based container that is instrumental in forcing down contents to the center of the blade for superior blending.
---
Vitamix 7500 Professional Blender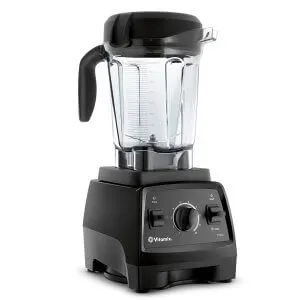 The Vitamix 7500 Professional Blender is one of the very best blenders on the market today. It comes with variable speed control, manipulated by the dial on the front of the machine so that you can always have the perfect texture regardless of what you're making. Plus, it has a very useful pulse feature for better purees, heartier recipes, and thicker vegetable soups.
Make it with Precision
One thing all Vitamix machines excel at is precision. Because of the immense control you have over the speed and the type of blend, you can always reach the pinnacle of your blending capabilities. What I'm trying to say is that your smoothies, shakes, and other creations will all turn out perfectly.
This includes salsas, soups, frozen treats, and so much more. This blender does not only blend, but it also grinds, chops, and emulsifies. It literally does all these different tasks simply by spinning its blades at different speeds depending on your personal needs.
Hardened Parts
All the parts that come with the blender are premium. From the reliable 64-oz low-profile container with its sealable lid that prevents spills, all the way to is hardened steel blades – everything is built to last a very long time.
This equals durability. You can count on your Vitamix blender operating at peak performance for the entire time you own it. The motor is extremely strong and will stand up well over time, and all the inner components will do the same. This is one of those blenders you keep for life.
---
NutriBullet Pro 900 Blender
The NutriBullet Pro 900 Blender is one of the best blenders ever made. It comes in a very small package, making it simplistic to use and easy to store. It has a motor that outputs 900 watts, which is lots of power for crushing apart frozen vegetables and ice, and it comes included with all the best accessories.
Affordable & Versatile
What people love so much about the NutriBullet Pro is its phenomenal affordability and versatility. This is not a boring blender that only does one thing. You can use it for making green smoothies, but you can also use it for grinding, chopping, and liquefying just about anything.
Basically, if it fits in the 32oz included cup, it can be blended. And it costs almost no money. It's not free, but it is very affordable. There are not many other blenders available at this price, and certainly, none that offer the same quality.
Part of the Bullet Family
The NutriBullet Pro is an upgraded version of the original NutriBullet and is succeeded by several other models of blender, each with larger cups and stronger motors. When you choose to use this blender, you become part of the NutriBullet family!
This means you always have a reliable product that is easy to clean, supported by an amazing company, and that you can order extra components and replacement parts for easily. If you were to ever lose the cups that come included, you can easily order replacements and have them at your front door in no time at all.
---
Ninja BL610 Professional Blender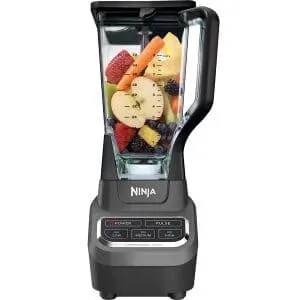 The Ninja BL610 Professional Blender is a fantastic countertop blender. This is a seriously professional unit, and it comes with a massive 72oz container for making big batches of smoothies and other beverages. The blender also comes with total crushing technology that is excellent for smashing apart ice and frozen fruit to make yummy green smoothies.
Pure Performance
The performance you get out of this blender is fantastic. It offers outstanding performance thanks to its 1000-watt motor and 64oz max liquid capacity. The blades are designed especially for crushing and blending, which work together to smash apart ice, frozen fruit, and other ingredients, allowing them to blend nicely into your final drink.
Plus, this is a real blender that you keep on your countertop. It has three different speed settings and a pulse feature, meaning you can use this for more than just green smoothies. You're able to make frozen drinks, margaritas and daiquiris, and even soups, sauces, and purees.
Easy Operation
Everyone likes a machine that is easy to clean and easy to operate. The Ninja Professional Blender cleans itself, it has an extremely convenient main container with a smart pouring feature so that you don't spill or leak while filling your glass, and all the pieces that come included are dishwasher safe.
While there are no variable speed controls, you do get the four different speed settings all plainly labeled on the front of the machine. This makes user operation simple and effective.
---
KitchenAid 5-Speed Diamond Blender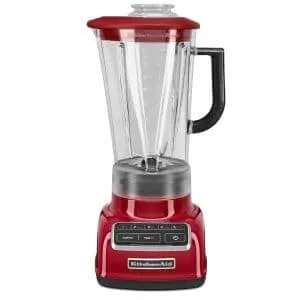 The KitchenAid 5-Speed Diamond Blender is a traditional countertop blender with lots of customizability. If you are a person who fusses over the color of your kitchen appliances, this is definitely the best blender to own. It comes in a startling number of different colors. In fact, you get over 20 different variations to choose from, including aqua sky blue and raspberry ice.
And as for blending, it is something of a powerhouse. The blender comes with a strong metal base, a powerful motor, and a diamond blending system for perfect green smoothies.
More Options
You definitely get more options when using this blender, and I'm not only talking about the colors. This blender comes with five different pre-programmed settings, allowing you to either stir, chop, mix, puree, or liquefy your ingredient. The blender works using a special Intelli-Speed motor control that senses your contents and maintains the best speed for your mixture.
Powerful & Personal
For such a powerful blender, this unit is actually pretty personal. It does not take up a lot of space, it's not that noisy, and it looks pretty good sitting in the corner of your counter. It comes included with a 60oz diamond pitcher with measurements on the outside of the glass for easy measuring.
Read More: Best Personal Blender – 4 Top Rated Models
Also, this is one of the only blenders at this price point that comes included with a 5-year limited warranty. If you don't believe in the quality of this blender, just take a look at the thousands of positive ratings online from satisfied customers.
---
Best Blender for Green Smoothies: A Complete Buying Guide
Greens can be challenging to churn into smoothies for a reason- they are chock full of fibrous leaves and stalks which need work to make them tender enough to consume. They also happen to be the toughest foods to blend or juice smoothly. So, it's often a given that if a blender does well with greens, it'll also fare well with foods like fiber-dense fruit and nut butter.
It is important to know that not all blenders are created equally. Some are better at crushing ice, some are superior when it comes to grinding, and some are better at blending green ingredients to make smooth drinks with no chunks.
And that is what it all comes down to – no chunks. Nobody wants their green smoothie to have little floaties that stick in their teeth or on their tongue. It annoys me, it will definitely annoy you.
Read More: What is the best blender for smoothies?
On a side note, a blender that is capable of making greens into smoothies is probably going to be more expensive than a blender used to lesser work. Here is what you should look out for when shopping for the best blender for green smoothies:
Power and Functions
Blenders with a ton of power make the best smoothies. This is because "smooth" is the keyword when it comes to enjoying the most appealing green smoothies. If you settle for something with not enough power, you can end up with a leafy or gritty consistency or your motor would struggle to blend evenly.
If you talk numbers, then I would recommend looking at machines with 1000 watts and beyond. But in this scenario, a powerful motor may not be the only thing to get the job done. You also need something that gives you a choice of speed settings and a Pulse feature at the least.
Presets are nice, especially if they have a program for smoothies. And a very useful function to have is a Pulse feature as this can be used to chop up whole fruits and veggies for your green smoothie. Different speeds also help the blender devour whatever you put in it without repeatedly stopping and feeding the chunks of food to the blades.
Related Articles:
Blades
Blades need the right cutting potential for liquefying greens which doesn't necessarily mean they should be razor-sharp. Au contraire, a brand like Blendtec proves that dull blades can do an equally awesome job working on greens.
Some blender models are specifically designed with dull but very sturdy blades that can literally reduce everything to mush. When looking for the best blender for green smoothies, carefully look at its blades. This includes the number of blades, their cutting mechanism, and how their cutting column is engineered.
Blending Prowess
Every quality blender should have serious blending prowess, meaning it should have superior blending power. You always want your blender's main focus to be blending your ingredients, especially when it comes to green smoothies.
And because you will probably be adding almonds, chia seeds, flaxseeds, and other hard ingredients to your green smoothies to boost your health, you will need a blender that has strong blades and a strong motor for chopping apart greens and breaking open seeds.
It's all about extracting nutrients, while at the same time blending all the ingredients into a smooth paste. I recommend using a blender that has at least 900 watts of power. This will be enough to blend ice with frozen veggies and hard nuts. Because you are making green smoothies, chances are you will be freezing spinach and cucumbers in chunks, and so your blender must have power!
Read More: Best Blender for Frozen Drinks – 3 Powerful Models
Stylish Blending
Yes, you want your blender to be professional and to have outstanding performance, but you also have to look at it all day sitting on your counter. Maybe not all day, but at least whenever you are in your kitchen. Because of this, you may want to choose your blender based on power, speed, and style.
I would definitely choose a blender that came in my favorite color over a slightly cheaper blender that only came in boring black. While this is not a big thing to consider, it can improve your mood in the kitchen. Everyone likes having decorations that suit them, trinkets that are unique to them, and appliances that make them feel at home.
Cleanup
Many blenders today come with a self-clean mode which can be a really helpful feature once you're done reducing your greens to a pulp. The blade rotation during self-clean develops a column of cleaning liquid that reaches all corners of the pitcher not always possible when you clean by hand.
Simplicity
Finally, as someone who is mainly making green smoothies, you probably won't be venturing into food processing or baking using your blender. That means you would be better off with a simplistic blender that doesn't offer a lot of choices in speed and control.
While many blenders advertise variable speeds, when it comes to making smoothies you really don't need different speeds. So long as the blades spin and blend your ingredients, that is all that matters. So, if you only want to make green smoothies, definitely get the simplest blender possible.
Read More: What are the best greens for smoothies?
Green Smoothie Calorie Count: Are They Really Good For You?
Everybody loves a good green smoothie. Whether you're trying to stay healthy, boost your immune system, lose some weight, or detox your system, green smoothies are ideal. You can drink a green smoothie every day to dramatically improve your diet, boost the power of your immune system, and stay in shape.
Green smoothies are incredibly nutritious, they are generally low in calories, and they are fantastic fuel for your body. Plus, they only take about 5 minutes to make in your kitchen using a quality blender. But you may be wondering how many calories are in a green smoothie, and so today we will do a green smoothie calorie count.
This means we are going to count how many calories are in the most popular ingredients for green smoothies. We're going to talk about kale, spinach, oranges, and a whole heap of other great ingredients, that way you have a solid idea of what is going into your body at all times. Green smoothies are certainly healthy, but it pays to know the ins and outs of all your dietary foods.
Calories vs Nutrition
Before we get down to counting calories, you might be interested to know the difference between calories and nutrition. While something can be nutritious, it can also be high in calories. A lot of people don't even count their calories. For example, if somebody eats mostly raw and whole foods, they focus almost entirely on nutrition, and don't worry about calories.
Calories: Calories account for how much fuel you're getting out of a particular serving of food. It's basically like how much gas you're putting into your car. If you don't have enough calories in your body, it doesn't have enough fuel to get you where you need to go. Just like a car without gas, you end up drained and useless.
But you also need to have the right number of calories. Too many calories and your gas tank becomes overfilled. If you eat more calories than your body uses, that is where weight problems begin.
Nutrients: Nutrients are more like what kind of fuel you're putting into your body. Everybody needs nutrients, but there are a lot of different kinds. And unfortunately, many people don't get the proper nutrients they need. Not eating the proper nutrients is like putting the wrong kind of gasoline into your car.
If you want your body to perform like a well-fueled machine, you need to get the right nutrients on a daily basis. The biggest difference here is that calories are a given. Every food has calories but not every food has the proper nutrients.
If you eat the correct foods, you won't need to worry about nutrients or calories. You will always get enough calories to thrive, and if you know your food is healthy, you won't need to wonder if you are getting enough nutrients.
Read More: Does blending vegetables destroy nutrients?
Green Smoothie Calorie Count
The ingredients we're talking about today are the core ingredients used in almost any green smoothie. It's tough to find a green smoothie that doesn't use at least spinach. And so, if you are trying to keep track of your calories while starting with a diet of green smoothies, this is the definitive list for you.
What you are about to see is an example of a normal green smoothie recipe with all the standard ingredients. This recipe is designed to be made in any basic blender. From this simple recipe, you can figure out what exactly you'll be looking at when it comes to other similar green smoothie drinks.
Read More: Juice it up evergreen smoothie recipe
Ingredients:
2 Ounces Kale = 28 Calories
4 Ounces Chard = 22 Calories
8 Ounces Spinach = 56 Calories
2 Cups Mixed Berries = 130 Calories
2 Oranges = 124 Calories
2 Bananas = 210 Calories
As you can see, this group of simple ingredients only adds up to about 570 calories. That's about 8 calories per ounce. If you want to talk about a single serving, it's going to be about 256 calories in total. A single serving is one large glass of green smoothie. This will vary depending on ingredients, but this is generally what you can count on for your calories in any green smoothie.
How Many Calories Do You Need?
It's important to understand how many calories you need to put into perspective how many calories are in a green smoothie. Based on the USDA dietary guidelines, it is recommended that an adult male consumes between 2000 and 2400 calories per day. To put that in context, it's about eight or nine green smoothies per day. As you can imagine, it's very unlikely that you will surpass your daily calorie intake just by drinking smoothies.
However, it is recommended that adult females consume between 1600 and 2000 calories each day. And still, green smoothies are not going to sustain you in terms of calories.
What green smoothies can do is improve your nutritional intake. Green smoothies have very few calories but a lot of micronutrients. This means they have generally over 100 different vitamins, enzymes, minerals, and phytonutrients. All of these great nutrients will make you feel better and can help you to lose weight.
Drinking green smoothies will improve your health and quality of life, will give you more energy, will improve your digestion, will give you fewer cravings for snack food, and will help with weight loss. In fact, the average person using green smoothies to lose weight averages about 17 pounds of weight loss.
Other great benefits to drinking green smoothies include feeling sick less frequently, improved blood pressure, improved cholesterol, fewer daily migraines or headaches, a reduced issue with asthma, reduced severity of allergy symptoms, and tons of other smaller benefits.
To put it plainly, green smoothies are great and have very few calories. If you are only drinking one green smoothie per day, you really don't need to worry about counting calories.
Best Blender for Green Smoothies: Final Thoughts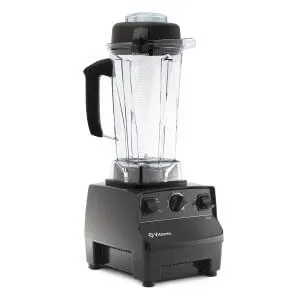 The 5200 model by Vitamix is the whole package and its price point reflects its undeniable quality. This blender is an all-time customer favorite regarding power, performance, and dependability. It gets rated as the best overall blender for green smoothies given its brute power and crushing abilities to extract maximum goodness from your greens.
For its size, versatility, and affordability, the Ninja BL642 provides great value by the mere fact of what it costs. It is a machine that users admire for its range of functions and honestly, in the end, you get a lot of power for what you pay.
The Blendtec Total Classic proves that classic is appealing for a reason. Staying refreshingly simple in an increasingly complicated and competitive market, the Total Classic is a blender that gives you lots of options. It is the perfect multi-tasking machine without compromising its user-friendliness and appeal.