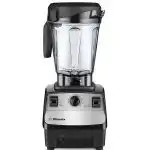 Large Capacity
Simple Operation
Compact Model
Simple Operation
---
Without question, Vitamix blenders fall into the pantheon of top-quality home appliances that everyone must have. The brand's elite status was well-earned as Vitamix consistently produced superior and versatile products throughout the years. That said, choosing a particular model for your home is easier said than done. After all, you are virtually spoiled for choice. Luckily, I made this short Vitamix e310 vs 5300 buyer's guide to help you out.
First, there is the Vitamix E310. This is Vitamix's attempt to provide its customers with a subtler and more compact version of its trademark blender. Essentially, it is a smaller version of the brand's powerful kitchen tool. The E310 takes the oversized 64oz. container and replaces it with a smaller 48 oz. one.
On the other hand, we have the Vitamix 5300. A useful and versatile tool for any kitchen, this blender offers you the complete user experience. Sporting a powerful motor, variable speeds, and the huge 64 oz container, you could hardly ask for more.
Vitamix E310 Vs 5300: Comparison
Vitamix E310
PROS
Total Speed Control
Convenient self-cleaning feature
Compact and storage-friendly
CONS
A considerably shorter warranty period
Relatively smaller container capacity
---
Vitamix E310 Review
When Vitamix debuted its E310 model, it decided to make a statement to the home appliance market. By catering to the demands for a more storage-friendly version of their machine, Vitamix has established itself as a brand that listens to its users. Interestingly, even though the E310 is smaller to its counterparts, it does not lose any of its power and versatility.
Powerful Motor, Small Package
With the E310 it becomes clear that Vitamix takes its branding seriously as it proves that it is unwilling to make a less powerful blender. Upon checking the item's specs, you will notice is that the E310 carries the same 2HP motor that comes with most Vitamix blenders. Despite being smaller compared to other models, this blender is just as powerful as the rest of them.
Read More: Vitamix E310 Vs 5200 comparison
Versatility and Control
Another notable feature is the level of control you get with E310. Its highly-responsive and fully adjustable speed settings effectively give you a wide array of settings to choose from. With the right blade speed setting, you can make virtually anything. It can even make you hot soup from scratch. Needless to say, this translates into an additional level of versatility that is always welcome in the kitchen.
---
Vitamix 5300 Review
When Vitamix came up with its 5300 blender, it is clear that they had clear goals in mind. This is made clear by the blender's performance which can only be characterized by its convenience, versatility, and precision. While powerful, this home appliance is far from a blunt tool. Instead, it can be your tool of choice to finish recipes that demand a more deft hand.
Variable Speeds
Unless you are new to the art of blending, you are probably aware that different foods entail different approaches. That is why having a variable speed motor serves the 5300 well. By giving you complete control over the motor power and blade speed, you should have no trouble blending any food to your desired consistency.
Pulse Control
The level of precision and control Vitamix achieves with the 5300 is made even clearer once you take the Pulse feature into account. After all, while making smoothies and shakes can be as simple as choosing the right speed settings, there are some recipes which demand a more nuanced approach. The 5300's Pulse feature lets you do just that. Now, you should have no trouble making your sauces and dips with just a few presses.
---
Vitamix E310 Vs 5200: Main Differences
Before anything else, we have to reiterate the fact that we are looking at two stellar products made by Vitamix. While both of them are undoubtedly great in their own right, looking at their features side-by-side should help you determine which model best suits your needs.
Motor Power
One of the first things that demand our attention is the difference in terms of sheer motor power. The Vitamix E310 sports a 2hp motor that is highly respectable. While it is certainly more powerful compared to other blenders in the market today, the fact remains that the Vitamix 5300 beats it by a margin. Its 2.2hp motor gives the 5300 a distinct advantage in this regard.
Container Capacity
This is another crucial point of difference in the e310 vs 5300 debate. As stated earlier, the 5300 comes equipped with a 64oz container that is typical of Vitamix blenders. On the other hand, the E310 sports a smaller 48oz. container.
This is where user priorities come into play. The 5300 is clearly designed to help you prepare food in bulk, perhaps enough for a whole family. On the other hand, the E310 is preferable for single servings.
Size, Weight, and Design
It only follows that we take a look at the design and weight of these products next. As you have probably come to expect, the Vitamix e310 is the lighter and more compact model – measuring a mere 11x8x18 in compared to the Vitamix 5300's 17.25×8.75×7.25in. This means that the E310 is much easier to store and put away when not in use.
Vitamix E310 Vs 5300: Final Thoughts
By now, we are all probably aware of Vitamix's reputation as a maker of quality home blenders. Like with everything else, both the e310 and the 5300 can be characterized as powerful and sturdy home appliances whose consistency you can rely on. While they are both undeniably great, you also need to take a good look at what you want out of them. This way, you can pick the model that suits your needs perfectly.
For instance, if you are looking for a compact appliance that packs a serious punch, then the Vitamix E310 would be a great fit for your kitchen. Take note that getting an E310 also means using less counter space. Moreover, it gives you the same level of versatility and control that you would expect from any other Vitamix albeit in a smaller package.
Of course, there is also the Vitamix 5300. This is the model you need if you are looking for something more powerful. It is also worth noting that the model gives priority to user-convenience and precision.