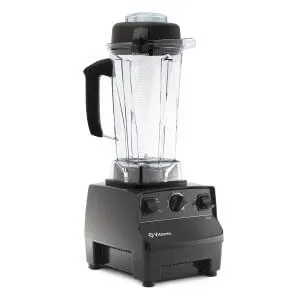 Most Popular Model
Simple Operation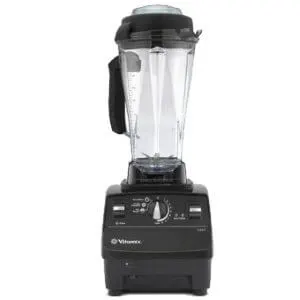 Powerful 2HP Motor
Cheap Price
---
If you are in pursuit of a perfect home blender with high capacity and blending power, Vitamix can be a great choice for you. However, it can be tough to choose between two Vitamix models, so today I had a chance to do a Vitamix 5200 VS 6300 review to make the decision easier for you.
Having a blender of such capabilities can be useful in many ways – you will get a blender that is very close in performance to professional blenders used by chefs. You will certainly save yourself from struggle to process tougher ingredients since both the Vitamix 5200 and the Vitamix 6300 are very powerful and have some useful features to make the blending even easier for you.
In this review, I will point out some of the greatest advantages of having these blenders as well as compare them in terms of functionality, power, and user convenience.
Vitamix 5200 Vs 6300: Comparison
Vitamix 5200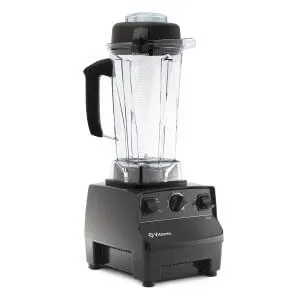 PROS
Extremely powerful motor
Highly durable construction
Great for beginners
CONS
No pulse option
Loud on high speed
---
Vitamix 5200 Review
If you are looking for a durable and convenient blender that you will be able to use for a long time without malfunctions, the Vitamix 5200 makes a very good choice.
Main Functional Aspects of the 5200
When it comes to functionality details, the Vitamix 5200 offers very satisfying features that are quite great for household purposes.
A powerful 2 horsepower peak motor moves the blades at an impressive rate so this machine is great for producing smoothies, juices, soups and can process tougher ingredients as well.
It is versatile enough to allow you to easily prepare a variety of dishes and juices of different textures and it does it without wasting much of your time.
The motor is protected by a safety program that will automatically shut down the blender in case there is an overheating threat to the motor.
The 5200 comes with a large capacity 64-ounce container perfect to fit enough ingredients for the whole family.
Design and controls
The design of this blender is as on any other classic Vitamix blender – it fits in every kitchen just fine but will certainly not make a great decoration.
That is fine since it is more important that it performs at a very high level.
The manual control panel offers 10 selective variable speed controls as well as the additional high-speed switch.
There is no pulse option but with using the high-speed function you will be able to get a great texture every time you blend.
---
Vitamix 6300 Review
In case you are searching for a modernized blender from the Classic Vitamix lineup, the Vitamix 6300 brings some improvements that will make your blending much more convenient.
Performance and Functions
The Vitamix 6300 has all the features characteristic of a great household kitchen blender.
Naturally, you want this type of blender to be reliable and perform well and it does not fail the expectations.
The 2.0 HP motor is great for easy processing of all food types and works amazingly in combination with the 3 pre-programmed features on this blending machine.
The functions are easy to use and select from the manual control panel and are great for making smoothies, hot soups, and frozen desserts.
It also comes with an easy cleaning function that will make the maintenance of the blender much easier.
It is very reliable and you should not have a problem using it for many years.
Other Important Features
The capacity of this blender is great since it comes with a rather tall container of 64 ounces.
It might be a little space-consuming but will do the job for fitting enough ingredients so you won't have to blend twice.
The 6300 comes with a cookbook and instruction manual describing all the capabilities of the blender.
It also has a 7-year warranty to ensure that it makes a long-term solution.
---
Vitamix 5200 Vs 6300: Main Differences
Although both blenders are Classic Series Vitamix models, they do have some functional differences.
Usability differences
While the motor power of both blenders is the same, the Vitamix 6300 has 3 pre-programmed blending functions which the Vitamix 5200 lacks.
This is important for some users since the programmed features are timed and the speed of blending is appropriate to the selected category.
The 6300 also has a useful pulse feature while the 5200 doesn't, but it is very successful in accomplishing tasks that resemble the pulse function.
The 6300 is a newer model with a little higher price, which does not necessarily mean that 5200 is a bad blender since it is still in use in many dining objects.
Both blenders perform at a very high level and provide enough power for household needs.
Other Functional Differences
There is a slight difference in metal couplings from the motor to the blades since the technology used in the production of 6300 is improved in comparison to 5200.
Even so, the 5200 still manages to be a respectable competitor to newer Vitamix models such as the 6300 so it is no wonder that the users are very satisfied with it as well.
Vitamix 5200 Vs 6300: Final Thoughts
Sometimes in cases like this, it is hard to say which blender is an overall better model.
There is no question that because of the preset functions and newer technology, the Vitamix 6300 is slightly better than the 5200 in some aspects.
Still, the Vitamix 5200 has a fair share of useful features to offer, coming with more affordable prices and offering enough functions to compete with the 6300.
The 6300 wins in most comparison categories and there is no doubt that neither of these blenders will disappoint in durability and functionality.
In the end, it is up to potential buyers to decide which model suits him the best and, hopefully, this interview provides enough information to make the decision much easier.