Powerful 2.2HP Motor
Large Capacity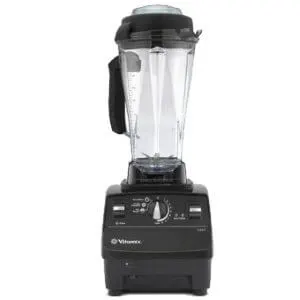 Powerful 2HP Motor
Cheap Price
---
Today I had a great opportunity to do a Vitamix 6300 Vs 750 comparison to show you that there are many benefits of having this type of kitchen blender.
Both competitors are among some of the best Vitamix models, so they both offer great features and have enough capacity to serve the whole family.
The Vitamix 6300 and the Vitamix 750 both come from the modern line Vitamix lineup, so the build quality and performance features are among the best on the market.
Having a blender of those properties will allow you to process all kinds of ingredients from soups juices and smoothies, up to nut milk, and tough ingredients.
In this review, I will try to make this choice a little bit easier for you to make and hopefully show you that by choosing Vitamix professional blenders, you can't make a mistake.
Vitamix 6300 Vs 750: Comparison
Vitamix 6300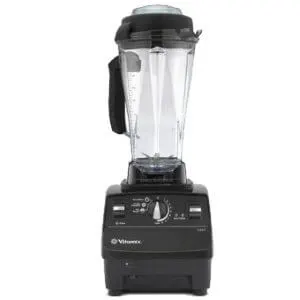 PROS
Has versatile blending features for blending all food types
Comes with a tamper included
Is very easy for cleaning and maintenance
CONS
Might be a little noisy when blending tougher ingredients
Has a very tall container
---
Vitamix 6300 Review
The Vitamix 6300 offers exactly what you need for household use of a kitchen blender.
Main Features
With this model, Vitamix has focused on performance details since it has many useful features that are just one toggle of the switch away.
It has a powerful 2.0 HP peak motor to deliver enough blending capabilities to the blades.
The blade on this model is a story of its own as well since it is a very thick blade that can easily go through very hard ingredients, therefore making this model perfect for blending even meat.
Its variety in use is what makes it so special because with the Vitamix 6300 you can prepare from juices to meat dishes so that versatility is making it great for family usage.
There are also additional blending functions on this model.
Three pre-programmed modes for smoothies, soups, and frozen desserts are easy to select by using the manual switch.
Read More: Vitamix 300: Is it worth the money?
Usability Features of the Vitamix 6300
The Vitamix 6300 is super easy to use, and the controls are perfectly made for even beginners to understand.
There is an instruction manual included in the package to show you the best way of using each function of this great blender.
There is also a tamper included, which is honestly not that common in blender packages today.
The warranty and easy cleaning feature will make sure that your blender lasts for a long time and serve you in the most quality way.
---
Vitamix Pro 750 Review
The Vitamix 750 is a member of the Professional Series lineup and by being one of the most high-end Vitamix blenders, it offers outstanding blending capabilities.
Functions And Settings
If you are looking for a highly functional kitchen blender for household purposes you should certainly consider Vitamix Pro 750 as it is one of the best-equipped blenders on the market.
When it comes to its functionality, it has quite a lot to offer.
First, the extremely strong 2.2 peak HP motor is what separates this model from its competition since it can process the most common ingredients in just 30 seconds.
The next-generation blades used in the production of this model are as modern as it gets with Vitamix, so there are no worries if it will go dull.
The lid has a removable plug which is amazing in case you want to add ingredients in the middle of the blending process since it will allow you to do so without any danger.
The thermal protection and radial cooling system both greatly benefits the life span of the motor and therefore help you use the blender longer without overheating problems.
Its container is of admirable size as well, being a full 64-ounce jar with enough space for fitting all ingredients you could need.
Convenience In Use
This Vitamix model is one of the most convenient ones on the market, offering the user 5 different preset functions for amazing blending experience.
You can benefit quite a lot from having a smoothie, puree, hot soup, frozen dessert, and self-cleaning options at your disposal and this blender has them all installed.
The pulse option is also available and the speed choice offers up to 10 selective blending speeds.
---
Vitamix 6300 Vs 750: Main Differences
As much as it is a close race between these two Vitamix models, some crucial aspects make them much different and therefore suitable for users of different needs.
Operational Differences
When it comes to the operational ability of these two blenders, it is safe to say that the Vitamix Pro 750 wins as it offers many more options while blending.
It has two preset functions more than the Vitamix 6300, more powerful motor and next-generation blades which all result in less time needed when blending certain ingredients.
The Pro 750 also comes with much more quiet motor, since it is up to 40% quieter than the older generation one used in Vitamix 6300.
Add the safety measures that are installed on Pro 750 and you will see that in the end, it can offer much more functional features to the user than Vitamix 6300 can.
Other Significant Differences
Among many differences, the ability to add more ingredients even while blending goes in favor of the Vitamix Pro 750.
The bases of both blenders are very similar, but the 750 offers a different container design able to process meat since there is much free space at the bottom of its wide container.
Vitamix 750 is also easier to clean since it has a built-in self-cleaning option that many users like most.
Vitamix 6300 Vs 750: Final Thoughts
As the time comes to make a decision on which is blender is generally better, it is important to say that the 6300 is an older model, therefore, it is no wonder that 750 wins in most categories of comparison.
The Vitamix Pro 750 is an all-in-one kitchen blender that can hardly be compared to the competition on the market, but the Vitamix 6300 comes pretty close in terms of power and efficiency.
While both blenders do great jobs in processing all kinds of ingredients, the 750 offers more blending functions, more efficient safety measures, and a great self-cleaning option.
Therefore, the overall better blender certainly is the Vitamix Pro 750 but in case you need a reliable blender for your family, you won't make a mistake by choosing the Vitamix 6300 either.