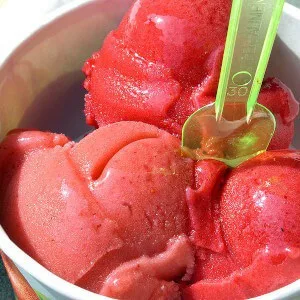 If you have a Vitamix blender, chances are you have been busy experimenting with lots of different types of recipes. From smoothies to ice cream, a Vitamix blender gives you lots of options for making yummy treats – and one of the yummiest treats you can make is sorbet.
Today we will look at making sorbet in a Vitamix blender. You don't need any syrup or fancy ingredients, as everything is going to be done using frozen fruit and some fresh liquids. That said, you are free to use honey or another natural sweetener if you find your fruit isn't quite as sweet as you would like it.
If you have lots of different fruit in the freezer, you have tons of different options for a quick sorbet. Strawberries are a good option, and frozen mangoes are definitely tasty when mixed into a sorbet. Blueberries can work, too, and even pineapple offers some great flavors.
Read More: Vitamix strawberry sorbet recipe
If you don't want anything fruity in your sorbet, you could use an avocado instead of a sweet fruit. Whatever the case, your Vitamix blender has no problem crafting a creamy and icy sorbet for you to enjoy on a hot summer day.
To make your sorbet creamy, most people add banana or avocado. However, you definitely don't need either one. You only need frozen fruit and something a little acidic to brighten the flavor. Plus, you need a bit of liquid to help everything blend and to give you a nice consistency.
Today's main recipe is going to be for a mango sorbet, using a liquid base of almond milk or coconut milk. However, you can always substitute the milk for fruit juice. Many people prefer milk, but there are no rules that say you have to use it. Pineapple juice, pomegranate juice, or orange juice are all great liquid bases, especially since they really brighten up the sorbet.
Read More: Best Vitamix for smoothies
Mango Sorbet Recipe
This is a cold and delicious treat that will take only 5 minutes to make. It requires only three ingredients, and it is 100% healthy. The only unhealthy part about the recipe is that the pineapple juice does contain a bit of sugar, but it is natural sugar, so it is better than eating a blended chocolate bar.
The recipe is simple, it is based only on whole foods, and I can guarantee you it is healthier than any sorbet you might buy in the supermarket.
Ingredients
3 Cups Frozen Mango Chunks
½ Cup Pineapple Juice
¼ Cup Almond Milk (or Coconut Milk)
Instructions
First, you need to place all the ingredients into your Vitamix blender, then blend until everything is smooth and looking delicious.
You can either serve immediately or place the mixture into the freezer and allow it to harden. After about 30 minutes in the freezer, your sorbet will be a nice soft texture just like what you get out of a machine.
Notes
Keep in mind that this mixture is going to be extremely thick. If you are not using a powerful Vitamix blender, you might need to add an extra half cup of liquid to help everything blend correctly. If you can't find pineapple juice for the recipe, you could always substitute it with orange juice.
Related Articles:
Raspberry Sorbet Recipe
If you are looking for a sorbet that will make you feel instantly better, this is the recipe for you. The raspberry sorbet takes only about 5 minutes to make, and it will keep you from shoveling "feel good" ice cream into your face at 10:30 at night. This crisp treat is a healthy alternative to ice cream that gives you a good feeling inside!
This recipe is wholesome, it uses frozen raspberries for a big punch of flavor, and you can even substitute the raspberries for any other kind of berry. The final result is a perfectly pink sorbet that tastes fresh and invigorating.
Ingredients
½ Avocado
¾ Cup Almond Milk
1 Cup Frozen Raspberries
4 Medjool Dates
Drops of Vanilla
3 Cups Ice Cubes
Instructions
Place all your ingredients except the ice into your powerful Vitamix blender. Then you can blend until the mixture looks smooth and creamy.
Add the three cups of ice and then blend again. This will give you the premium sorbet texture that makes this such a pleasant treat. If the mixture becomes too thick to blend, you may need to add ¼ cup almond milk and continue blending until smooth.
Orange Sorbet Recipe
The final recipe for today is a delicious orange sorbet. Just like the other sorbets in today's article, this one uses just a handful of ingredients and can be made within about 5 minutes. This particular frozen treat uses fresh oranges, and the final color and texture is absolutely amazing.
This is a great treat for your kids, for yourself after dinner, or for your neighbors while everyone is outside enjoying the summer heat. If you use a powerful Vitamix blender and follow the recipe correctly, you will get a professional orange sorbet that everyone can enjoy.
Read More: Substitute for Orange Juice: 11 Best Alternatives
Ingredients
2 Large Oranges (No Peel)
2 Tablespoons Sugar
1 Tablespoon Orange Zest
5 Cups Ice Cubes
Instructions
The first step is to place all your ingredients into your Vitamix blender. Be sure to put the oranges first and the ice cubes last. This will ensure a better overall blend for the final product.
Start blending on variable 1 and slowly increase the speed all the way to variable 10, then continue to high. Continuously use the tamper to push the ingredients downwards into the blades.
Wait about 30 or 60 seconds and you will hear the motor sound change. Immediately stop the machine. If you do not hear the motor and go over 60 seconds, you will probably end up melting your mixture. You will then need to freeze it before serving.
If all went well, you can now serve your orange sorbet and enjoy.
Read More: Vitamix lemon sorbet recipe