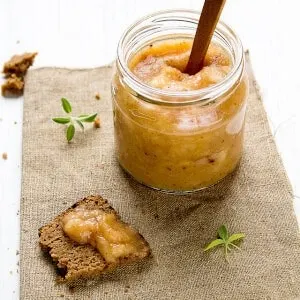 Applesauce is not just for babies! If you have a Vitamix blender and a thirst for applesauce, you have come to the right place. Applesauce is one of the most fun things you can make in your blender, and it only takes a few minutes.
In this particular recipe, I am going to tell you how to make the best applesauce of all time without needing to remove the peels. This recipe requires absolutely no peeling at all. This means you get all the delicious fiber found in the apple peels blended right into the sauce.
This applesauce has an extremely creamy texture, and it is unlike anything you would buy in the store. You won't believe the difference between this homemade applesauce and store-bought applesauce. I guarantee you will absolutely love it, and you will also love how easy it is to make with your powerful Vitamix blender.
Read More: Best Vitamix blender
How to Make Applesauce in Vitamix Blenders
Before you bust out your blender and get started, let's talk apples. There is a huge variety of apples out there, and it sometimes depends on where you live and what the farmers in the area are producing. With so many apples, it is difficult to find the right kind for your applesauce. Each apple will give your sauce a different flavor and a different end result.
Just keep in mind that if you use apples that don't taste very good, your applesauce will be gross. Don't use spoiling apples or unripe apples. Always get the best apples, and I even recommend using a mixture of different kinds of sweet apples to get you a balanced flavor.
This recipe should take no longer than 30 minutes to prepare. It will involve some preparation for the apples, then the applesauce itself will be blended in your Vitamix blender. Let's get to it!
Ingredients
6 Apples
1 Teaspoon of cinnamon
Instructions
The first step is to give your apples a thorough wash and make sure they are clean. You don't want dirty apples in your applesauce.
Step 2 is to slice using an apple slicer or a knife to remove the seeds and the core. Remember, you don't need to peel the skin first!
Now it is time to steam the apples for about 20 minutes. You can use a steamer basket on your stovetop for this method. You want your apples to end up looking wilted and soft. If you don't want to steam them on the stove, you can use a special dish with a lid and steam them in the microwave for about 10 minutes to get the same results.
Put all six apples, including the juices that came out during the steam, into your powerful Vitamix blender. You definitely don't want the apples to be above the liquid line or you will have a mixture that overflows.
Add your cinnamon, close the blender lid, and blend on high speed for roughly 60 seconds. This will give you the perfect texture for your applesauce. Just keep in mind that if you are not using a Vitamix blender, you may need to blend longer than 60 seconds.
Taste your applesauce to ensure quality. If you want a sweeter sauce, simply add sweetener where necessary.
Notes
If you want something a little more interesting than plain applesauce, you might try a combination. Substitute one of the apples for a mango, pear, or plump. This will give you a very interesting flavor for your applesauce. You may even consider adding some strawberries for an extra flare of taste.
With this applesauce, it will keep in the fridge for around 2 weeks. If you are only making small batches, just for snacks or for gifts for your friends, you won't need to freeze or can the applesauce.
You can also freeze your leftover applesauce very easily and they will last for months. If you have a lot of apples on hand, you may want to make a double batch and then leave the leftovers in a freezer bag in your freezer. They will last this way for about two months with perfect flavor.
Alternatively, you may consider canning your applesauce so that you have it all year long. Canning uses heat-treated jars to kill any possible microorganisms or bacteria that would spoil your food. This is great to do with applesauce and it allows you to keep your batches fresher for longer.
If you would like to make applesauce to be canned, simply add 1 teaspoon of lemon juice for every 3 pounds of apples in your recipe. This will create applesauce with the proper acidity levels to be stored long term.
Bonus Smooth Applesauce Recipe
This bonus recipe is similar to the first, but we are adding some more flavors this time around. The applesauce will be creamy, very smooth, and you don't need to peel the apples. You will need to do a bit of baking in the oven before pureeing the sauce in your Vitamix blender. This recipe is a little sweeter and a little more traditional.
Ingredients
6 Pounds of Apples
½ Cup of Brown Sugar
4 Tablespoons of Ground Cinnamon
¼ Tablespoon of Ground Cloves
A squirt of Lemon Juice
Instructions
Start by preheating the oven to 350 degrees Fahrenheit.
Slice all your apples into 10 or 12 slices each, then place them either inside a Dutch oven or into a large pot with a lid. Add the brown sugar, the cinnamon, and the cloves.
Cover the apples and the other ingredients and bake steadily for 45 minutes, stirring when necessary. After 45 minutes, give them a really good stir and then cover up again and keep baking until the apples are super soft. This should take another 20 or 30 minutes.
Next, transfer the apples into your Vitamix blender but only fill it half full. You will probably need to do two different batches because of how many apples there are. Pour ½ a teaspoon of lemon juice in with the apples and then puree until very smooth. Repeat the process until all your apples have been turned into delicious applesauce.