Powerful 4.2HP Motor
Huge Capacity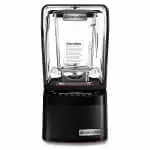 Powerful 3.8HP Motor
Advanced Technology
---
Today we are taking a look at the most expensive smoothie blenders on the market. As you can imagine, these smoothie blenders come with every possible feature you could want in a smoothie blender. These are heavy-duty, they're powerful enough to use in a smoothie bar in a commercial setting, or in your kitchen.
The most expensive blenders offer the best programmability, they come with the sturdiest housing, and they are far more versatile then cheap blenders. These are not $100 or $200 blenders. These are the real deal, and they cost a fortune because they are worth it!
purchasing one of these blenders basically makes you set for life. If you want the very best for making beverages in your home, for a new café you're opening, or any other enterprise, these blenders are the way to go. You won't be disappointed!
Top Rated Expensive Smoothie Blenders Of 2021
---
Vitamix 5201 XL Blender: Best Overall
The Vitamix 5201 XL Blender is one of the most expensive blenders on the market. But this thing works like a dream. The 5201 is basically a cement mixer on your kitchen counter. You cannot only grind soft fruit and vegetables to make smoothies, but you could probably grind bricks into a delicious brick shake.
Industrial Strength
This blender is the definition of industrial strength. This machine will save you loads of time doing any kind of processing, either with food or liquid. It comes with a 192oz and a 64oz container for the biggest jobs, and each container is polycarbonate for the best strength.
The blades are incredibly tough, the motor is an outstanding 4.2 horsepower, and the machine will stand up to all your most intense tasks. This blender was designed to meet every industrial standard out there. This is the kind of machine professionals use in high-performance settings to process food and massive portions of smoothies and shakes.
Last Machine
This will certainly be the last blender you ever buy. Yes, you are spending quite a bit of money – but you will also never need a different blender so long as you live. This product is basically unbreakable. The motor is way too strong to quit, the containers are incredibly tough with quality lids that never leak, and there is little chance of the blades needing to ever be replaced.
If you want to splurge on the best machine, saving yourself future hassle, I highly recommend the Vitamix 5201XL Blender.
---
Blendtec Professional 800 Blender: Budget Pick
The Blendtec Professional 800 Blender is one of the very best units from Blendtec. This blender is built to the highest professional standards. The blades are an incredible 80% thicker than normal and 10x stronger than ordinary blender blades.
When operating this blender, you do not need a tamper or a plunger. This thing will suck all your ingredients into its powerful blades to give you the best blended smoothies, ice cream, shakes, or juice.
High Technology
You get tons of amazing technology when you use this blender. It comes with six pre-programmed blending cycles, a pulse mode, and it can make literally anything. It can make smoothies, cappuccinos, soups, and it can do food processing. It has a peak horsepower of 3.8 to effectively blend all your toughest ingredients.
The blender also works at 11 speeds. You get tons of options for how you blend with precision speed control. All you need to do is slide your finger along the control panel to increase or decrease the speed. Everything here is one touch, just like on your smartphone. There is even an LCD countdown timer that gives you consistent results with every blend.
The Best Jar
The jar that comes included is extremely high quality. This is a premium, BPA-free jar with a massive base and a narrow fifth side for clever blending. The jar has a 90oz volume so that you can make the biggest portions and process lots of food at the same time.
---
Vitamix Quiet One Blender
The Vitamix Quiet One Blender is the ideal blender for shops, bars, and cafés. This is one of the quietest blenders in the world. It produces far less noise than a typical industrial blender, utilizing smart anti-vibration technology to remain silent so that your customers are not bothered by the noise.
The blender comes with a unique plastic enclosure that dampens any sound so that nobody near you is annoyed while you are making drink after drink. This is one of the most comfortable blenders for maintaining a peaceful environment for you, your staff, and your customers.
Versatility
Talk about settings. This blender comes with six program buttons, 93 variable speeds, and 34 optimized programs. It allows the user to make any kind of drink they want the exact way they want it. In a bar setting, you can use this blender to make frappes, smoothies, margaritas, milkshakes, and so much more. There is no end to its versatility.
Simplistic Operation
Nothing is more important than a simplistic machine, especially if you're running a concession stand or a restaurant where your employees need to learn the equipment right away. This unit comes with a quality Tritan container with measurement markings, making it that much easier to measure recipes and blend with perfection.
The display system is top-notch. All your buttons are positioned conveniently on the front, and there is an LCD display that keeps you aware of what's going on at all times. This is critical for new employees and unskilled people so that they can learn how the blender works quickly.
---
Most Expensive Smoothie Blenders: A Complete Buying Guide
When you are shopping for the most expensive smoothie blender, you have options. I am talking about all the options. Nothing is off the table. If you want variable speeds, no problem. If you want a touch interface, you can get that too. You can have extra-large blending containers, all the best accessories, and all the best speeds.
Here are some of the most common features you may want in your expensive new blender.
Container Size
If you are spending over $1000 on a blender, you probably want to have a pretty hefty container. You may even want several containers, and that is OK too. It all depends on what you want to blend. If you will be making huge batches of liquids, or if you will be doing tons of food processing, you may want to get a blender that comes with a standard 90oz container plus an oversized 1.5-gallon container!
Always consider your needs before purchasing the blender. Because of the amount of raw power that comes with an expensive blender, you don't need to worry about space, about difficulty blending ice or hard ingredients – you just need to worry about the size of your containers.
Related Articles:
Horsepower
Once we get into the large blenders that cost this much money, we are no longer dealing with wattage. Now we are talking about horsepower, and for over $1000 you definitely want a blender with impressive horsepower.
You should expect any kind of expensive blender to have a peak horsepower of at least 4. That's a 4-horsepower output just from your blender, which makes it more of a power tool than a kitchen appliance.
Read More: How much horsepower do Vitamix blenders have?
3 Of The Most Expensive Blenders
Versatility & Settings
First of all, any blender the costs over $1000 will undoubtedly be the last blender you ever buy. You are getting insane quality, a premium build, and the very best components. You won't have to worry about your machine failing, getting stuck on a bit of ice, or breaking down in the near future.
And so, you definitely want your last blender to be extremely versatile. This could mean anything from optimized programs to dozens of variable speeds. So long as your new blender can make any kind of beverage while still being able to process food, make butter, gravies, frozen treats, and everything else, you will be happy.
Not only should your blender be able to make everything under the sun, but it should also be easy to use. Whether you are setting the blender in a bar, a café, or in your own kitchen, it is important that it comes with easy features that won't confuse yourself or your employees.
This means all the settings should be nicely marked, you should have an LCD display that shows all your settings and preferences, and the pitcher should be professional with a design that makes pouring easy for everyone.
Read More: Best Blender for Smoothies with Frozen Fruit – 3 Top Models
Most Expensive Smoothie Blenders: Final Thoughts
Today we looked at some great blenders. The Blendtec Professional 800 is an awesome piece of equipment that will look great in any kitchen, while the Vitamix Quiet One Blender is ideal for cafés or restaurants because of its low noise. However, the best and most versatile blender must be the Vitamix 5201 XL Blender.
Assuming money is no option, the Vitamix 5201 is undoubtedly the best quality for the money. It has a 4.2 horsepower motor, it is built to withstand lots of punishment, and it can handle anything you put inside of it. This thing can blend tomatoes into a nice tomato sauce, or it can even pulverize meat.
If you want the very best in an expensive blender, I highly recommend the Vitamix 5201. This extra-large machine comes included with two polycarbonate containers, it blends like a dream, and you can use it for the rest of your life.