Powerful 2.2HP Motor
Large Capacity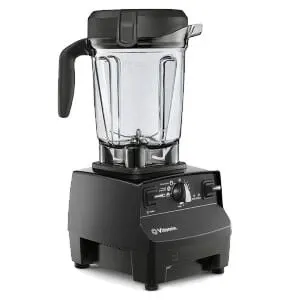 Powerful 2.2HP Motor
Pre-set Controls
---
I really enjoyed doing a special review for Vitamix 6500 vs 750 to make a comparison in terms of functionality, convenience, design, and efficiency of those two blenders as well as to introduce you to the pros and cons of these products.
Since both blenders are next-gen Vitamix models featuring a variety of old – fashioned famous Vitamix features and some new modern ones as well, this will not be such an easy task.
A lot of customers should have in mind that there are some similar Vitamix models for a reason. The Vitamix 6500 and the Vitamix 750 blenders have a lot in common but will suit different tastes and needs of users.
Moreover, it is very convenient to have a modern high – capacity powerful blender with a manual control panel such as these two because of their easy controls and a wide choice of pre-programmed features.
Vitamix 6500 Vs 750: Comparison
Vitamix 6500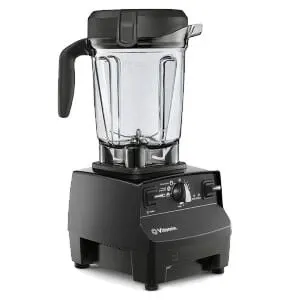 PROS
Three different pre-installed programs
Manually set the variable speed control
Sufficiently serve multiple people
CONS
Not so applicable for dishwasher cleaning
Can be a little noisy
---
Vitamix Pro 6500 Review
The Vitamix 6500 offers more than meets the eye since this versatile blender will reduce your effort and increase productivity and efficiency.
Its 64-oz container with high-capacity will surely fit all the ingredients for the whole family and based on its power, you will be able to blend any type of food.
Performance and Control Details
This blender is powered by a 2.2 horsepower motor that is combined with stainless steel laser blades, which are with this much power able to cut through anything.
It is very easy to use for both beginners and experienced chefs, because of its preset manual buttons for three blending options – hot soup, frozen desserts, and smoothies.
Having a manual control panel is a part of the Vitamix company tradition so although this is a modern high – end blender, it has a manual control panel with physical adjustment of the pre-programmed features.
It also has a manual variable speed control determiner, so you can select the blending speed by your preference.
The scale consists of 10 different speed options moving from the very slow up to very fast.
The pulse button is also included in the manual control panel for extra options regarding the texture.
Design and Durability
The Vitamix Pro 6500 features a very modern and stylish design and is made of high-quality materials.
The container is shatterproof, there are metal couplings and high-quality plastic parts to make sure that the blender is very durable and convenient to use in years to come.
---
Vitamix Pro 750 Review
The Vitamix 750 comes from the new lineup of Vitamix modern kitchen blenders with a manual control panel.
Being one of the most feature-rich blenders on the market, this blender has everything you could ask for when it comes to household use.
Having a 64-oz container gives it considerable capacity since the blender is low profile to fit even the smallest storage space in your home.
How Does It Work?
The Vitamix Pro 750 will surprise you with its functionality and useful features.
It has a 2.2 horsepower motor to provide the blades with sufficient power for blending all types of food, and a very convenient and simple to use control panel.
This blender has 5 pre-programmed blending settings: smoothies, purees, hot soup, frozen desserts
and self-cleaning.
Moreover, it has 10 variable speed controls that will combine with these 5 programmed settings, make amazing results in every blending job.
Having a pulse function is also very convenient for chopping besides regular grinding, milling, and pureeing that it easily does.
Performance In Use
One of the most surprising facts of this blender is that it is much quieter in work than most of the regular kitchen blenders.
This will certainly prove very useful when it comes to making morning smoothies without waking up the entire family.
It also has thermal protection and a radial cooling system to prevent the motor from overheating when it is left working for a long period.
If that is not enough, there is a 7-year warranty that comes with the blender to make it a perfect choice for your household.
---
Main Differences Between The Blenders
While the Vitamix Pro 6500 and the Vitamix Pro 750 are quite similar in most aspects, there are advantages and disadvantages of the products depending on the user's needs.
Each customer has specific reasons for purchasing each of these blenders, so let's now focus on some of their main differences.
Functionality-Related Differences
As much as these blenders are similar in performance and the control panel aspects, the Vitamix 750 has more pre-programmed blending settings than the Vitamix 6500.
Of course, the three basic programs of the 6500 are significant enough, but the puree and self – cleaning options of the Vitamix 750 have proved very useful, therefore the 750 is more versatile in performance than the 6500.
Both blenders powered by the motor of the same strength, but the Vitamix 750 is much more silent in use than its comparison.
As I have found in my research, the Vitamix 750 is up to 40% quieter than the 6500, making it a better performance-related option.
Cleaning And Capacity Differences
As both blenders are of very modern design the high capacity in these cases is not sacrificed for the looks.
Both blenders have high – capacity containers of the same size, but the Vitamix 750 features a low profile that has proven more convenient in terms of storage space used and the capacity of the ingredients.
The 6500 is bulky with larger components making it harder to fit some storage spaces.
Moreover, because of its bulky components, the 6500 was not made as a dishwasher safe blender.
On the other hand, the 750 is very easy for cleaning, featuring a great self-cleaning option so it is a better choice in terms of cleaning.
The lid on the 750 will push down the dense ingredients making it therefore much easier for the blending and cleaning of the blender afterward.
Vitamix 6500 Vs 750: Final Thoughts
Choosing the right kitchen blender for your household can be a very tiring and difficult task if you are not sure what are you looking for, and what are the differences between similar blender models.
In this case, we have the two amazing Vitamix blenders that are each unique in their own way, but the Vitamix Pro 750 offers more versatility and using convenience than the Vitamix 6500.
The 750 is one of the company's sales record products and has all the features of the kitchen blender, some of which are much more convenient than the comparison's.
In terms of pre-installed blending programs available, cleaning options and space consumption the Vitamix 750 is a better option than the 6500.
The Vitamix 6500 is quite a tough opponent though and is certainly one of the better-equipped kitchen blenders on the market well worth checking out.
Unfortunately, it had a very strong comparison opponent, since the Vitamix Pro 750 is one of the best choices on the market.