Simple Operation
Large Capacity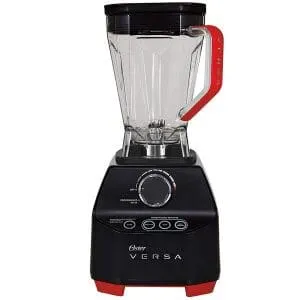 Powerful 1400W Motor
Convenient & Portable
---
In today's world, everyone is faced with a challenge to balance a healthy lifestyle and a fast-paced way of living. And, having a blender is a smart investment, which can bring you not only a healthy snack but also a complete healthy meal for you and your family.
Therefore, I will show you two blenders that will aid your busy life with a dose of healthy habits.
The first one is the Oster Versa 1400, a powerful blender intended for domestic use and intended for medium to large batches.
The second one is the Vitamix E310 Explorian, a budget blender from Vitamix Classic Series, which features top-notch quality intended for medium batches.
Finally, I will make a comparison of both of these blenders in this Oster versa vs Vitamix review so you can easily see which of them will fit the best.
Furthermore, you will be able to directly compare them by their features and to discern their similarities and differences.
Oster Versa Vs Vitamix: Comparison
Oster Versa 1400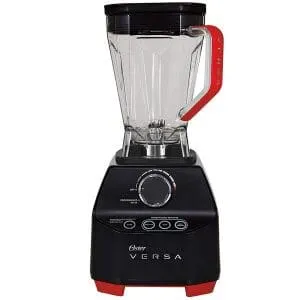 PROS
Preset and pre-timed programs
Powerful engine
Good quality for a fair price
CONS
It won't fit in every kitchen easily
Doesn't crush ice fully
---
Oster Versa 1400 Review
The first contestant is a low-profile blender, which makes it easier to fit on an average kitchen counter.
Furthermore, the Oster Versa 1400 comes with an interesting design and a proven reputation over 100 years long, all backed up with 7 years of warranty.
Powerful 1400 Watts Motor Base
This blender features almost 2 HP of peak power which translates to 1400watts. Therefore, with this kind of power, you can make virtually anything.
Furthermore, the 6-point blades of Oster Versa rotate at 250mph which equates to up to 28000rpm enough to extract all the nutrients from foods.
Variable Speed Control with Presets
The Oster Versa has a variable speed control knob with 8 speeds, going from low to high. Therefore, it gives you the ability to fine-tune your blends to accomplish the texture you want. Furthermore, it includes 3 pre-programmed and timed settings for dips, soups, and smoothies.
Additionally, the Oster Versa will make all the things you can make in more expensive blenders like nut milk, sauces, grinding, millings, pureeing, chopping, etc.
Read More: 4 top-rated Oster blenders
Easy Cleaning Feature
To clean this blender just put a drop of dish soap in it and pour the water. After this, turn it on for 30-60 seconds on high speed and just rinse it after – it will clean itself hassle-free.
---
Vitamix E310 Explorian Review
The second one is an entry-level blender from renowned Vitamix.
The Vitamix E310 is part of the Vitamix Explorian series from 2017, which came as a response to balance Vitamix reliability and longevity, with the affordable price tag.
High-End Motor Base and Thermal Protection System
This blender features the same motor base as blender from 5200 Classic Series.
Furthermore, they are almost the same under the hood which means that Vitamix offered a high-performance machine with a balanced price.
Therefore, the motor base has 2HP which equates to 1400watts of power.
Additionally, it has an automatic thermal protection system and a radial cooling.
Variable Speed Control and 48-Ounce Container
The Vitamix E310 comes with variable speed control and a pulse button along with an on/off switch.
Therefore, the speed counter from 1-10 will give you consistent and quality blend with desired textures.
Suffice to say, Vitamix E310 is easy to use and it will give you high performance without a lack of quality.
Furthermore, it comes with Estaman Tritan, BPA-free 48 ounce container with a removable cap on the lid, made from the high-quality copolymer. Therefore, a 48oz container will give you up to two servings and will easily fit under most kitchen cabinets.
---
Oster Versa Vs Vitamix: Main Differences
So here are the main differences between these two.
The Price Tag and Warranty
Suffice to say, the price tag is the first factor one would consider. Therefore, the Oster Versa is more than 50% cheaper than the Vitamix E310.
Additionally, the Oster Versa comes with a 7-year warranty whereas the Vitamix E310 with a 5-year warranty which is extendible to 8 years with additional fees.
Speed Control and Preset Programs
While the Oster Versa features speeds from low to high (within 8 levels of speed control) the Vitamix has 10 levels.
Furthermore, while many users say that the Oster Versa makes great and consistent blends, I believe that Vitamix can do so on a higher level (or two).
However, the Oster Versa comes with 3 preset and pre-timed programs whereas Vitamix comes without them. So obviously, this is a plus for the Oster Versa.
Difference in Containers
The Oster Versa comes with a larger container (64-ounce) which can be good for families larger batches of foods, and thus, for families of 4 people.
On the other side, the Vitamix E310 comes with a smaller container (48-ounce) which is great for medium batches of food.
Therefore, the Oster Versa will require more space in the kitchen whereas the Vitamix E310 is more suitable for modern and faster life and requires less space.
Therefore, if you have a larger family and enough space in your kitchen, the Oster Versa 1400 will fit better. However, if you live a fast life and don't need the large batches of food, then go for Vitamix E310.
Oster Versa Vs Vitamix: Final Thoughts
Finally, it is time to see who is the winner here. Therefore, both blenders have the same motor-base power on paper and are made with the idea of quality in mind. Additionally, the Vitamix is known for its uncompromised reliability and top-grade manufacturing quality.
However, I would go for the Oster Versa 1400. Not only that it offers more than decent quality and reliability, but it also gives you pretty great and useful features. Furthermore, it is way cheaper than the Vitamix E310 and has a longer warranty period. Additionally, it has a larger container and it makes larger batches.
Therefore, if you are on the look for versatility and efficiency accompanied by reliability for more than a decent price than go for the Oster Versa.
Also, there are other blenders on the market from many proven manufacturers which can also be a good investment.