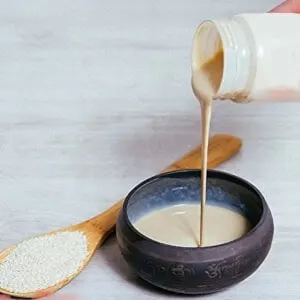 Tahini is one of the most enjoyable recipes for making at home in your Vitamix blender. Homemade tahini is much better than what you buy in the store, much fresher, smoother, and far more delicious. You can use this tahini recipe to make hummus, chocolate chip tahini cookies, tahini sauce, or even dressing. There are so many great uses for tahini.
But what is tahini? If you don't already know, tahini is an ingredient that many people consider a flavor enhancer. It is nutty, it is simple to make, and it adds a certain deliciousness to almost any dish. If you are into making your own food at home rather than buying it in the store, it is always handy to have some tahini in the fridge for cooking.
This particular recipe is super easy. In fact, there are literally only two ingredients! Tahini is traditionally made using a bit of olive oil and sesame seeds. That means it's entirely gluten-free, vegan, and dairy-free.
Read More: Best Vitamix blender for cocktails
How to Make Tahini in a Vitamix
Before you get to cooking, there are a few tips I can give you on how to make your tahini super creamy. The worst thing that could happen is your tahini comes out gloppy and way too oily, and this is not appetizing for anyone.
The first tip I can give you is that you should use a powerful blender, specifically a Vitamix. Food processors can work, but they simply lack the power to make good tahini. You won't get the creaminess with a food processor that you get when using a Vitamix.
You also want to use hulled sesame seeds. These will make your tahini smoother and less bitter. But before using the seeds, you should gently toast them. Keep in mind that sesame seeds burn very quickly, so you want to keep a close eye on them while they are toasting in the stove. Make them slightly golden, that way their natural oils are released.
And finally, always use the best quality of oil. I highly recommend olive oil or avocado oil, but so long as it is premium oil you should be OK.
Ingredients
4 Cups of Hulled Sesame Seeds
3 Tablespoons of Olive Oil
Instructions
The first thing to do is gently toast your sesame seeds on medium-low for about 5 minutes, or until they are golden. Next, allow your seeds to cool at room temperature.
Once the seeds have cooled, pour them into your Vitamix blender and blend on high for about one minute. Remember to use your tamper to push the seeds into the blades so that everything is turned into a nice paste.
Now you can add the olive oil and blend for another minute to create the nice and creamy consistency that makes tahini so special.
You should be left with 2 cups of delicious homemade tahini!
Notes on Storage
With everything blended, you will have two cups of homemade tahini. Now you are probably looking to store it safely for later use. Homemade tahini will remain fresh when refrigerated for up to about 30 days. However, you can freeze the leftovers for much longer.
You may even want to consider freezing the tahini in an ice cube tray for easy access. This is a neat trick you can do with lots of different herbs and compound butter. Freeze your tahini an ice cube tray and pop out a single cube whenever you are in need.
Related Articles:
Tahini Hummus Recipe
Now that you have made the best tahini out there, it is time to step it up a notch. I have prepared this great hummus recipe in which you will use chickpeas and tahini to make a gorgeous vegan dip that you and all your friends can enjoy.
This recipe won't take more than 10 minutes to prepare, and it will feed a party of four at your next social gathering. Everyone loves hummus, and everyone loves tahini. These two go hand in hand, and you will sure be glad you have this recipe under your belt. All your friends will be envious!
While the recipe does call for using canned chickpeas, you can definitely use your own home-cooked chickpeas. If you buy from a can, you want to try purchasing organic chickpeas. We will be using the liquid from one of the cans of chickpeas for the base, however, you may find yourself needing to add normal water if the hummus is too thick.
Ingredients
2x 15oz Cans of Chickpeas
4 Cloves of Garlic
2 Tablespoons of Tahini
4 Tablespoons of Lemon Juice
1 Teaspoon of Smoked Paprika
½ Teaspoon of Cayenne Pepper
Pinch of Salt
Instructions
The first thing to do is drain one of your cans of chickpeas. Then you want to dump both cans into your blender, including the liquid from the can that was not drained.
Place the rest of the ingredients into the blender in the exact order listed in the ingredients section, except for the salt. Now blend on low while gradually increasing the speed until you hit high.
Continue using the Vitamix plunger to break apart the air pockets and to keep pushing the chickpeas into the blades. If you are not using a Vitamix, you will need this stop and use a spatula to scrape the chickpeas down the side.
If the mixture is too thick, be sure you add a small amount of water at a time to lighten it. Keep the blender on high until your hummus has become completely smooth.
Now you are finished. Taste the hummus and make sure it's good, and add your salt and whatever other seasonings you may like until it tastes perfect.
Finally, store the hummus in a resealable container and put it into the refrigerator. Be sure to use your hummus within about a week or it will go bad.