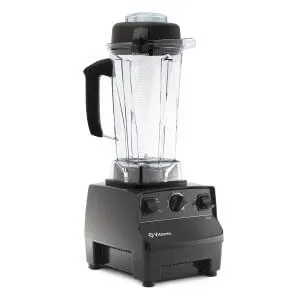 Professional Grade
Durable Design
Powerful 1400W Motor
Cheap Price
If you are looking for the best blender to make smoothies with, you have come to the right place. Today we have the Dash Blender vs Vitamix.
The Dash Blender is a super colorful blending unit that comes with 7 digital presets for all kinds of blending possibilities, while the Vitamix 5200 Blender is a high-end unit with maximum blending power. Both have their own unique benefits, and each looks great in your kitchen. But which one should you buy?
While Dash is a relatively unknown name in kitchen appliances, Vitamix is extremely famous for manufacturing the very best blenders in the industry. But that does not mean the Dash Chef Series Blender is a lesser unit. Both blenders work phenomenally, with excellent blades and a lot of power in their motors.
---
Dash Chef Series Blender Review
This is a pretty cool blender, especially for a lesser-known brand. The Dash Chef Series Blender comes with incredibly strong steel blades, it can make iced drinks and hot food, it comes with eight practical presets, it cleans itself, and it comes in one of the widest assortment of colors I have ever seen.
A Unique Blender
The blades of this unit are not only stainless steel, they are Japanese stainless steel. These are some heavy-duty blades that will chop and grind without mercy, easily grinding nuts and beans with no chance of burning out the motor.
Read More: What to do if your blender smells like burning rubber
The motor itself outputs 1,400 Watts at 2.25 horsepower. This is the same kind of power you get out of a small lawnmower, only compact inside of a kitchen appliance. How cool is that? Dash is so confident in its motor that they offer a 7-year warranty on it.
All the Colors
Someone in marketing is a genius for offering the Dash Chef Series Blender in seven different colors, including red, champagne, and rose gold. No matter what kind of theme you have in your kitchen, this blender will fit in nicely. The only thing not colored is the durable 68-ounce Tritan jug that comes included.
---
Vitamix 5200 Professional Blender Review
There is so much to say about the Vitamix 5200 Professional Blender. This machine is the very definition of a premium kitchen blender. With maximum control over blending speed, a perfectly shaped 64-ounce container, a motor that runs like a dream, and blades that create so much friction that you can heat cold soup, this machine will be the centerpiece of your kitchen from now on.
Ultimate Reliability
When you purchase the Vitamix 5200, you are purchasing a blender that is 100% reliable. This is not one of those blenders you replace after the motor burns out in six months. It's just not gonna happen.
The 5200 will remain dependable with its ultra-hardened steel blades, it's sturdy housing, and its metal drive system. You can count on the 5200 to blend everything from apples to dry grains.
For the Family
The 5200 comes with a container that can hold 64 ounces of anything. This means your whole family can have fun making huge batches of smoothies, of experimental health shakes, and anything else you may be interested in.
With the special pulse feature and the smart rotation dial for blend control, you can easily use this excellent machine for food processing, like stirring batter or kneading dough. That means the baker in the family can also enjoy using the 5200 blender.
---
Dash Blender vs Vitamix: Main Product Differences
Both products are amazing, let's get that out of the way right now. However, the Vitamix is double the price of the Dash. Is such a dramatic increase in price warranted? To better understand, let's take a look at some of the big differences.
The Interface
Personally, I like the menu that comes with the Dash Blender. It has a digital readout, which the Vitamix does not have. The Vitamix only has a dial. Also, the display menu on the Dash is more intuitive with easily legible preset buttons, obvious speed dials, time settings, and a distinct start/stop button.
While I understand the Vitamix 5200 is easy enough to understand, with a variable-speed switch that goes from 1 to 10, but it's boring and there are no presets. If you don't want to guess at the speed to blend your drink, those presets make a difference.
How Does it Blend?
This is the big one, right, how well does each blender do its job? Considering how pricey the Vitamix is, you would think its blending capabilities far surpass that of the Dash – but it's not true. Both blenders do their thing pretty much the same.
Both have super powerful motors, both have well-designed blades, and both have large and tough containers. To be quite honest, there is not a big difference in blending quality. The only massive difference is that the Vitamix has standard hardened steel blades while the Dash has unique Japanese stainless-steel blades. The difference is negligible.
Dash Blender vs Vitamix: Final Thoughts
This is one of the toughest decisions I've ever had to make. Well, maybe I'm being dramatic. The Vitamix 5200 Blender is an amazing professional-grade blender that does everything you could ever hope for in a blender. It comes with super-tough motor, hardened blades, it makes awesome smoothies, it can help with food processing – but it is expensive.
The Dash Chef Series Blender has about the same power, if not more than the Vitamix. And it is a lot cheaper. The Dash comes in seven unique colors, it has all kinds of tricks up its sleeve for blending soup, smoothies, and even ice cream. My pick must be the Dash Blender. I like it more, and I think you will too.
I just can't justify spending an extra few hundred dollars on a machine that works equally well but offers no real additional features. The Vitamix is an excellent machine, 100%, and the company does make the best blenders. It just feels like I should get more for so much money, other than pure dependability.