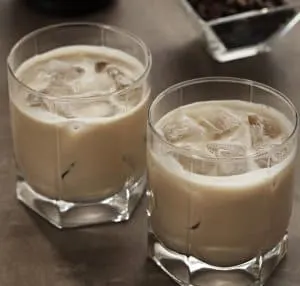 The white Russian is one of the most simplistic yet satisfying alcoholic beverages in the world. There are also countless variations of the white Russian floating around, and not too many people know the correct way to make a white Russian.
In fact, many people believe a white Russian is simply milk and vodka. But that's not true. A legitimate white Russian is 5 parts vodka, 3 parts fresh cream, and 2 parts coffee liqueur.
The classic white Russian is also made in a cocktail shaker. The typical thing is to combine 2 ounces of vodka, 1 ounce of Kahlua, 1 ounce of heavy cream, and 1 or 2 ice cubes. After a vigorous shake in the cocktail shaker, you serve this drink chilled.
But today we're looking at the best white Russian blender recipe. Or rather, a few different recipes of this classic drink. This is far from a healthy smoothie, but it is definitely a worthy alcoholic beverage to enjoy on a hot evening. You can make a white Russian shake, a white Russian winter milkshake, and you can do it using a few different methods.
Let's take a closer look at some awesome white Russian blender recipes.
Read More: Margaritaville blender recipes
Classic White Russian Shake
It's a little tough to find unique recipes for this drink, especially since it generally only involves three ingredients. For our first recipe, we are looking at the classic white Russian shake. This is a delicious shake that you can top with whipped cream and drink from a straw. It's delicious, it takes 30 seconds to make, and you can serve it in a tall glass like a fancy pants.
Ingredients:
1 ½ Ounces Kahlua
1 ½ Ounces Vodka
2 Ice Cubes
1 Cup Vanilla Ice Cream
¾ Cup Whole Milk
Instructions:
Add the vanilla ice cream and milk into your blender. Secure the lid and blend these two ingredients until you've created a creamy and smooth mixture.
Now add the ice cubes into the bottom of a glass, pour your Kahlua and vodka over the ice cubes, and then slowly add your vanilla milkshake into the glass. This is all it takes to make a delicious white Russian, and you can even slurp it slowly with a straw.
Vegan White Russian Shake
Just because you're vegan doesn't mean you can't have fun with a bit of vodka and ice. Rather than gorge yourself on absolutely gross alcoholic beverages that taste like rubbing alcohol, try your hand at a vegan white Russian shake.
This beverage is smooth, creamy, and ridiculously potent. And while you can taste the alcohol, it tastes more like a coffee house shake than a club drink. This recipe is a little more complicated than others, but it is definitely worth it. Just be careful, as three or four of these will have your head spinning.
In this vegan recipe, we will be replacing cream with coconut milk. We will also be replacing the ice cubes with frozen coconut milk! Before starting this recipe, you will need to freeze your coconut milk in an ice cube tray to make the best frozen cocktail of your life.
Read More: Best Vitamix blender for cocktails
It's all about the preparation, and you will be extremely thankful you took the time to make a legitimate drink rather than just pouring random ingredients into a blender. And unlike other white Russian recipes, this one is going to add coffee. Coffee will help everything blend nicely in your machine and it will give a subtle coffee kick to really top off the beverage.
Ingredients:
10 Coconut Milk Ice Cubes
1 ½ Ounces Vodka
1 ½ Ounces Kahlua
¼ Cup Coffee
Chocolate Sauce (for Topping)
Instructions:
The first step is to make your coconut ice cubes. All you need is to shake up a can of coconut milk and then pour it smoothly into your ice cube tray. I recommend doing this quite a bit earlier from when you want your shake to be made, as it will take between 5 and 7 hours for your ice cubes to freeze.
Fast forward 7 hours and you will be adding your coconut ice cubes along with your coffee, vodka, and Kahlua into your powerful blender. You want to blend until the mixture is completely smooth, and this will take about 20 or 30 seconds.
Taste your beverage and see how sweet it is. If it tastes too bitter for you, or the coffee flavor is too strong, feel free to add a bit of agave nectar as needed.
This recipe is enough to fill 3 or 4 short glasses. Once the drinks are poured, feel free to top with chocolate sauce or whipped cream. Or, top with chocolate sauce and whipped cream!
Read More: Alcoholic smoothie recipes
White Russian Blender Recipe: Dark White Russian Shake
The final recipe for today is the dark white Russian shake. We use the same ingredients as normal, only we add a large serving of coffee ice cream. Rather than using normal brewed coffee, we are going to utilize the coffee ice cream to get a dark texture and a more milkshake-like final result.
This is a great shake for the winter, as you can enjoy it by the fire on a late evening rather than eating ice cream out of the tub!
Ingredients:
1 Cup Ice
½ Cup Coffee Ice Cream
¼ Cup Milk
2 Ounces Kahlua
1 Ounce Vodka
Instructions:
For this shake to work it's best, you need to blend all the ingredients in your blender until perfectly smooth. This should take about 15 seconds, and you'll be left with a dark white Russian shake ready to be enjoyed immediately.
Feel free to garnish as usual with whipped cream. And as with any alcoholic drink, it's up to you if you would like to tweak the amount of vodka and Kahlua. Just remember that if you change the alcohol content, the drink may lose some of its dessert flavor.