9 Speed Settings
Large Capacity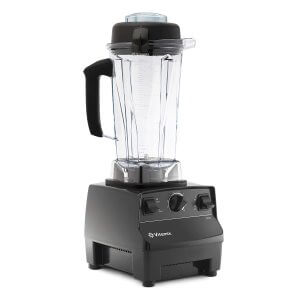 Most Popular Model
Simple Operation
---
In this article, we'll try to settle the Vitamix 200 vs 5200 debate. To do this, we'll be taking a closer look at these top-tier blenders and I'll present the things that stood out for me. This will be easier said than done as both of these models are well-known for their versatility and effectiveness in the kitchen.
First, we have the Vitamix 5200. Widely considered as a true classic in the kitchen, it is one of Vitamix's earlier models that has stood the test of time. It not only has enough power to make soup from scratch, but it also gives users a complete sense of control through its adjustable speed settings.
Next, we have Vitamix's Professional Series 200 home blender. Interestingly, this model can also do all the tasks its predecessor just as well. The difference is that this newer model is a bit more versatile in terms of processing various ingredients.
Vitamix 200 Vs 500: Comparison
Vitamix 200
PROS
Immense blending power
Intuitive blade speed controls
Incredibly versatile
CONS
Bulky design
Hefty price tag
---
Vitamix 5200 Review
The 5200 blender is one of Vitamix's earlies designs. It is a classic, in every sense of the word. It has stood the test of time and has rightfully earned the title of 'legacy model'. While it may not possess some of the newer features that come with its later models, people keep going back to the 5200 for the simple reason that it gets the job done. Even in the company of other Vitamix models, the 5200 stands out for its durability and proven efficacy.
Powerful Motor
If there is one thing that sets Vitamix apart from its competition, it has to be the powerful motors that come with their blender. The 5200, being one of the brand's pioneers, is certainly no different. It packs a 2hp motor that lets you push your blender to the limit.
Read More: Dynablend Vs Vitamix 5200 comparison
Stellar Steel Blades
In addition to its powerful motor, the 5200 has another secret weapon – its unbreakable stainless steel blades. This is perhaps one of the things that let the 5200 enjoy its longevity. Despite constant use and abuse, this blender's blades never get worn out as they always retain their sharp edge. Even under extreme heat and cold, they simply refuse to crack.
---
Vitamix 200 Review
The Vitamix 200 is a serious contender for the best blenders out there. It is one of Vitamix's latest models that executes its job with extreme precision. Not only does it have a powerful motor that packs quite a punch, but it also makes full use of strong indestructible blades to process everything you need. It is a machine made for professionals that can also be used for your home kitchen.
Exercise Full Control
One of the most eye-catching features of the 200 model is its nine speed settings. This is what sets it apart from its peers. This enables you to take the reins and exercise complete control over the blending process. With the Vitamix 200, you can approach blending in the same way you approach other cooking activities: with precision.
Intuitive Blending Experience
It is also worth mentioning that aside from the full sense of control you get with the 200, it also gives you an intuitive experience. Contrary to what you may expect, the learning curve for the 200 isn't all that bad. Once you get used to it, everything comes naturally.
Blend in Large Batches
This blender also comes with a 64oz container that is specifically designed to let you blend in large batches. That is at least half a gallon's worth of smoothies – enough for the whole family. That is unbelievably convenient.
---
Vitamix 200 vs 5200: Main Differences
As you may have already noticed, the Vitamix 200 vs 5200 is a bit tricky as these models share a lot of similarities. For instance, they both make use of Vitamix's powerful 2hp motor to get the job done quickly and efficiently. The similarities don't end there. They also make use of the same 60oz container as well as the same cooling system for their motors.
Versatility
While these machines share several crucial features, the Vitamix 200 brings a couple of updates to the table. In terms of sheer versatility, the younger model simply blows its predecessor out of the water. This is because the 200 comes equipped with specs that enable it to work on dry ingredients like grain.
This means that the 200 can perform tasks that the Vitamix 5200 simply can't. For instance, the 200 now lets you make the ingredients of your own bread from scratch. With this blender, you can now mix your flour as well as knead dough should you need to.
Read More: Best blenders for making flour
Size and Portability
Another point of difference is the significant size difference between these two machines. The 200 weighs around 30.6lbs and measures 16.9 x 13.3 x 11 inches. This is quite bulky, especially when you compare it to the 5200 that weighs a mere 10.6lbs and measures 8.75 x 7.25 x 20.5 inches. Clearly, the 5200 beats out its competitor in this regard.
Price Range
It should come as no surprise that the 5200 is cheaper than the newer 200 model. After all, the former came out a while ago.
Read More: Vitamix vs Kitchenaid blender comparison
Vitamix 200 vs 5200: Final Thoughts
Vitamix has certainly claimed its position as one of the top manufacturers of powerful home blenders. Both of these models, the 200 and 5200, embody the standard and performance that everyone has come to expect from the brand. Of course, the question remains: which of these two should you get for your kitchen? After all, they are both extremely powerful and reliable blenders.
I had a hard time mulling over which of these models is better. However, I believe that there is a clear winner here. Put simply, the Vitamix 200 wins this competition by a hair. While the Vitamix 5200 has certainly earned its classic status, the 200 brings some much-needed updates to the table. Although it is more expensive, I feel that the added functionality the 200 brings makes it all worth it.