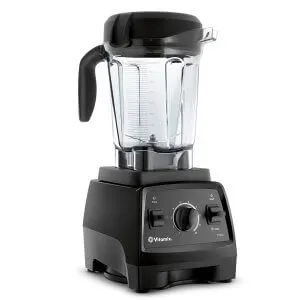 Powerful 2.2HP Motor
Quiet Operation
Simple Operation
Large Capacity
---
Vitamix is at the pinnacle of the home appliance industry. In terms of home blenders, their brand name has become synonymous with quality. That said, not all their models are made the same. The subtle differences between the different Vitamix blenders are what ultimately make one better than the other. This is the matter that we'll be looking into with the debate surrounding the Vitamix e320 vs 7500.
On the one hand, you have the Vitamix E320. A strong and dynamic piece of machinery, this home blender would serve a crucial role in any kitchen. On the other hand, you have the Vitamix 7500. A workhorse of a blender, this model can pretty much handle anything you throw its way.
Take note that both of these models are categorized as high-end models. So, they come equipped with a bevy of features and functionalities that will make any home chef. However, the question on everyone's mind is: which is better? This is the question I hope to tackle here, so keep reading!
Vitamix E320 Vs 7500: Comparison
Vitamix E320
PROS
BPA-free container
Powerful motor
Durable design
CONS
Not for casual users
Excessive noise
---
Vitamix E320 Review
The Vitamix E320 is one of those high-end blenders that gives you everything you need and more. It is a versatile and powerful tool that can help you with just about any task you can think of. From food preparation to blending smoothies, the E320 is the tool of choice.
Cool and Powerful 2.2 HP Motor
It would be impossible to talk about the E320 without mentioning the powerful 2.2-peak HP motor. Unsurprisingly, this gives the blender a significant advantage over most of its competitors over the things it can do. It has no trouble blending even the toughest ingredients while also ensuring that the final product comes out smooth and consistent.
It also avoids a major problem that some blenders have trouble with – overheating. This is because Vitamix has installed an adjusted cooling fan on the motor base. This helps keep the machine cool and protects it from any damage that might occur due to overheating.
Pulse and Speed Control
The Vitamix E320 gives you all the control you need. Its variable speed control helps you make real-time adjustments to ensure that you can get the desired consistency. The pulse feature only adds to that level of control. This way, you will never have the problem of over or under-blending ingredients.
---
Vitamix 7500 Review
Another worthy contender, the Vitamix 7500 is not only incredible, but it is also notably multi-functional and easy-to-use. This is the blender every kitchen needs. With its variable speed settings, pulse control, massive container, and powerful motor, you would be hard-pressed to find something better.
Multi-Functional Blender
The Vitamix 7500 is designed for easy home use. Its 10-speed variable controls not only lets you adjust the blade speed, but it also lets you directly control the consistency of whatever it is you are doing. The pulse function adds another degree of control over the whole process. This also means that you can use the blender for virtually anything including crushing ice, heating soup, making nut butter, or even making homemade whole grain flours.
It is also worth noting here that switching speeds with the 7500 is made possible by its intuitive design. Its toggle switches located in front of the machine are incredibly easy to use.
Unparalleled Power
By now, it has been well-established that Vitamix is known for making powerful home blenders. The 7500 is certainly no exception. Making large batches from the toughest ingredients is no trouble at all with the 7500's 2.2 horsepower motor and its aircraft-grade laser-cut stainless steel blades.
---
Vitamix E320 vs 7500: Main Differences
Talking about the Vitamix e320 vs 7500 debate can be quite challenging. After all, both of these blenders are, by all standards, great devices. They are also extremely similar, making a comparison that much harder. However, since I made it my mission to help you pick the right blender for your home, here are my thoughts on the crucial differences that set these two models apart.
Blade Speed and RPMs
As you have probably noticed in the individual product overviews presented above, both of these devices have the same motor. This means that they both have 2.2. HP under the hood. Needless to say, both the E320 and 7500 are undeniably powerful.
However, one of the things that I noticed is that there is a stark difference between the maximum speeds. For instance, with the Vitamix E320, it can reach speeds of up to 23000 RPM. On the other hand, the Vitamix 7500 greatly exceeds that as it gives you a maximum speed of 37,000 RPM.
Container Options
Vitamix is known for its 60oz huge containers that make blending for the whole family such a breeze. These BPA-free jugs are designed for large batches. However, this won't be of any value to you if you are just making single to medium-sized batches for yourself.
This is where the 7500 comes in. It gives its users a myriad of container options including a moderately-sized 32oz container.
Price
The price point is also another crucial difference here as the 7500 is notably more expensive compared to the e320.
Vitamix E320 Vs 7500: Final Thoughts
From the comparison above, it is made clear that both of these blenders stand apart from its competitors. They both sport powerful features and functionalities that give its users unparalleled convenience as they make the blending process that much easier.
Of course, if I were forced to make a choice, then I would probably go with the Vitamix E320. This is because it can do virtually everything that the Vitamix 7500 can do, albeit at a lower price range. Despite the difference in actual performance, I think it is still worth it.
However, if you have a few extra bucks, then it wouldn't be such a bad idea to go with the 7500 as it gives you a complete experience. Again, it comes down to whether or not you are willing to spend more on a more powerful machine.