Upgraded Model
Large Capacity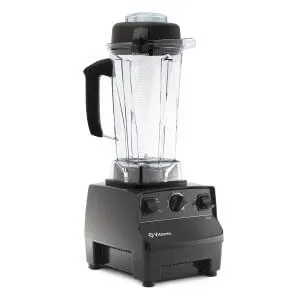 Most Popular Model
Simple Operation
---
As one of the most reputable and sought-after brands on the market, Vitamix blenders are well-known for their powerful performance. In comparing the Vitamix e320 vs 5200 model, it is no surprise they are two excellent contenders. With similar functions and performance, they are both great options for your daily blending, grinding, chopping, and pureeing needs. These powerful and versatile blenders can whip you up a delicious frozen mix in no time or transform cold ingredients into a hot, tasty soup in just six minutes.
The Vitamix E320 is home to the Explorian next-generation series and the Vitamix 5200 belongs to the C-series, which is an older model. Overall, both appliances deliver on their brand promise of power, versatility, and usability. But how do you choose which one is better suited for you and your family? I will go through the features of each product, as well as their pros and cons to help you make that decision.
Vitamix E320 Vs Vitamix 5200: Comparison
Vitamix E320
PROS
Pulse button to control consistency and textures
Powerful 2.2 hp motor
Large 4-inch stainless blades
CONS
Only comes in one color – black
Shorter cord
---
Vitamix E320: Review
The more affordable Vitamix E320 Explorian Blender comes with a powerful 2.2 motor to pulverize all your ingredient into any consistency you choose. Additionally, it also comes with a pulse feature so you can control the consistency and texture of your ingredients. It is one of Vitamix's newer models with a more well thought out design.
Powerful Motor and Blades
One of the most outstanding features of the Vitamix e320 is the 2.2 horsepower motor. To help sustain that power, are the large 4-inch stainless blades that cover most of the blending area of the container. The horsepower and blades combine to do a quicker and more efficient job of chopping, grinding, pureeing, and of course, blending.
Easy To Use Controls
This blender is designed with an easy to use interface. It comes with three easy controls: An on/off switch, pulse lever to control consistency and texture and speed dial that ranges from 1 to 10. At its maximum speed of 10, the blades heat up to turn ingredients into perfectly hot soup.
Low Profile Container
The larger and wider base of this low profile 64 oz container means it can fit under most kitchen cabinets with ease. Additionally, the wider berth accommodates bigger batches of ingredients. It is also important to note that the container is dishwasher safe and is made of BPA-free Tritan.
---
Vitamix 5200: Review
The Vitamix 5200 Blender is a classic model equipped with a 2.0 horsepower motor and 3-inch stainless steel blades. Its notably classic taller and thinner container is better able to handle smaller batches of ingredients and also comes with a longer cord. Like the E320 it comes with a 7-year warranty.
Solid Motor And Blades
As an industrial blender, the 5200 2.0 horsepower motor can easily pulverize dry and hard ingredients. The blades are also powerful and strong enough to chop through any ingredient in seconds. They can also produce heat friction for making hot soups. As a safety feature, the blender is smartly designed with a built-in cooling system to automatically shut off when abnormal levels of heat are detected.
Tall And Thin Container
This model's 64 oz container is tall measuring at about 20 inches high. While this might present a storage issue, the tall and thin design makes it more convenient for smaller batches of ingredients.
User-Friendly Controls
All controls on the 5200 are manual but are easy to figure out. There is an on and off switch, speed dial to select speeds from 1 to 10, and a high/variable switch. If the 'variable' switch is on, you can use the speed dial, however, speed is disabled once you switch to 'high'.
---
Vitamix E320 Vs 5200: Main Differences
One of the major differences between the blenders is the power of their motors and the blade sizes. The Vitamix E320 has a newer 2.2 hp motor along with 4-inch stainless steel blades giving it a slight edge over the Vitamix 5200 which has a 2.0 hp motor and 3-inch stainless steel blades. The additional horsepower and larger blades do a faster and more efficient job of blending, grinding, pureeing and chopping. If you are going to use your blender regularly and want perfect consistency, then more blending power would definitely be an advantage. Not to say the 5200 does not blend efficiently, because it does, but the E320 does a slightly better job.
Container Design
The next noticeable difference between the models is the design of the container. Though both come with a 64 oz container, the E320 design is more low profile versus the 5200 which uses the classic taller and thinner design. This means that the E320 will better fit under kitchen cabinets so if you are concerned about storage, you may want to keep this in mind. The newer low-profile design of the E320 indicates Vitamix heard the many complaints about the height of the 5200 and made the correction.
The Pulse Feature
While the older classic 5200 lacks a pulse button, the E320 comes with one. This pulse option is an improvement of the older model because it gives you control over the consistency of your ingredients. If you want a chunky consistency, for example, the pulse button will allow you to do just that.
Vitamix E320 Vs 5200: Final Thoughts
The Vitamix E320 and the Vitamix 5200 blenders are quite similar in that they are powerful, versatile, and easy to use. They can blend, chop, grind, or puree both soft and hard ingredients as you would expect from an industrial blender. Not to mention, they both come with a 7-year warranty.
But despite these similarities, one emerges as the better option overall because of a few distinctive features. Vitamix E320 comes with more horsepower resulting in a slightly quicker and more efficient blending power. In addition, its wider and low-profile container makes it easier to store and is more suitable for making bigger batches. If you have a larger household, then this model is perfect for you. Also, if you are concerned about your budget, the E320 is the more affordable option. Though the 5200 is a solid contender, its storage issue is a major concern.
I recommend grabbing the upgraded E320 blender so you can whip up tasty and nutritious meals.