Powerful 2.2HP Motor
Touchscreen Controls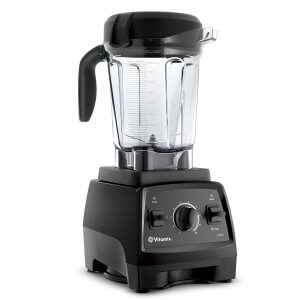 Powerful 2.2HP Motor
Quiet Operation
---
Vitamix is without a doubt one of the best blenders available on the market these days. What a lot of people find surprising about Vitamix blenders is how popular they are even though they are so expensive.
The reason behind this is that people know what they will get for the price they pay. Vitamix has built a reputation for users who are more than satisfied with their products.
Considering the wide range of features and power Vitamix blenders offer, you can create everything from smoothies, soups, nut butter, juices, ice cream, and more.
Most of their products come pre-programmed with settings to create the perfect smoothies and desserts, plus a self-cleaning feature. With this variety of different features, you can experiment as much as you want with your favorite recipes.
In this article, I'll be reviewing the Vitamix 7500 and the Vitamix 780, list their pros and cons so let's see how these two blenders compare to one another.
Vitamix 7500 Vs 780: Comparison
Vitamix 7500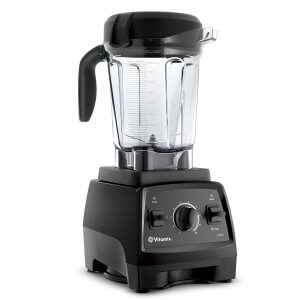 PROS
Has a self-cleaning feature
Aircraft-Grade Blades
Very powerful horsepower motor
CONS
Costs more than an average blender
Containers are not dishwasher safe
---
Vitamix 7500 Review
The Vitamix 7500 blender is a highly powerful and high-end blender that can be used to blend almost any ingredient you want. This machine can be used to prepare hot soups, smoothies, salsas, and a lot more. The 7500 is a newer model of the Vitamix Legacy series.
Compact Design With Great Capacity
The 7500 is shorter than the other products from this series and it also includes the shorter container. The short container is very convenient since it can easily fit under your kitchen cabinet.
Despite it being shorter, the container is still 64 oz so you don't have to worry when processing a larger number of ingredients.
Powerful Motor
This blender also features a 2.2 horsepower motor and laser-cut stainless steel blades that are very powerful and can cut through the harder ingredients such as nuts or seeds.
Compared to the previous models the cooling system has been improved and the blades are considerably longer.
Vitamix has also made a great effort in improving noise reduction compared to some previous models which has been one of the main complaints by the users. This model is also very easy to use, clean, and maintain.
It comes with a number of smart features and works effectively for whatever purpose you may need a blender. This blender is definitely a top-of-the-line product, extremely versatile and functional, and has left more than a thousand customers satisfied.
---
Vitamix 780 Review
The Vitamix 780 is the latest model in the Legacy Series. It's also the first blender Vitamix has released that has touchscreen controls. Considering that the older models had the old toggle switch and rotary dial setup, this is quite a change.
Very Convenient
The touchscreen feature brings a lot to the table, for example, users have reported that blending is now more efficient and easier than it was with the previous models.
The new feature is great for those who are used to the touchscreen technology. Therefore, this model offers easy and convenient use for anyone.
High-End Motor
The Vitamix 780 is rich with lots of features. The blender comes with 2.2 horsepower motor that operates the stainless steel blades at 37,000 rpm, which is more than enough power for your blending, cutting, and chopping needs. It also has a 64 oz full-sized size container that can easily fit larger ingredients.
Versatility In Use
There are 5 pre-programmed settings and they include hot soups, frozen desserts, smoothies, puree, and cleaning. Users find the pre-programmed settings more practical than the manual variable speed control.
When it comes to cleaning, you won't have to worry about disassembling the blender, and that makes the whole process very simple.
The Vitamix 780 blender has been a huge success ever since it was launched. Thousands of users are more than satisfied with this model and its overall performance. Although it's more expensive than the other Vitamix models, it's definitely worth the extra money.
The features and conveniences that this blender offers make it an ideal purchase.
---
Vitamix 7500 Vs 780: Main Differences
While both of these products are exceptional at what they do, there are a few differences that should be noted. Here is a comparison of some features amongst these two products.
Controls And Interface
The biggest difference between the 7500 and 780 are the controls. The 7500 has a pretty standard interface, one that Vitamix has been using for most of their products, while the 780 uses a series of buttons and a control slider.
The 780 has preset settings that you can press and the blender will perform a pre-programmed cycle, and it features the five settings we have mentioned above. The Vitamix 780 is useful if you are someone who multi-tasks in the kitchen since you can do other things while the blender does the job by itself.
The Vitamix 7500 can also do all of this, but it has to be done manually, thus eliminating the option of multitasking.
Color Options
With all of the other features of these two blenders being fairly the same, the color options are somewhat different.
In case you are picky with the color that your blender will have before you purchase it you may find the 7500 model more versatile in that matter. It comes in black, red, and white color, so it can easily fit your kitchens décor.
The 780, on the other hand, comes only in black and red.
 Vitamix 7500 Vs 780: Final Thoughts
With these two products being incredibly similar we understand it can be tough to choose one. Our choice would be the Vitamix 780 if you don't mind paying a bit more for the touch screen or extra programmed functions. Those who have a modern kitchen the new design of this model will be worth the money.
On the other side, if you don't mind doing things manually, the Vitamix 7500 is just as good, and it's more affordable.
We hope this article helped you gain a bit more knowledge on these two products and helped you make a choice on which one to buy.