Vitamix is a household name in kitchen appliances, and today we will fight the Vitamix 7500 vs 300. These two blenders are some of the best units around.
Vitamix makes the strongest, most durable, and most long-lasting blenders on the market today. These blenders come packed with features and well-thought designs. Each blender has a lot to offer, from variable speed controls to specialized pulse actions.
If you are looking for an all-inclusive blender that will do everything from make perfectly blended smoothies to precisely chopped vegetables and ingredients for salsas and frozen desserts, you have come to the right place.
A Vitamix blender will make baby food, hot soup, nut butter, and it will last a lifetime. The Vitamix 7500 and the Vitamix 300 have quality builds, meaning the motors don't overheat, the blades don't wear out, and the drive systems don't jam.
Vitamix 7500 Vs 300: Comparison
Vitamix 7500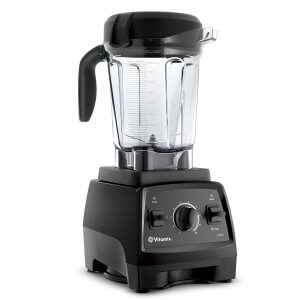 PROS
Extremely Powerful Motor + Blades
Can Blend & Grind Anything
Premium Model + Maximum Speed Controls
CONS
No Digital or Touchscreen Tech
Dry Food Containers Sold Separately
---
Vitamix 7500 Blender Review
As far as premium blenders go, the Vitamix 7500 Blender is at the top of its class. With a robust motor, an extremely hardy housing unit, a main 64-ounce container that is low profile, and extremely durable, this will make an excellent addition to your kitchen.
Blend it All
You can blend everything with the Vitamix 7500 Blender, and you can use it for the rest of your life. The blades are so effective that you can make the smoothest baby food out of strawberries, carrots, and green beans. You can also use the blender to make nut butter, which is nearly impossible with a low grade, no-name blender.
Another great aspect is that the 7500 can make hot soup. Just put in the ingredients, turn the speed up high, and blend your soup while it heats to optimum eating temperature.
Strong Pulse
The pulse feature on the 7500 is extremely useful. Unlike some pulse features that don't really do much, the 7500 works amazingly to incorporate recipes that are a bit heartier than smoothies. For example, you can use the 7500 to make ultra-smooth purees and extra chunky salsas and soups. The pulse feature really works this time.
---
Vitamix 300 Onyx Blender Review
The Vitamix 300 Onyx Blender is the kingpin of the blender universe. This thing is incredible. And while it may be a little heavier than a budget blender or a cheaper blender, that is because it is professional and industrial grade. You can blend any beverage and process almost any food using the 300.
Wet or Dry
The Onyx Blender comes with two different containers, one for wet substances like smoothies, sauces, and soups, and the other for dry grains. The 32-ounce dry grains container lets you turn grain into flour, mix batter for pancakes, muffins, or cookies, and even knead dough for baking. The blender can literally simulate the process of kneading dough!
For smoothies, you will never need another blender. Because this one is so well built, and the blades are so great at crushing ice, smoothing frozen fruits and vegetables, and extracting nutrients from seeds, you will always make the best smoothies in your neighborhood by using the Onyx Blender from Vitamix.
Tough Housing
Unlike a cheap plastic blender that can easily break, this unit comes with a special housing built from Onyx PVC plastic. The housing won't break unless maybe you drop it from a bridge. The same can be said of the BPA-free containers, which are shatterproof and resistant to heat.
---
Vitamix 7500 vs 300: Main Product Differences
Even though these are both Vitamix blenders, there are some pretty serious differences in the design and in the features.
There are also some pretty striking similarities. For example, the front control panel on the Vitamix 7500 is the exact same as on the 300. You get a center dial for the variable speed control, a start and stop switch, and a pulse switch.
Bigger is Better
The Vitamix 300 is a bigger machine. It weighs more, it takes up more space on the counter, but it is also more stable and has a fierce amount of power. While both the 7500 and the 300 come with the same 64-ounce, low-profile wet container, the 300 is still a bigger unit. It will blend quicker than the 7500.
The other thing to consider is the extra 32-ounce dry container that comes included with the 300. While you can buy the dry container separately from Vitamix and use it with the 7500, it is nice to have it included in the package.
Speed Control & Recipe Booklets
One of the downsides of the 300 Blender is that it does not come with an upgraded speed control system. Both the 7500 and the 300 have variable 10-speed control and pulse. They are exactly the same, which is a bummer considering the higher price of the 300. Also, neither product comes with pre-programmed blending cycles.
However, the 7500 does not come with a cookbook. And while yes, you can get lots of recipes easily on your phone, it is nice to have a tangible cookbook filled with interesting ideas and delicious recipes. The 300 comes with two huge cookbooks that will keep you blending new and exciting recipes for years to come.
Vitamix 7500 vs 300: Final Thoughts
If you want to know which blender is better, you only need to look at the price tag. Considering the Vitamix 300 Onyx Blender is a few hundred dollars more than the 7500, you bet it comes with more power and more versatility.
The Vitamix 300 comes with additional containers, it is fine-tuned for food processing and for blending smoothies and soups, and it has a two-peak horsepower motor. Also, the blade radius is wide with the 300, which works well to evenly blend your ingredients, thereby delivering you the best possible solution.
The Vitamix 7500 is a great unit. It is one of the best premium blenders you can find anywhere, but it is dwarfed by the 300's features and power. It is like trying to compare a Ferrari to a Ferrari. They are both seriously high quality, but one of them is better, and it's the 300.