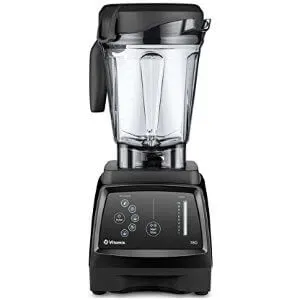 Powerful 2.2HP Motor
Touchscreen Controls
Powerful 2.2HP Motor
Large Capacity
---
If you are into kitchen blenders that offer high performance and modernized blending features, choosing the perfect one to buy can be a little tough.
The market today offers several high-end blenders fitting these criteria, so hopefully, after reading this Vitamix 750 Vs 780 review, your choice might be even slightly easier to make.
Both these blenders make a great choice if you want to have a kitchen blender perfectly capable of processing food in the same manner as the professional blenders used in restaurants.
As members of the modern lineup in the Vitamix family of kitchen blenders, the Vitamix 750 and the Vitamix 780 compare very well with the other great solutions on the market.
They will provide maximum satisfaction in the results and taste of your dishes and juices and can process even the toughest ingredients in a matter of minutes.
Vitamix 750 Vs 780: Comparison
Vitamix 750
PROS
Low-profile construction for easy storage and use of the blender
Powerful motor able to process any ingredient
A choice of 5 blending function settings that are pre-installed
CONS
Has no touchscreen display
Might be too expensive for some users
Vitamix 780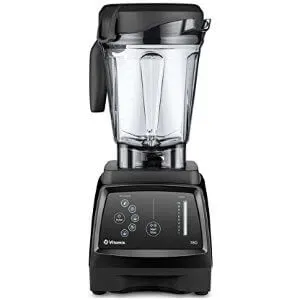 PROS
Comes with a high-end digital display control panel
Offers great performance with maximum reduced noise while blending
Comes with a variety of pre-programmed settings
CONS
Some users might find it difficult to get used to touch screen controls
Lid is black therefore you cannot see through it from above
---
Vitamix 750 Review
When it comes to high-end blenders, the Vitamix Pro 750 is one of the first options that come to mind.
Capabilities and Basic Info
This model comes from the Vitamix Professional Series of kitchen blenders and represents the top of the design and functionality of this lineup.
Having such a powerful motor enables it to process everything you put in the container.
It features 2.2 horsepower motor, extremely sharp blades, and a low – profile container and base for more convenience when searching for storage space.
Besides those amazing aspects, this blender has 5 pre-programmed blending functions allowing you to choose the category of your texture and the machine will do the rest of the blending process for you.
All functions are timed, so you won't have to bother observing the process and counting the exact time necessary to process ingredients of different categories.
The Vitamix 750 can produce great smoothies in just 30 seconds, make incredible purees, and hot soups and it is great for frozen desserts.
It also has a pre-installed self-cleaning option so there is no need for the user to wash the components manually.
Durability of the Vitamix Pro 750
The Vitamix Professional Series 750 is a very durable blender made of premium materials.
Both base and container components are made to last for a very long period and the couplings between motor and assembly are all metal.
The blender has protection systems installed to prevent the motor from overheating as well.
---
Vitamix 780 Review
This highly-modernized Vitamix blender brings a whole new perspective to kitchen blending and provides premium blending features that you can use in the comfort of your home.
Main Features of the 780
The Vitamix 780 is one of the latest Vitamix models and is a part of the Legacy lineup of kitchen blenders.
One of the main improvements of this model is a touch – screen control panel which is very easy to operate.
All features are just one touch away since you will be able to select 5 different blending programs, pulse option, and the blending speed.
The screen is protected by a hardened glass which prevents the water from damaging the control screen.
There is also a progress bar included making it easier for you to track the blending process.
The 64-ounce container offers enough space for ingredients needed to prepare dishes and juices for the whole family.
Performance of the 780
When it comes to performance, this model has a next-generation 2.2 horsepower Vitamix motor with laser-cut blades.
By selecting the right blending function, this blender offers amazing results while producing the least noise possible thanks to its newer motor.
It also has an automatic shut – down option in case the motor is in danger of overheating for maximum security while in use.
---
Vitamix 750 Vs 780: Main Differences
While both blenders are very modern and powerful, there are some differences between them worth mentioning.
Functionality Differences
When it comes to functional details, both blenders feature the same motor and blade technology, being among the high-end Vitamix blenders.
Even so, the Vitamix 780 has proved quieter than the Vitamix 750 and produces less noise in both high and low selective speed modes.
This might prove useful in case you don't want to disturb your family members while blending.
The touch-screen digital display makes it more convenient for choosing the blending function as well.
The LED lighting and fairly big icons for each function will certainly help you not to miss the function you want to use, while the manual controls are accurate as well but the indication icons are smaller.
One thing is for sure – the faithful Vitamix users will certainly find it easier to use the traditional manual controls on the 750, but when you get used to it, the digital display is very easy to operate as well.
Design Differences
The 780 is a newer model so there is no wonder that the design is more modern and stylish, but the 750 is nicely designed as well.
Both blenders feature self-cleaning options, but the control panel screen on the 780 is much easier to clean than the manual controls on the 750.
Vitamix 750 Vs 780: Final Thoughts
Tastes may vary and it might be extremely hard to choose between these two Vitamix models because they share some main features that a kitchen blender can have.
The motor power, blades, and blending functions are the same on both blending machines.
Even so, the differences mentioned might not be that big but are certainly implying that the Vitamix 780 is a slightly better model to buy than the Vitamix Pro 750.
Therefore, choosing a newer blender seems like a logical thing to do but there is no aspect in which the 780 beats 750 by far.
Moreover, they are quite similar blenders, and the taste of the buyer will probably decide in this very close competition between the two amazing Vitamix models.
One thing is for sure, by choosing either one of these blenders, you will definitely not make a mistake.