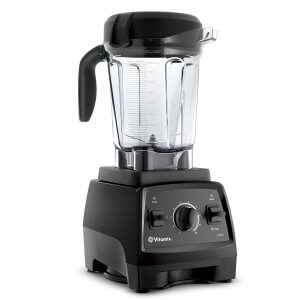 Powerful 2.2HP Motor
Quiet Operation
Powerful 2HP Motor
Cheap Price
---
Every household should have a blender in their kitchen. When it comes to blenders, Vitamix is the king among them. Therefore, let's take a look at some of the best Vitamix blenders on the market.
The Vitamix 6300 and the Vitamix 7500 are two state-of-the-art blenders that will guarantee you good functionality and durability.
Whether you are deciding to go on a healthier diet or put some versatility in your kitchen when it comes to making meals, these two blenders are definitely the right choice.
These two blenders will allow you to make all different kinds of specialties. They offer extraordinary features that will please every one of your needs in the kitchen.
Vitamix 6300 Vs 7500: Comparison
Vitamix 6300
PROS
3 pre-programmed settings
It has a pulse function
You get a recipe book, DVD and tamper
CONS
It heats up quickly
Tends to be loud when blending frozen food
---
Vitamix 6300 Review
The Vitamix 6300 is a high-class quality blender that will not disappoint and is very popular among users.
Performance
The Vitamix 6300 is good for its versatility since it provides 3 pre-programmed settings that allow you to make smoothies, frozen desserts, and soups. With these three settings, you can make any texture you desire.
Namely, you do not have to figure out by yourself how long the blender has to run for whatever you are wishing to prepare.
Furthermore, it has variable speed control, and the pulse function chops quickly which makes ingredient preparation easier.  The pulse function will help you to clean the blender effortlessly.
If you want to make dips and spreads, the 10-setting speed allows you to do so.
Large Size Container
It comes with a 64-ounce container that is suitable for making medium batches and fixing up a meal for a large group of people. It is great for the whole family or an individual who wants to prepare a large portion for the whole day or several days.
However, it is a bit hard to store them and it will not fit every cupboard. But that is a minor downside not to consider getting this blender for your home.
---
Vitamix 7500 Review
The Vitamix 7500 is a blender used in professional cooking, so you can tell by that fact that it is a serious blender.
Outstanding Performance
Like the previous blender, it has a variable speed control. It comes with 10 variable speeds that allow you to refine every texture with culinary precision, from the smoothest purees to the heartiest soups.
The pulse features can layer coarse chops over smooth purees for heartier recipes, such as chunky salsas or thick vegetable soups.
Additionally, the blades are made from hardened stainless steel that are designed to handle the toughest ingredients, so from the first blend to the last, you get the same quality results.
Easy To Clean
The Vitamix 7500 is easier to clean than most blenders. Only one drop of dish soap and warm water, your machine can clean itself in 30 to 60 seconds.
There are no annoying corners in the container where pieces of food can hide.
This easy cleaning makes maintaining the blender hygienically clean.
---
Vitamix 6300 Vs 7500: Main Differences
These blenders are both used in professional cooking, they both come with 64-ounce containers which makes them perfect both for families and people living alone, and their quality and durability will not disappoint you.
Although these two blenders are almost the same, they still have some differences.
Settings
The Vitamix 6300 has three pre-programmed settings, whereas the Vitamix 7500 does not. That does not make the 7500 less qualitative, but with the other one, you automatically choose a mode depending on what you are trying to make.
The first model makes a bit too much noise when blending frozen desserts, whilst the other one does not make that much of it. However, you cannot get that much power with less noise.
Cookbok, DVD And Tamper
With the Vitamix 6300, you get a savor recipe book, a DVD, and a tamper, whereas with 7500 you do not get all of that.
The recipes book can you give you meal ideas if you are looking to change your diet, eat healthier and lose some weight, with the cookbook you will get insight on what to eat and what to avoid.
In addition, the DVD helps you make the meal the right way, so it does not turn out like it is not supposed to, it does not end up being too watery or thick, and you get the meal you desire.
A tamper is also a vital accessory. Not many blenders come with it. Blender tampers remove air pockets in the blend by pushing ingredients down the blades. As a result, the final product becomes smoother and with a more desirable consistency.
Vitamix 6300 vs 7500: Final thoughts
All things considered, both of the blenders are extraordinary and give the ability to make various dishes without any complications.
As you could have seen from this review, they are very high performing blenders. With their excellent performance, variable speed, and large size container, you can make many different dishes for a lot of people.
Even though they are a bit pricier than other blenders, the quality is definitely worth the price. If you are looking for a professional blender that will fill your needs then you should overlook the price and aim for high standards.
In my view, the Vitamix 6300 is slightly better than the Vitamix 7500. Whichever blender you choose, you will make the right choice, and satisfaction is guaranteed.