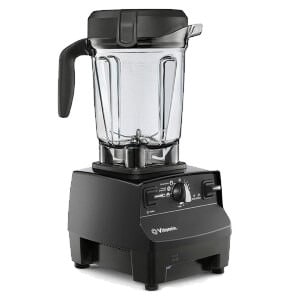 Powerful 2.2HP Motor
Pre-set Controls
Powerful 2HP Motor
Cheap Price
---
Choosing Vitamix models as your kitchen blender can prove quite reliable and efficient.
Blenders of this company are famous for their quality worldwide so today I had a chance to do a Vitamix 6300 vs 6500 comparison to help you decide which one to buy.
Since this is going to be a very tough competition, it is important to state all of the crucial aspects of these two models.
Being next-generation Vitamix models makes these two blenders perfect for home use and also offers significant improvements in comparison to previous models.
Moreover, by merely looking at them you should be able to notice that there are many similarities in the control panel and base component. In this review, I will present to you the advantages of the Vitamix 6300 and the Vitamix 6500 and show you their differences as well.
Vitamix 6300 Vs 6500: Comparison
Vitamix 6300
PROS
Comes with pre-programmed settings for better control
Made of very durable materials
Pulse option for better texture
CONS
Is unable to continuously use the motor for a longer period
Comes with no spare containers
---
Vitamix 6300 Review
As a member of next-generation Vitamix models, this blender is very quality made and has a lot to offer to its potential buyers.
Physical aspects
By looking at the Vitamix 6300 you can see how well it was built. The modern design makes it compatible with every kitchen and its dimensions are fine for the capacity it offers.
It has a narrow bottom container made of BPA free plastic so it can preserve the temperature of the mixture. This is very convenient for hot soups since it can warm up the ingredients by the friction of the blades.
The manual control panel is another characteristic Vitamix addition, so it is great for people that have little experience with kitchen blenders.
The Vitamix 6300 is a very versatile machine and it is made of high – quality materials so the construction is very durable.
Performance of the Vitamix 6300
Several important factors determine the performance of the Vitamix 6300.
The 2.0 horsepower motor delivers enough strength to the blades and the blades are made of stainless steel to ensure better slicing.
The blade assembly is a little larger than on some previous motors. Blades carry sufficient power to crush tougher ingredients making the blender great for all kinds of food.
Furthermore, there is a pulse option included which improves the performance even more.
This blender also has 3 preset programs for smoothies, hot soups, and frozen desserts, but most not be left running for too long.
It also comes with a tamper so you can push down the ingredients that are harder to blend.
---
Vitamix 6500 Review
When it comes to modern high-capacity blenders, the Vitamix 6500 is one of the best choices on the market.
Options and Controls
Using this machine is quite simple and easy – all you have to do is follow the instructions and all the blending solutions are just one tap away.
The 6500 features a manual control panel with many blending options.
First off, 10 variable speed settings are easily controlled by the physical switch.
The same switch is also used for the 3 preset options.
You will be able to produce great smoothies and juices by using the smoothie function.
By selecting the hot soup program, the blender will run a friction cycle to warm up the liquid in the container. Finally, you can use the frozen feature to prepare all kinds of cold desserts.
On the side of the blender base is a power button and on the control panel, there are pulse and start/stop buttons.
This blender can help prepare various food types and dishes, desserts, and juices since it has an extremely powerful 2.2 peak horsepower motor.
In combination with laser-cut blades that this blender has, the blender will easily process all food types and prepare smoothies in just 30 seconds.
Design and Usability
Being low-profiled helps you storage this blender wherever you have the place for it.
It is also convenient for having a wider based container, which is in this case 64-oz and is shatterproof for longer-lasting.
This feature is even more efficient since the container is also able to maintain the temperature of the mixture.
Containers coming with this machine are wide-based, allowing them to fit up to 3 plates of food and process it in an easy manner. This is thanks to the large space on the bottom of the container that allows the blades to process the food easily.
This will allow you to use the blender to prepare conservative – free meals and dishes to ensure that your family eats healthy.
---
Differences Between Vitamix 6300 and 6500
Although seemingly these are similar blenders, some aspects differentiate their efficiency and performance.
Food Processing Differences
Both the 6300 and 6500 have great performance abilities but for food processing, the Vitamix 6500 is a slightly better choice.
This is because of its stronger 2.2 peak horsepower motor which is more powerful than the one used in the Vitamix 6300 and because of its better-constructed container.
The room that the wide bottom of Vitamix 6500 container offers is perfect for food processing while the Vitamix 6300 has a narrow-based container that can process up to three times less food.
The motor of the 6500 is also more durable than the one in 6300 not only because of its power but because of the couplings and other premium-quality components used in the production of this great blender.
Construction And Other Differences
Besides the differences in power and functionality, the container of the 6300 consumes more space since it is taller than the one used in combination with 6500.
While this may not be a significant difference, it may be important for those that do not have that much spare kitchen storage space.
There are slight differences in the construction as well.
The 6500 is a more compact model than the 6300, making it much easier for storage and use.
Vitamix 6500 also has a heavier base which is understandable considering the stronger motor and newer technology used in the production of this model.
Overall, both blenders are tough competitors and in this case, it depends on the user's needs.
While both blenders will provide a successful blending operation and a variety of different meals and dishes, the 6500 is slightly better, more powerful, and more quality made.
Vitamix 6300 Vs 6500: Final Thoughts
By having a blender of this type not only will you gain on blending power and functionality, but you will also get a very versatile and large-capacity blender of sharp and modern looks.
By the specifications of both models, it is easy to conclude that they both offer impressive features and options while the 6500 as a newer and improved model provides little better results.
Either way, the differences between the two models are small and although you cannot say that they are irrelevant, there is no possibility of making a mistake when choosing from these two models.
The Vitamix 6300 and the Vitamix 6500 are representatives of very modern manually controlled kitchen blenders, and each household should certainly strive to possess a blender of their possibilities and specifications.