Large Capacity
Simple Operation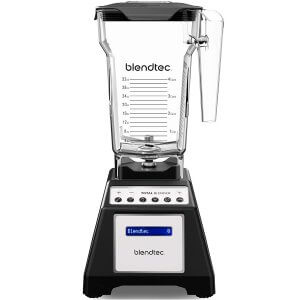 Powerful 1560W Motor
Large Capacity
Today we are going to choose between the Vitamix 5300 and the Blendtec Total Classic. These blenders are pretty similar in price, they are both fantastic units with lots of power and great functionality, and we are going to choose which one is the best.
But this is no easy task. Vitamix blenders are notoriously great in the kitchen. Vitamix blenders also come with quality warranties, great components, and some of the best speed controls in the business. The Blendtec Total Classic definitely has a battle ahead of it.
The good news is that both blenders are great pieces of equipment. At the end of the day, this is really just for fun – both blenders are awesome and great additions to your kitchen. However, there's no need to have two blenders in your kitchen! So, let's see which one is best for you.
Vitamix 5300 Blender Review
The Vitamix 5300 Blender is the upgraded version of its popular 5200 blender. It comes with improved functions, more power, a better container, and an included pulse feature.
Powerful Blending
Anyone interested in a blender that can do everything should really look at the Vitamix 5300. It has a seriously strong motor, unique blender blades, and full speed controls. These settings allow you to blend any sort of ingredients into a perfect smoothie 100% of the time.
But thanks to the machine's strong motor and great features, you can also use this blender for food processing, for making soups, for blending salads, and for so much more. It uses a cool-running motor to stop from overheating, and a metal drive system for maximum torque with the blades.
Read More: Full Vitamix 5300 review
A Smaller Machine
Unlike the 5200, the Vitamix 5300 comes with a low-profile container that is perfect for making family-sized meals and beverages. You can easily make enough smoothies, shakes, or margaritas for half a dozen people inside the 64-ounce container!
Plus, it barely takes up any room on your counter. The blender is super slim and stores underneath any kitchen cabinet. And when you don't want to use it, the blender stores easily in a cupboard.
---
Blendtec Total Classic Countertop Blender Review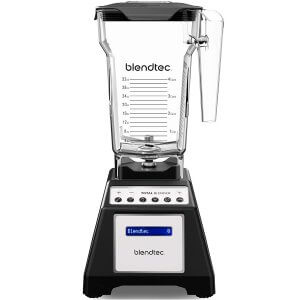 The Blendtec Total Classic Countertop Blender is supposed to be the last blender you'll ever need, according to Blendtec. This is a new and improved version of their classic blender. It comes complete with pre-programmed buttons, variable speeds, and a clean and finished look.
A Little Bit of Everything
There are no limits to what you can do with this blender. You can mix pancake batter, you can knead pizza dough, you can make hot soup from cold ingredients, and you can easily blend thick salsas. The strong jar holds up well with heat or cold. The blades blend, mix and chop as needed.
Basically, this is an all-inclusive machine. It's also great for making smoothies and milkshakes. It even has 6 pre-programmed blending cycles for your favorite recipes. This means all you need is to push a button and let the blender do its job. No more guessing how long to blend for.
Read More: Full Blendtec Total Classic review
Thicker Blades & Bigger Batches
Blendtec really went all out for this newest machine. They made a huge 75-oz container that will fit all your biggest recipes inside of it. Everything with this blender is bigger. Even the blades are 80% thicker and 10x stronger. You can make bigger batches and silkier smoothies with all these new features.
---
Vitamix 5300 vs Blendtec Total Blender: Main Product Differences
These blenders are surprisingly similar. They both have lots of power, they both use unique blades, and they are both ideal for people who need a versatile blender to take care of lots of different kitchen tasks. However, not everything is the same.
More Uses
The Blendtec has more uses. What I mean by this is that the Blendtec Total Classic blender comes with more functionality. You can use the pre-programmed cycles to make recipes faster than you could with the Vitamix. Both the machines have 10-speed manual control, so that isn't really an issue. But the Blendtec is available with unique travel jars to appease smoothie fanatics. The Vitamix 5300 lacks this basic concept.
In fact, the Vitamix does not have any settings at all. You only have the manual controls and the pulse switch. It doesn't have a digital display, it doesn't have any buttons, and it is kind of boring. It also has a smaller container by roughly 10 ounces.
Longevity
One of the biggest issues when it comes to blenders will always be longevity. Nobody wants to purchase a new blender a year down the road because of malfunctions. With the Vitamix, you basically never need to purchase a replacement – and if you do, the machine has a 7-year warranty.
However, the Blendtec is not quite built in the same way. While it's not likely to break anytime soon, there have been reports of malfunctions and breakdowns within just a few months of purchase. This is something to think about before making your decision.
Vitamix 5300 vs Blendtec Total Blender: Final Thoughts
At the end of the day, only one blender can be the best. I absolutely love the Blendtec Total Classic. It offers amazing features, it's totally unique, and it's better for making smoothies and a wide variety of other kitchen tasks than most blenders. However, the Vitamix 5300 beats it by just a smidgen.
The Vitamix comes with a powerful 2.2-horsepower motor that works to propel the unique blades at rapid speeds to give you the best quality of blend possible. You also have full variable control over how fast the blades spin, giving you confidence every time you blend. You will always have consistent drinks and silky smoothies.
This unit comes with a very generous 7-year warranty, it has a low-profile container, and it's built to last a long time. It may not look as fancy as the Blendtec, but it definitely has guts to rival any countertop blender.