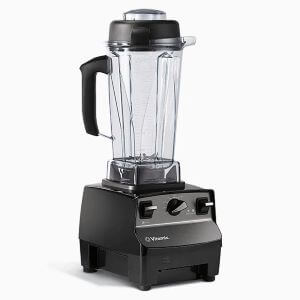 Large Capacity
Simple Operation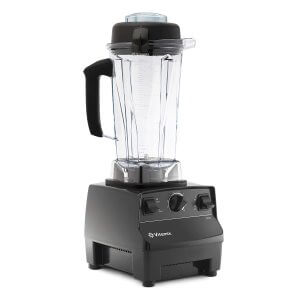 Most Popular Model
Simple Operation
---
Today we will be looking at two of the best Vitamix blenders in existence. The Vitamix 5200 and the Vitamix 6000 are advanced models that offer a whole lot more than just blending smoothies. These excellent blenders are top of the line, and you can use them for making smoothies, for processing food, and even for grinding coffee beans.
These blenders are considerably more expensive than any budget blender. But they also come with the strongest motors, the best variable speed settings, extremely hard steel blades for blending, and a metal drive system that keeps them working at peak performance.
There is really no debate over the quality of the Vitamix blenders, and so today we will look at two classic blenders and see which one gives you more for your money. While they are extremely similar, with both being high-end Vitamix machines, there are a few differences you should know about.
Vitamix 5200 Blender Review
The Vitamix 5200 blender is a pretty great machine. It has the best variable speed control, it comes available in red, black, and white, and it makes huge batches of smoothies inside its self-cleaning 64oz jug.
Excellent Functions
The machine functions extremely well thanks to its smartly engineered parts. It has a cool-running motor and a metal drive system that work together to give you total blending power. Plus, there is a thermal protection system so that your motor won't ever overheat, even during the most intense blending.
The machine also cleans itself, which is amazing. The blender is so efficient that a simple squirt of soap and a bit of water can effectively clean any slime or gunk off the blender – all you need to do is rinse!
Read More: Vitamix E320 Vs 5200 comparison
Control Your Speed
When you use the 5200 Blender, you are in complete and total control of all your speeds. You can adjust the speed according to what type of texture you want with your final product. And it all works using a simple rotational dial that can be changed at any time during the blend.
This means you never have to stop the machine to make your adjustments. You can tweak the speed based on what's happening inside the blender on a second-by-second basis.
---
Vitamix 6000 Blender Review
The Vitamix 6000 blender is another great machine that can make huge batches inside of its 64oz container. It comes included with a strong motor base, a cookbook, a classic tamper, and a beverage bottle. This machine has all the power you would expect out of a Vitamix and is great for blending drinks and processing food.
Built Strong
Every Vitamix blender is built to last, and the 6000 is no exception. You never need to worry about replacing your Vitamix machine, unless you feel like upgrading for a newer model. But your old model will never fail you!
Thanks to the strong build, this blender offers maximized nutrition extraction, ensuring that all your drinks come out healthier than ever before. Nuts, seeds, and all your fruit will be blended so that the nutrition is perfectly extracted.
Make Everything
With the simplicity of this blender's design, you can make everything easily. There are no settings to confuse somebody. Simply pour in your ingredients, use the variable speeds to determine how fast you want to blend, and sit back and relax.
Nut butter, ice cream, frozen treats, coffee drinks – and so much more are readily available when using this Vitamix. It has strong blades to cut and chop anything!
---
Vitamix 5200 vs 6000: Main Product Differences
This one is a little tricky. The 6000 is an older and outdated version of the Vitamix 5200. They are the exact same unit, the 5200 is simply newer. Both machines have the exact same variable speed dial in the center, they both have the two main switches on the sides, they both weigh the exact same, and they both have the exact same dimensions.
There is literally no difference between the Vitamix 6000 and the 5200. At least, not mechanically speaking. Both machines use the same blades, the same 64oz jug, and the same motor.
Read More: Kitchenaid Diamond Blender vs Vitamix 5200
Different Color Options
The one difference between the 5200 and the 6000 is in color. The 6000 only comes available in a boring black color. This is fine for some people, but other people prefer to have more options. For that, the 5200 blender comes in black, red, or white.
This is important for anyone who likes to customize their kitchen appliances. Even if you don't want a white blender, it is nice to know you have the option.
Older Model
The 6000 is just an old and outdated version of the 5200. If you were to look at these two blenders side-by-side on a counter, you would not be able to tell the difference. They are literally the same! The 6000 was merely replaced by the 5200 for an unknown reason. The controls, the container, the motor base – it's all the same!
Read More: Best smoothie blenders under 125
Vitamix 5200 vs 6000: Final Thoughts
My final thoughts should be pretty obvious. The Vitamix 5200 is clearly the better blender. The 5200 comes in more colors, it is widely available, whereas you would have a hard time trying to track down a Vitamix 6000 since it's not even available on Amazon anymore, and it has an extremely affordable price tag.
But that's not all. The 5200 has an incredible motor, it has a self-cleaning 640z container, it has the best in variable speed control, and it has a sleek and simplistic design. This is the ideal blender to have sitting in your kitchen at home.
The blades are extremely strong, they extract all the nutrition from seeds and nuts and fruits, and you get the longevity and quality that comes with the Vitamix name. I highly recommend this blender to anyone looking to upgrade to a healthy lifestyle or who wants to upgrade to a better blender.