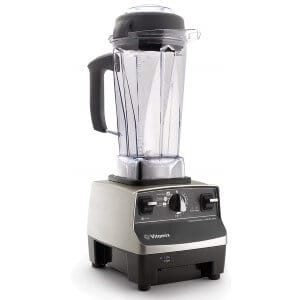 Large Capacity
Pulse Feature
Powerful 2HP Motor
Cheap Price
---
Vitamix is famous for making some of the best blenders on the market. That's why we have to face these two giants against each other, the Vitamix 500 vs 6300. Both blenders offer a huge capacity, they have variable speeds, lots of settings, the ability to make soups, stews, smoothies, and even frozen desserts. But which one is best?
Well, that depends on how easy you want your life to be and how much money you want to spend. If you are blending a lot in the kitchen, especially blending frozen foods and ingredients, you need the best. You need either the Vitamix 500 or the Vitamix 6300, as both machines are blending genies in the kitchen.
Still, one is better than the other. To understand which belongs in your kitchen, we should take a quick look at the pros and cons. Digging into the specific features of these high-quality blenders will reveal quite a lot.
Vitamix 500 Vs 6300: Comparison
Vitamix 500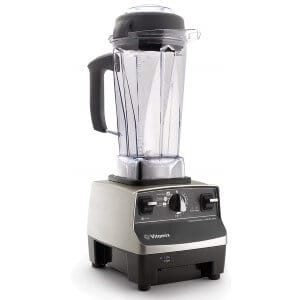 PROS
Consistent & Convenient
Variable Speed control w/ Pulse Feature
Backed by Vitamix by a 7-year warranty
CONS
Expensive
Only works on North American wall outlets
---
Vitamix Professional Series 500 Blender Review
If you want the best of the best, you must pay for it. The Vitamix Professional Series 500 Blender is going to be more expensive than what you might pick up at your local shop, but that's because it is better.
Incredible Power
The big draw people have to the Vitamix Series 500 Blender is its unparalleled power. The blending system on this machine gives you quicker and smoother blends with intense power and sharp blades.
The blender can deal with nuts, coffee beans, completely frozen fruits, and veggies. I mean, you could probably throw a brick – yes, a real brick – into this blender and turn it into dust. That's how strong the series 500 is.
Easy Peasy
What is one of the most annoying things right now with your current blender? Is it the cleaning process? Is it having to get all that blended gunk and slime out of your machine and out of all the parts?
Well, when you use the Vitamix Professional Series 500 Blender, the machine is going to clean itself. That's right, it is self-cleaning. All you need is to blend up a little soap soup. Add a touch of dish soap, some warm water, and turn the machine on. You will have a completely cleaned blender in under a minute.
---
Vitamix Series 6300 Classic Blender Review
The Vitamix Series 6300 Classic Blender is another of Vitamix's great machines. It comes with variable speed control, a ton of pre-programmed settings, a massive 64-ounce container for blending big orders, and immense power. And even though it costs a pretty penny, it is built to last for an extremely long time.
Hot Hot Hot!
One of the incredible things you can do with the Vitamix 6300 blender is make smoking hot soup inside the actual container. No microwave and no stovetop. The power of this blender is so intense that it allows the friction of the blades to get so hot that your blended soup reaches an appropriate serving temperature inside of the container.
Have you ever heard of that before? It's amazing!
Read More: Vitamix 500 blender review
Durable
The 6300 Blender comes with typical Vitamix durability, built to stand strong for many years. Nothing speaks more to Vitamix's commitment to making strong blenders than their impressive 7-year warranty. Do you think they would warranty a faulty product for a full seven years?
The blades are high quality, the motor is powerful and built to last, and the massive container is strong enough to hold boiling hot soup. This is not a machine likely to break anytime soon. You will definitely get your money's worth out of the Vitamix 6300 Blender.
---
Vitamix 500 Vs 6300: Main Product Differences
These machines are almost identical. The Vitamix 500 and 6300 are pretty much the exact same machine. In fact, the biggest difference is that the Vitamix 6300 is an older model, though it is still available through online retailers.
Also, the Vitamix 500, as it is a newer and more advanced model, comes with a much larger price tag. At the time of writing this article, the 6300 model is steeply discounted. Which is great because it is truly a quality machine.
Read More: A comparison between the Vitamix 200 and the Vitamix 500
Similar Features
If you are looking to make hot soups, blended smoothies, frozen desserts, or even chunky salsas, either Vitamix machine is going to work great. They both have useful features, they both have a massive 64-ounce container for you to blend entire pots of soup, and they both look great.
Both machines come with three pre-programmed settings so that you can easily choose between the three types of blending you most often do, setting your blender to either make a smoothie, grind up some coffee beans, or make some nut butter. Both machines are highly customizable.
Read More: Vitamix 300 professional-grade blender review
A Difference in Color
You may be wondering where the differences are. To start, the Vitamix 500 and Vitamix 6300 each come with an instructional DVD and a cookbook, but the 500's cookbook is updated and more modern. And while the 6300 only comes in black, you can pick up the 500 model in red, black, or black diamond. Choice is key.
The Vitamix 500 also comes with a handy pulse feature, which is great for making smooth and silky purees or extremely thick soups.
Vitamix 500 VS 6300: Final Thoughts
It's time to choose a winner. And honestly, it was not that hard. The decision feels pretty straightforward. The Vitamix 500 is the superior machine. The Vitamix Professional Series 500 Blender is a newer model, it has more power, it offers more features, and it does the job better than the Vitamix 6300.
That is not to say the 6300 is not a quality blender. It is, but it's outdated, it's done, it's over. You can still purchase this machine, but its time has passed. The Vitamix 500 is now the professional champion of blenders.
The Vitamix 500 can blend anything you dump into it, it is so powerful that the machine can actually heat-up your soup inside of its massive 64-ounce container, and it comes with three pre-programmable settings. This is a durable blender that is built to stand up against the test of time.