Powerful 2.2HP Motor
Wet & Dry Blending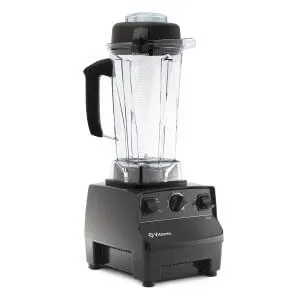 Most Popular Model
Simple Operation
---
Vitamix 300 vs 5200, which is the better blender? That is the question I am here to answer for you. The Vitamix 300 and the Vitamix 5200 are two superstar blenders that would make excellent additions to anyone's kitchen counter. Each blender offers a mountain of features, huge versatility, and all-around great quality.
When you need a blender that will work in your kitchen for a very long time without ever malfunctioning or losing its blending abilities, you need a Vitamix. Even the most basic Vitamix model is designed with longevity in mind. These are not blenders you throw away or replace after a few years.
And while the Vitamix 300 and the Vitamix 5200 are very different, they share the same dependability and reliability. The decision of which blender is best for you will come down to what exactly you are looking for in a blender and how much money you are willing to spend on quality.
Let's take a look at some pros and cons of each model.
Vitamix 300 Vs Vitamix 5200: Comparison
Vitamix 300
PROS
Seriously Professional Blender
Comes with 2 Cookbooks
Toughest Containers in the Industry
CONS
Costs a Fortune
Pretty Heavy
---
Vitamix 300 Professional Onyx Blender Review
The Vitamix 300 Professional Onyx Blender is the big daddy of blenders. This unit is a powerhouse. Not only does it have a two-peak horsepower motor, but it also has a blade system with a massive blending radius for extra efficient chopping. If you want a "does it all" machine, this is the one for you.
The Whole Package
When I say this is the ultimate blender, I mean it. Not only for juices, smoothies, health shakes, or other blended beverages but also for all the food processing that you can handle. To prove how useful it is, the Vitamix 300 Blender comes with not just one cookbook, but two cookbooks full of ideas to better utilize your blender's power.
Food Processing
This blender comes with two containers. One is a 64-ounce container for smoothies, sauces, and soups. The other is a 32-ounce container meant for dry grains and other foods. By switching between these containers, you have way more options in the kitchen.
You can now mix pancake batter, whip whole grains into fresh flour, and even knead dough with one easy flick of a button. Welcome out of the Stone Age, cooking is now handsfree.
---
Vitamix 5200 Blender Review
The Vitamix 5200 Blender is one of the company's flagship models. This is a remarkable blender with tons of unique features, a super durable construction, some of the hardest blades in any blender, and the ability to clean itself with the push of a button. This blender is from the future!
Great Features, Strong Warranty
One of the huge bonuses when buying any product from Vitamix is the generous warranty, often between 7 and 10 years. Such an extensive warranty proves how confident Vitamix is with the durability of their products.
When you purchase the Vitamix 5200 Blender, you are getting a machine that does everything. Not just blending, but also food processing, grinding, chopping, and anything that involves food and blades. You control the speed, you control the size of the batch, and you even control the temperature thanks to the amazing warming capabilities of the 5200.
Read More: Kitchenaid blender Vs Vitamix 5200
At Home in the Kitchen
This is a very conveniently sized kitchen appliance. It will fit in easily with the rest of your equipment, especially if you have a modern kitchen. The Vitamix 5200 also comes in red, black, and white. You have lots of customizability with a slim machine that can be placed anywhere and still be extremely convenient to use on a daily basis.
---
Vitamix 300 vs 5200: Main Product Differences
The major difference between these two Vitamix machines is that one works primarily as a blender and the other doubles as a super effective food processor. Whereas the 300 model comes with everything you need to replace half a dozen kitchen appliances, the Vitamix 5200 is mostly used for everyday liquid blending.
More Uses
Like I already said, the biggest difference here is that the Vitamix 300 is built for action. This means maximum versatility in the kitchen, making everything from soups to muffin batter, homemade salsa to pizza dough. It does this by using specialized internal technology combined with the ultra-durable dry grain container and wet container.
The Vitamix 300 is not only great for smoothie lovers, but also for people who enjoy baking, as it makes preparing dough and batter much easier. The 5200 can do this too, but not as well. The 300 is really designed to simulate the exact process of kneading dough.
Motor City
The Vitamix 5200 has a very strong motor, concentrated to give the best performance when blending. That said, the Vitamix 300 has 1,200-Watts of pure power, able to reach 24,000 RPM. The power is so intense that you can heat cold coffee because of the friction created by the blades. The blender also has some of the best airflow, making for a long-lasting motor and better blending.
The Vitamix 5200 also offers good airflow, but the 300 does it better. I guess the lesson here is that the 300 does everything the 5200 does, only it does it better and more efficiently.
Read More: Best alternative to Vitamix blenders
Vitamix 300 vs 5200: Final Thoughts
My final thought about these two highly professional blenders is that buying either one is a superb idea. There is a reason both blenders are premium prices, and that is because they are both premium kitchen appliances.
The Vitamix 300 and the Vitamix 5200 may not come with the types of fancy gimmicks you find with other blenders, but that is because they are professional, industrial-grade machines that always work. They don't need gimmicks!
To choose the best between the two, obviously it is going to be the Vitamix Professional 300 Onyx Blender. It does more, has more power, the blades cut better, and it comes with two cookbooks. The 300 Onyx Blender has seriously durable containers, as both the 64-ounce and 34-ounce containers are built from onyx PVC, making them shatterproof and heat resistant.
While the 5200 is superior to most other blenders, the 300 is the better choice between the pair.
Read More: Best Vitamix Blender – Ultimate Guide