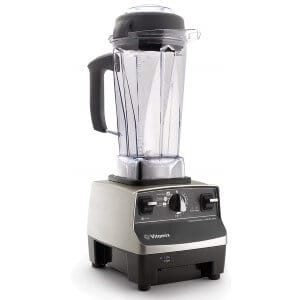 Large Capacity
Pulse Feature
Large Capacity
9 Speed Settings
---
Vitamix has become a premier brand of blenders in recent years. The name itself brings to mind its machines that are known for their versatility and longevity. They are powerful enough to blend even the toughest of ingredients quickly and easily. Even ice cubes, frozen fruits, and carrots can be processed with minimal effort. However, as you delve deeper into the brand's catalog, choosing between the different models becomes the next issue.
That said, we'll help you settle the matter of Vitamix 200 vs 500, so you can decide which model best suits your needs. On the one hand, there is the Vitamix 200 with its high-performance motor and variable speed controls that let you blend virtually any type of ingredient. Its modern design makes it the perfect addition to any kitchen.
On the other hand, there is the Vitamix 500 that comes with three pre-programmed settings that let you instantly process Smoothie, Hot Soup, and Frozen Dessert recipes. Like its counterpart, it also comes with variable speed control. However, the crucial difference is that the 500 has a Pulse feature.
Keep reading to see which model would make a worthy addition to your kitchen.
Vitamix 200 Vs 500: Comparison
Vitamix 200
PROS
Immense blending power
Optimal speed control
Makes perfect soups and smoothies
CONS
May require the use of its tamper
Storage can be problematic
---
Vitamix 200 Review
The Vitamix 200 is widely considered as a powerhouse blender. Its commercial-grade motor along with its specially-designed blades can go through anything. It is also incredibly easy to use. All it takes is placing the ingredients into the container, secure the lid, and choose the desired setting.
There is no fuss involved. Whether you are looking to chop, puree, mix, or blend, the Vitamix 200 should have no trouble giving you the results you need.
Sturdy Build
One of the show-stealers here is the Vitamix 200's durable container. Made from the sturdiest materials, it is completely shatter-proof. Because of this, users can utilize the machine in the most extreme of temperatures. From blending the hottest ingredients for your soups or crushing ice and frozen fruit for your post-workout smoothie, this blender won't let you down.
Powerful Motor
The 200 model comes equipped with a 2 peak HP motor. Robust is the word that comes to mind. Needless to say, this blender packs quite a punch. Keep in mind that the powerful motor is responsible for the Vitamix's versatility and wide range of modes. Without it, you would have a harder time liquefying your ingredients.
---
Vitamix 500 Review
In more ways than one, the Vitamix 500 effectively belongs in two categories: commercial and home blenders. The list of things you can do with it doesn't seem to end. Undoubtedly, this machine is in a class of its own. It goes beyond expectations and delivers results unlike any other blender out there.
Versatile Tool
The Vitamix 500 can perform several tasks for its owners. This can be as simple as blending frozen fruits into smoothies to cooking vegetables into soup. This is due to the wide array of settings and programs that come with the product.
So, if you are looking to make some mashed potatoes, the Vitamix 500 can puree it for you. If you want to make a salad, it can chop your vegetables in a matter of seconds. You can even make your sauces and dressings with it.
Easy To Use Controls
The completion of these tasks is made easier by the Vitamix 500's intuitive design. The pre-programmed settings are a godsend for people who simply cannot be bothered with messing around with dials and controls. The Vitamix 500 makes streamlines everything in the best possible way. Now, making something as complicated as a soup can be done with a simple press of a button.
---
Vitamix 200 Vs 500: Main Differences
At this point, you may be having a hard time telling these two models apart. However, despite the myriad of features they share, there is also a couple of minute, but crucial, differences between them. That said, let us take a closer look at the features and functions that set them apart. By doing so, you should have an easier time choosing which model best suits your needs.
Read More: Vitamix S30 Vs S55
Pulse Control
One of the crucial differences between the two is the fact that the Vitamix 200 does not sport a pulse control feature. Keep in mind that a pulse control gives you a greater sense of control with regard to the consistency of the final product.
However, if that is of no consequence to you, then you can never go wrong with Vitamix 200.
Pre-Programmed Settings
Another important difference stems from the Vitamix 500's preprogrammed settings. These different modes let you initiate the blending cycles for Smoothies, Hot Soup, and Frozen Dessert among others. The Vitamix 200, on the other hand, only has a manual speed control button.
Needless to say, you should opt for the Vitamix 500 if you will be consistently making use of those settings. After all, doing so will deliver consistently great results. Conversely, if you are not planning on making smoothies or soups regularly, then perhaps you should stick with the Vitamix 200 and its manual speed control.
Read More: Vitamix 7500 Vs 300
Cost
Given the additional features, it should come as no surprise that the Vitamix 500 is pricier than the 200. While the price difference isn't steep, it is still worth pondering. So, keep this mind.
Vitamix 200 Vs 500: Final Thoughts
The name Vitamix has become a household brand synonymous with powerful blenders and home appliances. Like its other models, both the Vitamix 200 and the 500 are worthy of this name. Both are powerful blenders capable of great feats in the kitchen. However, if I have to pick a winner then it simply has to be the Vitamix 500.
It narrowly beat out its counterpart with its extra features. The pre-programmed settings and the pulse control give users an additional level of convenience that simply cannot be ignored. Moreover, it gives you a greater sense of control and consistency as the system it has built is virtually fool-proof.
So, if you don't mind spending a few more bucks for a more powerful and easy-to-use machine, then you can never go wrong with the Vitamix 500.