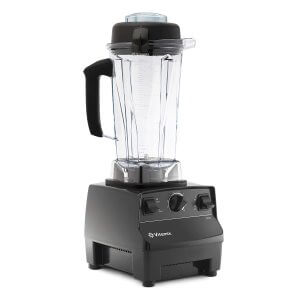 Most Popular Model
Simple Operation
Powerful 2HP Motor
Large Capacity
---
It is almost impossible to imagine today's fast and stressful rhythm of living without a healthy dose of nutrients every day. Therefore, buying a blender is an investment that can stand up to the challenge and provide you a healthy boost without wasting your time.
Now, I will be comparing two of very popular, high-end blenders from Vitamix series. The first one is Vitamix 1709 CIA intended for professional use and the second is Vitamix 5200 intended mostly for domestic use.
With these kinds of devices, you can easily blend virtually everything, since both of these are powerful top grade devices. Not only that you'll get a quick dose of health but you will also be able to prepare healthy meals for the whole family, without much effort.
Furthermore, these devices are similar, but I will make a Vitamix 1709 vs 5200 breakdown, so you can easily see which one would best suit your needs.
Vitamix 1709 Vs 5200: Comparison
Vitamix 1709
PROS
Powerful 2 horsepower motor
Self-cleaning function
Rich recipe book
CONS
It is pretty expensive
Size – It will be hard to fit in most kitchens
Review of Vitamix 1709
The Vitamix 1709 is from Vitamix CIA Professional series, endorsed by the Culinary Institute of America which gives it incredible versatility. Therefore, this blender is created with the intent of training the next professional chefs and it is used worldwide by the leading chefs in their restaurants.
This blending behemoth comes with an extremely powerful 1380watt motor base controlled by a 10 level speed counter and a manual switch for controlling the speed in two ways – variable and high.
The Eastman Tritan container
Vitamix 1709 comes with a 64 oz container patented by Eastman Tritan. This means that the container is made from BPA-free, copolyester plastic which has outstanding heat resistance.
The container has an ergonomic, soft-grip handle which is especially convenient for pouring. Additionally, the container comes with the easy-off 2-part vented lid with a removable twist-off plug which helps in adding ingredients while the blender is working.
Additionally, you get another 32 oz Dry Grains container included in the package, which is suitable for making flours, mix batter and kneading process.
Read More: Vitamix CIA Professional series review
Self-cleaning in under a minute
When it comes to washing it can be done quite easily and effortlessly. All you need to do is add a detergent, fill the container half-full with warm water and set the motor on high for 30-60 seconds and rinse after.
---
Review of Vitamix 5200
The Vitamix 5200 is a flagship model, widely used and one of the most popular blenders from Vitamix series. It is intended mostly for domestic use, but because of it's great popularity and power many people use it professionally.
High-end motor base and retractable power cord
Vitamix 5200 has one of the most powerful motor bases when it comes to blenders. It operates with 2.2 horsepower, 1380 watt motor base so that making all kinds of delicious meals or treats presents no problem for this machine.
Furthermore, it can puree, chop, grind and crush a myriad of foods, so it is great for making smoothies, nut butter, frozen desserts, sauces, and whole-grain foods, along with many other things.
Lastly, Vitamix 5200 has a handy feature – a retractable power cord that can extend to up to 6 feet.
Read More: Vitamix 500 review
Ideal for making soups
Vitamix 5200 tested great for making hot soups in many reviews I came across.
Furthermore, its container in combination with the technology that uses friction from the blades to generate heat will make you a delicious hot soup on a cold day.
Therefore, you can make hot soups in approximately 6 minutes, at a temperature of about 140 °F.
---
Main differences between the Vitamix 1709 vs 5200
Now that I broke down each of these powerful Vitamix machines, it is time to compare them directly. Therefore, I will present to you the main differences between the two and you can see yourself which one is your best fit.
The price tag
When it comes to the price, both of them are not cheap at all. Furthermore, Vitamix 5200 is around 30% cheaper than the Vitamix 1709, which is pretty much significant when it comes to budget. Although Vitamix 1709 offers more versatility in-the-box and comes with more equipment and content, you should gauge for yourself is that worth the 30% difference.
Rich recipe content and CIA certification
Not only that Vitamix 1709 has the Culinary Institute of America certification but it also comes with 2 rich-in-content recipe books.
The first one titled ''Recipes and Techniques from the CIA Master Chefs'' consists of over 20 recipes developed by the top-notch Master Chefs. Furthermore, you will also get the "Whole Grains Cookbook" and the "Whole Food Recipe Cookbook" with solid advice on grinding and kneading, plus many other healthy recipes.
Comparably, the Vitamix 5200 brings only one, but to be fair, a pretty decent recipe book that can give you good ideas and guides on how to prepare tasty meals.
Read More: Vitamix Pro 300 review
Container comparison
Vitamix 5200 has one 64 oz container and the Vitamix 1709 comes with two – one 64 oz (the same as with the Vitamix 5200) and the other 32oz Dry Grains Container. Suffice to say, you'll have more options and versatility with the Vitamix 1709.
Vitamix 1709 vs 5200: Final thoughts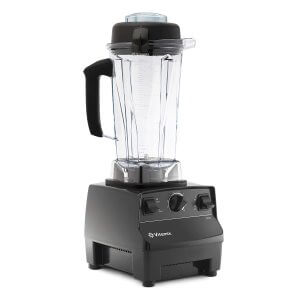 Both of these present incredible devices for blending and making almost any healthy meal. Furthermore, they both have the same, powerful motor bases and are designed based on proven technology.
Additionally, they both have a 7 years warranty and the same dimensions – so they will be a bit hard to fit in the kitchen.
Essentially, Vitamix 1709 has that premium feel and is better equipped as compared to the Vitamix 5200.
However, I would go for the Vitamix 5200 as it is a way cheaper than its rival and they are both the same under the hood. Furthermore, with Vitamix 5200 you will get an impeccable blending device and reliable quality for a fair price – so look no more.
Finally, the rest of the blenders from Vitamix family and from other high-end manufacturers available are also good contenders.
Related Articles: