In almost every kitchen, you are sure to find a blending machine — it has become indispensable. It's one of those appliances that make life so much easier, saving you time and energy. Whether chopping, grinding, mixing, pureeing, or shredding, a blender simplifies the process by giving you a range of possibilities to show off your creativity in the kitchen.
The idea of a blender was first conceptualized in the early 1900s. Today, the market is flooded with so many different types of blenders varying in appearance, functionality, power, and ultimately price. As a newcomer looking to purchase your first blender, making a selection from the many options can be a daunting task.
The 2 broad categories of blenders are immersion and countertop, and under each of these are several subtypes. To help you decide, I will review each category highlighting their features as well as a list of pros and cons.
Immersion Blenders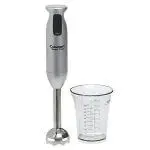 These are operated by hand and are often referred to as "stick blenders". Tall and lightweight, they are more suited for small dishes of soups, smoothies, or even sauces. They are flexible, don't take up a lot of space and are very easy to clean. At one end is a handle, while at the base are the blades that do an excellent job of blending soft ingredients. If you're in the mood for a quick and easy dish, then a hand-held blender is a perfect choice.
Read More: What are immersion blenders used for?
Pros
Can blend directly from a pot unlike a countertop blender which would require you to ladle the contents of the pot to the jar and can end up being a messy job
Saves time and energy because you don't need a lot of cooking dishes
Lightweight and portable, they can even be used while traveling
Doesn't take up a lot of storage space
Easy to clean
Affordable
Cons
Does not give the best results for thicker or tougher ingredients, especially ice or seeds
Can be very noisy
Not suitable for large servings
Prone to splashing or spillage of ingredients
Can be exhausting to use because as a handheld tool you put a lot of pressure on your hands
There are 4 subcategories of immersion blenders and these are hand blender with a single attachment, stick blenders with multiple attachments, corded immersion blenders, and cordless hand blenders.
Hand blender with a single attachment
These kinds of blenders are best suited for a quick serving of soup or smoothie. They usually come with no more than 2 speed settings and are relatively cheap.
Read More: 7 Immersion Blender Substitutes – Best Hand Blender Alternatives
Stick blenders with multiple attachments
These are upgraded versions of single attachment blenders as they come with a variety of attachments and several speed settings. They are usually accompanied by a chopper and whisking attachments. This multi-tasking blender can do more than prepare soups and smoothies — it's also a great gadget to use when baking.
Corded blenders
These are harder to move around the kitchen when plugged in, but they are lightweight and easy to use.
Cordless hand blenders
Unlike corded blenders, battery operated hand blenders can work anywhere in the kitchen because they can move around easily. They come with rechargeable batteries but don't expect them to last too long. If you have a meal to prepare, make sure you plan ahead and charge the blender so you will have uninterrupted use.
Read More: Will an Immersion Blender Scratch Pots?
Countertop Blenders
These blenders are designed with a plastic or glass jug and are often referred to as "jug blenders". The jar is attached to a motor base. Due to their larger size, they are usually stationed in one place when blending, unlike handheld blenders that are more flexible and portable. Powered by a bigger motor, countertop blenders can blend almost every ingredient into a smooth consistency. They're multi-purpose, taking on tasks such as grinding, chopping, and pureeing. Most importantly, they offer far more blending functions and can prepare small to large batches.
Pros
Multiple speed settings
Usually comes with a pulsing option
Sturdier and more durable
Dishwasher safe
Cons
More expensive
Can take up a lot of storage space because of their bulky size
The subcategories of countertop blenders are Single-serve blenders, full-sized blenders, commercial heavy-duty blenders, and specialty blenders.
Single-serve blenders
Personal or single-serve blenders are compact and easy to use. They are usually referred to as bullet blenders. They can make smoothies in just a couple seconds with the push and twist method. You can also drink straight from the container.
Full-sized blenders
These conventional countertop blenders are powerful and versatile and blend almost anything. They are the perfect choice if you need something more powerful than a personal blender but cheaper and smaller than a heavy-duty blender. They have multiple speed settings, and most come with a pulse button.
Commercial heavy-duty blenders
These are more professional type blenders typically found in restaurants. They are bulky and wield quite a lot of power to give the best results when blending tougher ingredients. They're also great for making bigger batches of meals. This blender usually comes with a 64 oz jar or bigger with a 2-3 horsepower motor to produce top quality blending results.
Specialty Blenders
As you would expect, they are big and powerful, giving professional precision time and time again. Chefs prefer this blender because of its powerful performance and high speed, allowing for total control and customization. Cocktail blenders that fall under specialty blenders are great for making cool beverages such as margaritas, slushies, and cocktails.
Read More: White Russian blender recipe
Final Thoughts
There are different types of blenders on the market to suit your blending needs. Before making a decision, there are some questions you should ask yourself such as: How often will I use this machine? Will I make small or large servings? Where will I store my blender?
Immersion blenders are handy and great space savers, while countertop blenders are more powerful and versatile. Assess your needs carefully so you can choose the right appliance to give you the best results.
Read More: Is An Immersion Blender Dishwasher Safe: 3 Top Tips