Powerful 1700W Motor
Convenient & Portable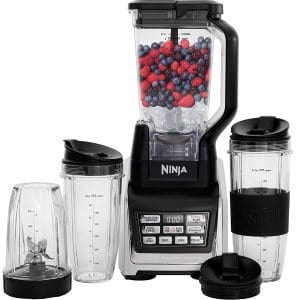 Powerful 1200W Motor
Large Capacity
---
If you're looking for a bullet blender that can deliver the goods but doesn't cost a fortune, your choices will likely narrow down to either NutriBullet vs Ninja. Both are notable brands for quality and efficiency in the bullet blender market and are often placed side by side to get a better idea of what bullet blenders can actually do.
But why take these two brands for a face-off when there are so many others available? Well, the reason I will be pitting these two against one another is that they share similar specs, features, and some degree of working mechanism.
The two models for today's challenge are the NutriBullet RX and the Ninja BL642, also commonly known as the Nutri Ninja Blender Duo with Auto IQ. Both are tech-savvy machines that are considered economical versions of their bulkier, commercial-grade blenders.
NutriBullet Vs Ninja: Comparison
NutriBullet RX
PROS
Very powerful motor
Blends hot and cold ingredients
Prepares large and small batches
CONS
No Pulse feature
Bulky for a bullet blender
---
NutriBullet RX Review
The NutriBullet RX packs a high-powered motor not usually seen in bullet blenders. Operating with a 1700-watt, 2.3 HP motor that spins at a whopping RPM of 37,000, the RX dwarfs even the most powerful bullet blenders.
Smart Technology
The RX has two preset options; the first for one minute and the second for seven minutes. Both settings use the most effective RPM and blending time to give you what you need.
With the first one-minute setting, you can work on your smoothies, milkshakes, purees, and the like with no worries. The smart automation senses the pitcher and its ingredients once placed on the base and will run the blend cycle for one minute.
This pretty much takes all the guesswork out of blending, giving you smooth, consistent results for your blend.
The second setting for seven minutes is for the soup preparing function which I will talk about next.
Read More: NutriBullet Vs blender comparison
Soup, Anyone?
Here, the RX truly outshines the competition with its ability to prepare hearty, ready-to-eat soup.
Made possible with its 7-minute preset, the RX whips up hot soup as its monster blades rotate at an immense speed creating a lot of heat. The heat then gets transferred to the ingredients and after seven minutes of blending, you get soup which has been generated at 150 degrees Fahrenheit.
---
Ninja BL642 Review
The Ninja BL642 is a large machine that double duties as a bullet blender as well as a countertop blender. It comes with three single-serve cups of various sizes that are used in a manner similar to the NutriBullet and then there is an extra-large 72-oz pitcher to cater to larger blending needs.
Power Profile
Powered by a 1500-watt motor, the BL642 is quite capable of handling all sorts of blending tasks.
To put this power to its optimal use, the blender features two types of blades, including the Total Crushing blades and the Pro Extractor blades. The first of the two transforms ice into snow very quickly while the latter works on your fruits, veggies, and seeds to completely pulverize them.
Pair this impressive performance with the assortment of cups and pitcher you get and there is almost nothing that the BL642 can't do.
Read More: Nutribullet Vs Magic Bullet Vs Ninja
Auto IQ Feature
The tech-savviness of this blender comes from its Auto IQ programs. There are five in all including presets for Frozen Drinks/Smoothies, Puree, Blend, Ultra Blend, and Pulse.
How this works is that each setting uses a one-touch system that automates what needs to be done. The program runs the machine while alternating between a sequence of pulses, blending, and pauses to give you the best results.
The system also accommodates 3 manual settings of Low, Medium and High.
---
NutriBullet Vs Ninja: Main Differences
As you can see, both blenders have an impressive profile. There is lots of power and a multitude of functions to keep users happy. Yet, the two are also very different in specific ways.
Soup Feature
Only the NutriBullet RX can boast of this special feature. As mentioned above, this unit is able to heat up soup because of the heat and friction created by the 37,000 RMP blades.
The Ninja BL642 has no such feature and the best it can do is puree your soup ingredients which will then need to be transferred to the stovetop and heated manually.
User-Friendliness
Even though the Ninja BL642 has more preset options, it comes out as the more difficult model to figure out.
For instance, some of the pre-programmed settings only work when the pitcher and lid are securely locked in place. If you don't already know that, you'll have to refer back and forth to their guide to figure this out.
The Nutribullet Rx, in contrast, works smoothly with its two preset options and lets the smart technology do the rest.
Cups and Containers
Another area where the two models differ slightly is the assortment of containers and cups they come with. Here, the NutriBullet showcases two smoothie cups of different sizes and one SouperBlast pitcher for preparing soup, or a larger batch of smoothies if you like.
The BL642 is accompanied by 3 smaller cups of various sizes that work bullet blender style, but the large 72-oz pitcher makes the unit into a countertop blender.
The Total Crushing blade for this pitcher is also different from those for the single-serve cups and is designed as a pylon with blades stacked around it. The design calls for careful handling of the blades when putting and removing ingredients in the pitcher. Users also report the blade to not work as well for smoothies as the extractor blades.
Read More: Which blenders make great NutriBullet alternatives
Nutribullet vs Ninja: Final Thoughts
Both blenders discussed today offer great value, power, and convenience for a good price. Yet, one comes out on top.
When you pair the immense blending potential of the Nutribullet RX with a handful of smart features and the ability to handle both hot and cold ingredients, it becomes easy to understand why this blender enjoys the vast popularity that it has. This makes it the best overall blender from this class of blenders.
The Ninja BL642 does not shy away from being a smart blender but does lack the ability to handle hot ingredients. That said, it is still a blender that many give preference to over more expensive and high-end brands.