The prospect of finding Nutribullet replacement parts is a scary thought. After all, it entails that your favorite machine has encountered problems and direly requires repair. However, as owners, you must prepare for the worst-case scenario. You need to know what to do in case something goes wrong with your Nutribullet.
That said, I prepared this handy guide to help you on your way. It presents everything you need to know when looking for Nutribullet replacement parts. Hopefully, this should make things simpler if you find yourself in this situation.
Why Look for NutriBullet Replacement Parts?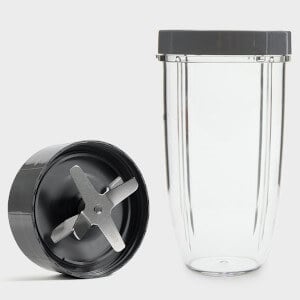 So before anything else, you may be asking: why would I even need spare parts for my Nutribullet? The answer to that is simple. Like any machine, even ones as high-end like a Nutribullet will inevitably run into some hardware problem down the road. This can be caused by any number of factors including wear, misuse, and time.
If you have a Nutribullet, then you are probably aware of how versatile a tool it is. Needless to say, it will be a major headache to lose a device that you constantly rely on for your smoothie fix. While replacing the machine outright is the quickest solution, it is also incredibly costly. Not to mention the fact that you could be wasting a machine that could have been easily fixed.
Luckily, fixing Nutribullets isn't all that complicated. The same can be said when looking for its replacement parts.
Check Your Warranty
So before you rush into anything, remember that there are a few things that you need to consider. Perhaps the most important of them is whether or not your blender is still covered by the warranty. Remember that if you purchase a new Nutribullet, that blender is automatically covered by a one year warranty. After that, you have the option to extend that warranty for four more years.
In addition to this, you should also pay close attention to the fine print. For instance, the Nutribullet warranty explicitly states that it only covers product defects. This means that if your Nutribullet broke down because you tampered with it or used it irresponsibility, then chances are your warranty will be voided because of it.
That said, having a warranty for your Nutribullet can potentially save you from a major headache down the road.
Knowing Your NutriBullet
As you may have surmised, your Nutribullet is comprised of several moving parts. If one of these fails, then it could spell serious trouble for your blender. That is why you must familiarize yourself with the different parts of your machine. This way, when the time comes, you will have no trouble identifying the parts that need replacing.

Container – The container is perhaps one of the most commonly replaced parts for the Nutribullet. Chances are, you may have accidentally dropped your container once or twice. If that happens, be sure to look for any cracks or leaks that may occur. After all, a broken container is no good for anyone.
Extractor Blade – This is the heart of the Nutribullet. As you know, its unique design is central to the process of the Nutribullet. Needless to say, if this blade breaks, then you simply won't be able to do the thing you want with your Nutribullet. Take note that, to ensure optimal performance, Nurtribullet recommends users replace the extractor blades every six months or so.
Base Gears – You'll find that there is a bevy of machinery that powers your Nutribullet's blades. Most of them can be found in the blender's base. If the machine stops working, it may be a good idea to take a good look at your base gear. After all, replacing them is much cheaper compared to replacing the entire blender.
Tips for Finding NutriBullet Replacement Parts
Finding Nutribullet parts online can be quite challenging. This is not because there are so few sellers. On the contrary, you will likely be overwhelmed by the sheer number of choices made available to you. To help make things simpler, I have provided a few basic rules to live by as you search for Nutribullet replacement parts.
Don't Skimp – The well-known adage 'you get what you pay for' usually applies to everything. It indubitably does in this case, at least. That is why I would suggest that you stop being stingy. Buying the cheapest replacement products you can potentially cost you more down the road. By all means, you should find something that is reasonably priced and is well within your price range. However, you shouldn't go overboard. After all, you want your replacement parts to last.
Check the Nutribullet Site – The safest place to buy your replacement parts is from the source. This should be your first stop when looking for parts. This should give you a good idea of how much a particular part costs and what it looks like.
Buy from Reputable Sites – It still comes as a surprise that a lot of people still get scammed by bogus online sellers. By now, it should be a well-established rule that you should only buy your stuff from a reputable website. Needless to say, the same rules apply when looking for your replacement parts.
Check the Reviews – As anyone would tell you, reviews are vital. They will tell you everything you need to know about a particular product. Be sure to check not the average ratings as well as the details of each review. These should be enough to tell you whether you are looking at the real deal or not.
This article presented everything you need to know about replacement parts for your Nutribullet. Again, before you mess around with your blender, be sure to check whether you are covered by the warranty or not. After all, the warranty should cover the repair services. Otherwise, you have the option of fixing the blender yourself.
If you choose to go this route, be sure to study the proper procedures and make use of the right tools for the job. The last thing you want is doing more harm than good.