Having a Nutribullet has become a virtual necessity for anyone looking to maintain a healthy diet. However, while smoothies are marketed as healthy superfoods, you need to remember that a lot of its purported health benefits depend on the actual ingredients.
That said, the article presents the rules to remember when making a smoothie. I have also taken the time to present a couple of NutriBullet recipes for men that you can try at home.
Nutribullet Recipes For Men: 5 Essential Rules
Making smoothies is not as simple as most people think. It is not as simple as putting random ingredients into your Nutribullet and blending. Contrary to popular belief, smoothies are not automatically healthy. You have to follow certain rules and be precise in your measurements and goals. That said, listed below are some of the things you need to remember.

Keep Your Purpose in Mind – Smoothies serve a specific purpose. For instance, they can be used as meal replacements, pre-workout fuel, or post-workout treats. You need to keep this in mind before blending so that you don't derail your own fitness goals.
Balance Your Fruits and Vegetable Components – Fruit is a crucial component of a tasty smoothie. However, the last thing you want is to go overboard with it as fruits can pack lots of natural sugars. That is why you need to introduce some green and leafy vegetables to balance everything with fiber.
Freeze Your Fruits, Leave Out The Ice – As a rule, you should avoid using ice for your smoothies as it significantly dilutes the flavor of the drink. Instead, stick to frozen fruits.
Choose Your Liquid Wisely – There are lots of liquid options available for smoothies. However, if you want to maximize the drink's health benefits, then you should look into ingredients that simultaneously pack lots of nutrients while also being able to work well with other materials. Orange juice and almond milk, for instance, are extremely popular choices.
Remember the Ratio – As a rule, you want to maintain a solid-liquid ratio of 2-1. This gives you the best consistency and flavor levels.
Essential Nutribullet Recipes For Men
Now that we are all on the same page, it is time that we look at some of the smoothie recipes that you simply have to try. These recipes are essential for all men looking to take better care of themselves. On that note, I also made sure that the recipes presented here aren't overly complicated.
You will also probably notice that the necessary ingredients are also pretty easy to find, so you shouldn't have a problem. Just be sure to freeze your fruits beforehand for a smoother and creamier consistency.
Strawberry Banana Smoothie
This is a classic smoothie that everyone needs to try. It is not only low-calorie but it also effectively provides you with loads of extra fiber as well as a healthy dose of omega-3 fats that is great for your heart. Just blend the following ingredients together:
A frozen banana
A cup of frozen strawberries
A cup of spinach
12 oz. water
2 scoops protein powder (vanilla flavor)
2 tablespoons of ground flax seeds
Clocking in at 490 calories with 55 grams of protein and 9 grams fat, this is a smoothie that needs to be integrated into your fitness routine.
Apple And Great Grains Smoothie
This smoothie is great if you are looking for a midday snack that is packed with proteins – 58 grams to be exact if you decide to include the protein powder. In order to do this, you'll need to blend the following ingredients:
A sliced apple with the core removed
A cup of spinach
12 oz. water or almond milk
A Quarter cup of uncooked oats
2 Tablespoons of almonds
Cinnamon (optional)
2 scoops vanilla flavored protein
All in all, this smoothie contains around 535 calories.
Chocolate, Peanut Butter, and Banana Smoothie
As the name would suggest, this is a flavorful smoothie. Incredibly delicious, it is one of those recipes that highlight the great flavors while hiding the bad ones. You'd be hard-pressed to find the taste of spinach beneath the storm of chocolate and peanut butter.
A Frozen Banana
A cup of spinach
12 oz water, milk, or yogurt
2 scoops protein powder (chocolate flavor)
1 Tablespoon of Dark Cocoa Powder
2 Tablespoons of natural peanut butter
This smoothie has around 585 calories. With 59 grams of protein, it also makes for a post-workout snack.
Peaches And Cream Smoothie
This particular smoothie is best consumed right after your workout. It is also one of the easiest to make due to the shortlist of ingredients needed. The following are everything you are going to need:
2 cups of frozen peaches
A quarter cup of fat-free Greek yogurt
2 scoops vanilla protein powder
A Half cup of orange juice
All you need to do is put all the ingredients in your Nutribullet and blend until smooth. This recipe makes 1 cup or around 20 oz. of smoothie that contains 430 calories.
Golden Yellow Smoothie
This is one of the more complicated recipes on this list. This Golden Yellow Smoothie works well as a pre-workout drink as it can give your body the extra fuel it needs to burn. The ingredients presented below are good for 1 serving: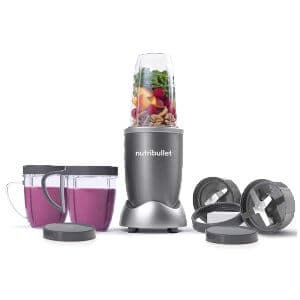 A large carrot
A Small Avocado
A Small Apple
Half a cucumber (peeled)
6 oz. water
One 1-inch piece of ginger
6 oz water
Add these ingredients to your Nutribullet, then hit blend. Increase the speed gradually until you reach the machine's maximum speed. Keep blending until smooth. Once you are done, you will have a drink with 242 calories. Take note that it has 37 grams of carbs, which makes it perfect before that trip to the gym.
These are just a couple of recipes that you should try making with your Nutribullet at home. They are simple, easy, and effective. As you keep working on your fitness goals, these smoothies should help you get the job done.