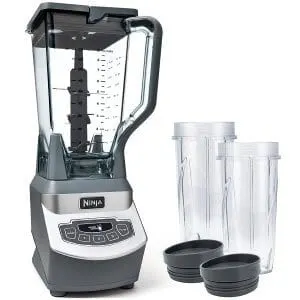 Powerful 1100W Motor
Large Capacity
Powerful 1000W Motor
Cheap Price
---
It's time to find out once and for all which Ninja blender is the best. Today we have the Ninja NJ600 vs BL660, two of the best blenders in the business. Ninja is one of the most popular names in kitchen appliances. Not only do they make great blenders, but they even make great coffee makers and other kitchen gadgets.
If you are looking for a standalone blender that makes amazing smoothies while being able to process foods all in one durable container, you have come to the right place. Both the Ninja NJ600 and the Ninja BL660 are high-tech with powerful motors, serious performance, and all kinds of important features.
Even though these are great units, one is definitely much better than the other. We're gonna take a look at the pros and cons of each blender, then see which one is worth your money. The first step to living a healthy lifestyle is buying a quality blender. Don't let your next blender purchase go to waste!
Ninja NJ600 Vs BL660: Comparison
Ninja NJ600
PROS
Cheaper than a Normal Ninja Blender
Purees Extraordinarily Well
Blends Smoothies in Under 30 Seconds
CONS
Refurbished
Not Enough Variable Speeds
---
Ninja NJ600 Blender Review
I should tell you right away that the Ninja NJ600 Blender is a renewed or refurbished blender. But that does not mean it won't work wonders for making smoothies and other types of beverages. This is still a Ninja blender and it still has professional attributes that work to make your life easier when blending.
Refurbished but not Broken!
This blender works. It comes with a handful of great features, such as the three different speed options and a pulse mode. And while other blenders may have more speeds to choose from and more modes, the NJ600 is a budget model that you can buy if you don't want to spend a fortune on a new blender.
Everything works, the container is large and durable, allowing you to blend a full 72 ounces of liquid or 9 cups. Nobody has ever been blamed for making the smart and affordable purchase.
Read More: Ninja Vs NutriBullet – Full comparison
A Perfect Fit
The NJ600 fits perfectly on your counter because it is such a simplistic and compact appliance. Whereas most blenders have a large and heavy base, the NJ600 is not that bulky. It still comes with 1000 Watts of ice-crushing and smoothie-making power.
---
Ninja BL660 Countertop Blender Review
The Ninja BL660 Countertop Blender is a fabulous stand-alone blender. What I mean is that for a blender that has the sole purpose of blending without any fancy gimmicks or features, this blender shines. It has a huge 72-ounce container, it comes with a pair of Ninja to-go cups, and it is surprisingly affordable.
Single-Serve Joy
My favorite thing about this blender is the single-serve function. Rather than being a boring old blender with only a big container, this blender allows you to hook a 16-ounce cup directly to the base so that you can make your smoothie on the go.
For me, this is a critical feature. If you only want a single drink but have to mess around with the giant pitcher, it can get annoying. There are even two 16-ounce cups included for your convenience. The blender will make a single-serving drink, crushing ice and frozen fruit, in roughly 20 seconds.
All the Nutrients
When you use the Ninja BL660 countertop blender, you are making smoothies and shakes with all the nutrients you deserve. The 1,110-Watt motor combined with the smartly designed blades means that all your fruits and vegetables are going to get broken down into their purest form, unlocking all of the best nutrients and minerals your body needs to stay healthy.
---
Ninja NJ600 vs BL660: Main Product Differences
The biggest difference between the Ninja NJ600 and the Ninja BL660 is that one is refurbished and the other is brand new. The NJ600 is indeed a renewed product, but that doesn't mean it sucks. It is still a great blender that makes great drinks and adds great value to your kitchen.
Let's take a look at the two main differences.
Single-Serve
Both models come with a 72-ounce container. In fact, these two models look identical. Even their control panels look the same, except for one major difference: the single-serve button.
The BL660 has an excellent single mode so that you can make one 16-ounce smoothie and enjoy it immediately, rather than having to make an entire batch. The NJ600 does not have this feature.
While we're talking about features, I should mention that both blenders have the same variable speeds. The NJ600 and the BL660 each have three different speed settings and the pulse mode.
The Quality
I would say the quality of the Ninja BL660 outdoes the quality of the NJ600. This is what you would typically expect from a renewed version versus an original version. While they're essentially very similar, I would trust the BL660 to live a longer life on your counter.
Interestingly enough, when it comes to the reviews, only 60% of reviewers gave the NJ600 five stars. 80% of reviewers gave the BL660 5 stars. That in itself proves what a big difference there is in the quality of these two machines.
Ninja NJ600 vs BL660: Final Thoughts
I hate to say it, but the Ninja BL660 Blender wins this battle. It's not that the Ninja NJ600 is a bad machine. It's not. It works great if you want to blend smoothies, shakes, sauces, or any other liquid-type substance.
However, there is something to be said about a new product. I don't like refurbished kitchen appliances, it's just not my thing. I would rather pay the extra money for the slightly better unit.
Aside from that, I like the single-serve functions of the BL660. I like having the choice to make my smoothie directly in my cup, rather than tinkering with the big BPA-free plastic container.
The BL660 comes with an inspiration guide for blending, 4 manual programs, 1,100 Watts of power, 2 Nutri Ninja cups, and parts that are dishwasher safe. You really can't go wrong purchasing any Ninja product, but the BL660 is definitely a hot choice that will last a long time blending your drinks.