With the Ninja Kitchen System, you have absolute freedom over your blending creations. You can create literally anything using this revolutionary kitchen system. Smoothies, a nice tomato basil sauce, a strawberry acai bowl, or even a pineapple margarita or a pina colada.
In this segment, we will take a look at all the different kinds of recipes that are available using the innovative Ninja Kitchen System, from breakfast drinks to coffees, cocktails to ice cream. But first, what is the Ninja Kitchen System?
Read More: Ninja blender margarita recipe
What is the Ninja Kitchen System?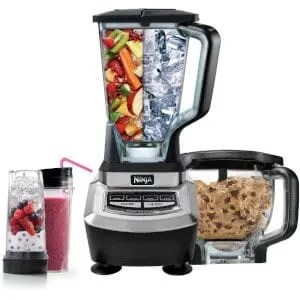 This blending system from the genius creators at Ninja is one of the most revolutionary kitchen appliances I have ever seen. It is affordable, easy to use, easy to clean, and it comes with everything you need to make infinite variations of your favorite foods.
Included with the Ninja Kitchen System are one 72-ounce pitcher, one 8-cup food processor bowl, and two 16-ounce Ninja cups f
or drinking smoothies on the go. All the pieces are dishwasher safe and BPA free. The base of the blender outputs 1500 Watts so that it can blend any assortment of ingredients, and the food processor bowl is able to make two full pounds of dough in under a minute.
Suffice to say, this is one of the best blending systems in the world. You don't even need to clean it, as the blender is so powerful it can clean itself. It has manual programs and variable speeds, plus it has intensely strong blades that can shred, slice, and blend any kind of organic material into a smooth and delicious beverage. Of course, it also works with sauces and purees.
Read More: How to use a Ninja blender
The Best Recipes for the Ninja Kitchen System
You already know by now that the Ninja Kitchen System can make any kind of food you want. Now let's dig into some delicious recipes that you can make at home with this system. All you need for these recipes is access to a grocery store, a desire to try new foods, and an open mind. Let's start with one of my favorites.
Thai Pumpkin Soup
I hope you didn't think smoothies were the only thing the Ninja Kitchen System could handle. With this great Ninja blender, you can make mouth-watering Thai pumpkin soup in just a few minutes. This soup is a great evening meal that goes well with anything.
The pumpkin is extremely healthy for you, while the chicken broth and peanut butter bring a distinctive Thai flavor to a classic North American soup.
Ingredients:
2 Tablespoons of Red Curry Paste
2 Cups of Coconut Milk
2 Cans of Pumpkin Puree
4 Cups of Chicken Broth
1/3 Cup of Peanut Butter
Instructions:
This is an easy one. Put all your ingredients inside the container and blend until smooth. Next, heat the mixture inside a saucepan on medium heat for about 5 minutes. You now have a super healthy and extremely delicious Thai pumpkin soup.
Read More: Simple pumpkin juice recipes
Chocolate Almond Cocktail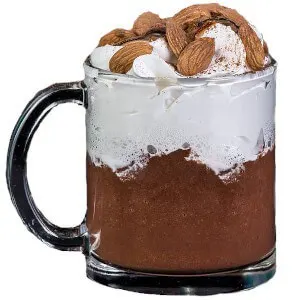 Here is something for drink night. Not only is this a delicious, alcohol-fueled drink, but it is also low-fat and tastes just like your favorite almond milk, only with a bit of a vodka twist. Obviously, this recipe is for adults only!
Ingredients:
10 Ice Cubes
2 Cups of Chocolate Ice Cream
3 Ounces of Hazelnut Liqueur
3 Ounces of Chocolate-Flavored Vodka
3 Ounces of Coconut Rum
1 Cup of Milk (Non-Fat)
Instructions:
Pour everything into your Ninja Kitchen System, blend until it looks like a yummy chocolate almond cocktail, then serve to your friends and enjoy! Of course, you can serve it to yourself and enjoy it without your friends. The decision is up to you.
Read More: 3 delicious White Russian blender recipes
Pumpkin Pie & Oats Smoothie
Today is all about pumpkin. This is one of my all-time favorite autumn smoothies. When the weather starts to get cold, the sweaters get dragged out of retirement, and the Halloween decorations start going up, it is time for a pumpkin pie & oats smoothie.
Ingredients:
1 Cup of Canned Pumpkin
1 Tablespoon of Pumpkin Spice
¾ Cup of Rolled Oats
1 Cup of Non-Fat Vanilla Yogurt
2 Cups of Non-Fat Milk
2 Tablespoons of Maple Syrup
Instructions:
Blend all the ingredients inside the 72-ounce container for between 30 and 60 seconds, then pour and enjoy. This is one of those smoothies that does not taste bad at room temperature.
However, if you want the smoothie cold, simply chill the two cups of milk beforehand and keep the canned pumpkin in the fridge too. This will make your smoothie just the right amount of cold.
Read More: Can you make pie dough in a Vitamix blender?
Peanut Butter Wonder Balls
As you know, the Ninja Kitchen System comes with a huge processing bowl for mixing all kinds of food. Here I am going to teach you how to create delicious peanut butter balls using your blender.
Ingredients:
¾ Cup of Peanut Butter
2 Cups of Almond Meal
¼ Cup of Chocolate Chips
2 Tablespoons of Honey
Instructions:
First, insert the dough paddle into your processing bowl. Next, Add all the ingredients into the bowl. Turn the blender to pulse and watch as all your ingredients are mixed perfectly into a dough.
After about a minute, when the dough is properly mixed, transfer everything into a mixing bowl and give it one final stir, then roll the entire mixture into 12 one-inch balls. Refrigerate for roughly 10 minutes and you have yourself a chocolatey snack!
Read More: 4 simple Ninja blender soup recipes
Ninja Kitchen System Recipes: Conclusion
As you can plainly see, the Ninja Kitchen System is able to make a plethora of random treats, snacks, desserts, and drinks. So long as you stay creative and hungry for new dishes, you can make them with this system. It has never been easier.
For people who love soup, this is the best option for you. Say goodbye to boring canned soup from the grocery store and start making your own exotic meals. Thai pumpkin soup is only the beginning of your culinary pursuits with the Ninja Kitchen System.
Read More: Ninja blender milkshake recipes