I cannot think of anything sweeter than an ice-cold homemade milkshake on a summer afternoon. More so, when a Ninja blender is used to prepare the nostalgic milkshake madness!!
A perfect milkshake is thick enough for a straw to stand in and is still drinkable. The silky blended base rich in refreshing milk and ice cream is your canvas where you add all imaginable flavors. Talk of Oreos/chocolates, etc.? Heavenly, right?! Better yet, use a Ninja blender for an excellent experience.
If you are wondering how you can prepare a milkshake with that Ninja blender or Foodi you just bought, what are some of the best ingredients to use? This article is for you. Keep reading!
Read More: 4 top-rated Ninja blenders on the market
Is A Ninja Blender Good For Milkshakes?
Yes, Ninja blenders are a perfect kitchen companion if you think about milkshakes and other blended items.
Ninja offers its consumers a range of blender options to purchase depending on the intended purpose and pocket size.
Simply, a Ninja professional blender is worth your money and consideration, given its effectiveness and versatility.
Which Is The Best Ninja Blender For Milkshakes?
All Ninja blenders can make your lovely milkshake. Just make sure to use a high-powered Ninja blender for your milkshakes.
Additionally, if you have a Ninja Foodi, you do not have to worry about getting a regular blender for your milkshake. Get your ingredients ready and watch your Ninja Foodi do the magic!
Examples of Ninja blenders you can use to prepare a milkshake include;
What Flavors Can I Use In My Ninja Blender Milkshake?
Need a dopamine treat? Try a milkshake and throw in your favorite treats for a chilling taste worth remembering.
Here is a list of milkshake flavors that you can make with your Ninja blender:
Oreo Milkshake
Chocolate milkshake
Vanilla milkshake
Pina colada milkshake
Coffee milkshake
Caramel milkshake
Plus, many more
Additionally, you can add other ingredients such as mint, nuts, malt, etc., to these milkshakes for a range of flavors in one sip.
How To Prepare A Ninja Blender Milkshake
Preparing a homemade milkshake using your Ninja blender is very easy as long as you have your ingredients ready.
Here are examples of Ninja blender milkshakes you can prepare for a brain freeze experience for you and your loved ones.
Oreo Milkshake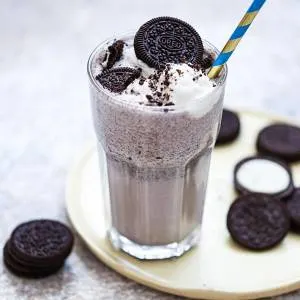 This crunchy and mouth-watering sweetness-packed milkshake is my go-to shake whenever I crave a calorific affair for my taste buds.
The diversity in this Oreo milkshake is that I can use any ice-cream flavor that I want as the base. Chocolate ice cream always works for me, but you could try vanilla or strawberry ice cream.
Ingredients
8 Oreo Cookies
2 glasses of chocolate ice-cream
1 glass of milk (use your preferred milk)
Whipped cream for serving (very optional)
¼ glass of ice-cubes
Equipment
Directions
Pour the ice cream into your Ninja blender, then add milk, Ice-cubes, and 6 Oreo cookies.
Turn your Ninja blender on and pulse to your desired consistency.
Pour your milkshake into a glass.
Garnish the Oreo milkshake with the whipped cream by adding it on top, and then fix the two remaining Oreo cookies in the whipped cream.
Insert a straw and enjoy your Ice-cold Ninja blender Oreo milkshake!
---
Chocolate Milkshake
Chocolate milkshakes are a perfect treat for the whole family regardless of age. Chocolate is known to bring out your good mood if they have taken a vacation away from you.
Here is a Choco shake recipe you can use, or add a twist to it if you like. The best thing is, you can use cocoa powder for that original chocolate taste.
Ingredients
3 tablespoons of cocoa powder
¼ glass of warm water
4 tablespoons of sugar
¼ glass of ice-cubes
2 glasses of milk (dairy/plant-based)
2 glasses of ice cream (chocolate or vanilla)
1 tablespoon honey syrup (optional)
¼ glass chocolate chippings (optional)
Whipped cream (optional)
Equipment
Directions
Step 1
Pour your warm water into the bowl, add the cocoa powder and sugar, and mix until smooth to get your cocoa solution.
Step 2
Pour the cocoa solution into your blender, add ice cream, ice-cubes, and milk into the Ninja blender.
Turn on the blender and blitz to your desired consistency
Pour the chocolate milkshake into a glass.
Garnish with whipped cream, honey syrup, and chocolate chipping.
Insert a straw and enjoy your chilled out Ninja blender chocolate milkshake!
Extra Tip: You can use chocolate syrup and chips instead of the cocoa solution.
---
Strawberry-Mint Milkshake
Wondering which fruit milkshake to prepare? This strawberry milkshake with mint will hit the spot. Get your Ninja blender and your ingredients, and let me show you how;
Ingredients
2 glasses of hulled strawberries
2 glasses of vanilla ice-cream
1 glass of milk
2 tablespoons of freshly chopped mint
Whipped cream (optional)
2 whole strawberries (optional)
3 mint leaves (optional)
1 tablespoon of honey syrup (optional)
Equipment
Directions
Pour your milk into the Ninja blender, add the hulled strawberries, ice cream, ice cubes, and chopped mint into the blender.
Turn the blender on and let the ingredients churn until smooth.
Pour the strawberry-mint milkshake into a glass.
Garnish with whipped cream, add 2 strawberries, 3 leaves of mint, and honey syrup on the whipped cream.
Enjoy your refreshing strawberry-mint Ninja blender milkshake!
---
Are Ninja Blender Milkshakes Healthy?
Most milkshakes are calorie-packed beverages that may increase your blood sugar levels and will consequently lead to weight gain if taken in large amounts.
However, you can still enjoy a reasonably healthy milkshake by substituting some of the ingredients, such as dairy milk with low-fat milk and no-sugar ice cream.
Ninja Blender Milkshake – Final Thoughts
On a hot day, a glass of your favorite chilled milkshake is the best treat you can give yourself and your loved ones. All you need is a Ninja blender, a milkshake recipe, and your ingredients.
The freedom is yours to add different flavors to your Ninja blender milkshake. You can even prepare one creamy base and let your guests add their desired toppings.
Enjoy a happiness overload in a glass of Ninja blender milkshake!