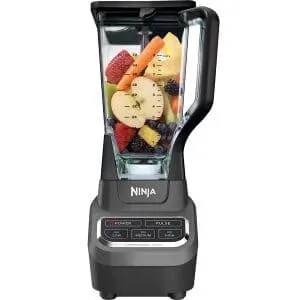 Powerful 1000W Motor
Large Capacity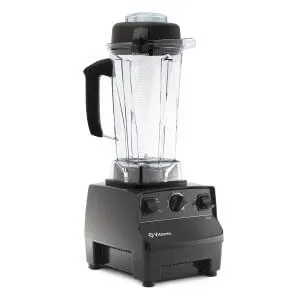 Most Popular Model
Simple Operation
---
Talk about two great blenders! Ninja and Vitamix are two of the biggest names in kitchen appliances. Ninja makes all kinds of high-quality goods, such as countertop blenders and espresso machines. They have a proven track record of making premium appliances for the real world. Vitamix, on the other hand, is notorious for making the best blenders in the world.
So, which of these blenders is the best for you? To understand what makes each blender so special, we need to break it down a little further. For example, the Ninja blender comes with the newest and best in blender technology, whereas the Vitamix offers unparalleled strength and cutting power.
At the end of the day, a lot of it comes down to your budget and what is the most important aspect of a blender for you. Let's start by checking out the pros and cons of each model.
Ninja 1000 Watt Countertop Blender Review
The Ninja 1000 Watt Countertop Blender is a revolution in blending. It can take care of all your kitchen needs, from blending smoothies to processing foods.
Professional Power
This blender has professional power. It works using 1000 watts to professionally mix and blend any ingredients you dump into the container. The blades are super effective at crushing ice and mixing thick recipes like salsas and soups.
This blender may not be able to heat soup until it's steaming hot, but it does an excellent job of blasting ice into snow and perfectly blending sticky recipes that would trouble other blenders. This is all thanks to the unique 6-blade assembly. Ninja is well-known for making innovative technologies just like this one.
Read More: Full Ninja BL610 review
Slim Design
If you're looking for a well-designed blender, the Ninja 1000 watt blender is for you. It's extremely small, it's built to be slim and discreet on your countertop, and it looks clean. You can easily store this blender in the corner of your kitchen without it turning into an eyesore.
And even though it has such a massive 72-ounce container, it doesn't feel that big because of its slim design. Even pouring smoothies from the container into your glass is easy thanks to the unique no-spill spout!
---
Vitamix 5200 Blender Review
The Vitamix 5200 Blender is another shining example of technology from Vitamix. This blender does it all, and it does it all with strength and determination. If you want a robust blender with a smart design, this is the one for you.
Self-Cleaning
What is better than your kitchen machines cleaning themselves? Imagine if your refrigerator, microwave, and toaster could all clean themselves. It would be a miracle. Luckily, your Vitamix blender actually can clean itself.
Simply add a bit of soap and water and the 5200 blender can clean itself top to bottom without your help. All you need is to drain the water afterward and give it a good rinse.
Dependability
Dependability is a big deal these days with products. It seems like half the things that come in the mail fall apart a week later. This is why it's so refreshing to know that Vitamix develops all their appliances to work for a lifetime. It's why they give you such a long warranty of seven years.
The components inside the blender are strong, the motor is durable and won't overheat, and the blades are forged from the toughest stainless steel to ensure long-term dependability, from your first blend to your last.
---
Ninja 1000 Watt Blender vs Vitamix 5200: Main Product Differences
As I said in the beginning, the biggest difference between the Ninja and the Vitamix is the price. The Ninja blender is several hundred dollars cheaper than the Vitamix. But why is that? Is it worth spending the extra money on the Vitamix, or should you stick with the inexpensive Ninja?
Difference in Uses
You have to think about what you're doing with the blender. If all you do is crush ice, blend veggies and fruits, and make delicious drinks, why would you spend hundreds and hundreds of dollars on a blender? The Ninja blender crushes ice and mixes smoothies just as good as the Vitamix does.
However, the big difference is power. The Ninja works using 1000 watts while the Vitamix churns out over 2 horsepower. That said, 2 horsepower is a little excessive. The Vitamix is louder, fussier, and shakes a lot worse than the Ninja does. This kind of power is great for food processing. But when it comes to daily blending, it's overkill.
Bigger Container
The Ninja also comes with a much larger container. It has a 72-ounce container that can make massive batches for your family, your friends, or your associates at your next get-together. However, the Vitamix only has a 64-ounce container, which is more suitable for medium blends.
Speed Settings
When it comes to variable speeds, there is no defeating the Vitamix. The Vitamix comes with a full spectrum of speed control from 1 to 10. You can change speeds during the actual blending process, and there really is a meaningful difference between each level of speed.
With the Ninja blender, all you get are four presets. You have low, medium, high, and pulse mode.
Ninja 1000 Watt Blender vs Vitamix 5200: Final thoughts
As usual, it's so hard for me to decide between two blenders! The main issue here is the price. The Vitamix is infinitely more expensive than the Ninja – and you have to ask yourself how much money you are willing to spend just to do a bit of blending.
Personally, I would choose the Vitamix 5200 solely because it's a solid investment in the future of my kitchen. The Vitamix won't breakdown, it comes with a warranty if it ever does, and you know that Vitamix is going to take care of you in the long run. While I also trust the Ninja 1000 watt blender, I trust the durability, longevity, and mechanical soundness of the Vitamix more.
Plus, the Vitamix has a self-cleaning feature, it has premium speed controls, it can make huge batches of smoothies and milkshakes, and it can do heavy-duty food processing.